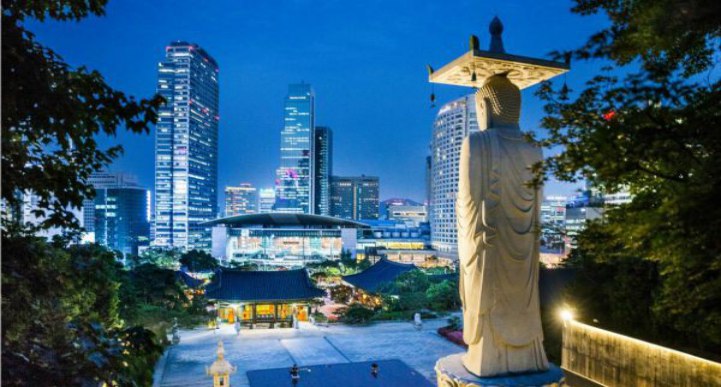 The buzzing and lively city of Seoul, served by Incheon International Airport, is quite the destination for any traveller. The heady mix of humanity, technology and history means there's always something to keep a visitor entertained and interested. Eyes can feast on the skyscrapers, temples, palaces and parks, while the tastebuds enjoy the famously diverse and wonderful dining scene.
A Seoul car rental can take you places! Not only from Incheon Airport into the city, but around the 25 districts of the urban area and out into the diverse towns, cities and countryside of South Korea. The freedom that comes with a vehicle means you'll see a side of Seoul and South Korea that many people miss: village life, the lovely coasts and much more.
Incheon Airport car rental with Airport Rentals
If you're flying in to pick up your Seoul car rental, it'll likely be from Incheon International Airport, 30 kilometres or so outside the city. Airport Rentals makes it easy to pick up a cheap car hire from Incheon Airport, but also other popular South Korean destinations: find Jeju car rental, Busan car rental and also car rental from Gimpo Airport which also services Seoul, along with more airport and city locations.
Airport Rentals makes it simple and quick to find and book the perfect (and cheapest!) Seoul car rental from Incheon Airport. Rather than spending hours tracking down prices for individual car rental brands, just enter your travel plans once into the easy-to-use search panel and you'll be presented with a list of deals from a range of suppliers. These can be filtered down by price, brand, transmission, car type, number of passengers and pick up location to pinpoint the set of wheels that suits you. It's Seoul car rental made easy!
Seoul car rental brands at Incheon Airport
Several choices of Seoul car rental brands, each offering a variety of different vehicles, means you can drive away with the wheels you need.
● Avis Car Rental is located in the terminal at Incheon International Airport: 272 Gonghang-ro, Unseo-dong, Jung-gu, Incheon, South Korea.
● Sixt Car Rental also can be found in the terminal which is located at 272 Gonghang-ro, Unseo-dong, Jung-gu, Incheon, South Korea.
● Hertz Car Rental has a counter in the Incheon International Airport at 272 Gonghang-ro, Unseo-dong, Jung-gu, Incheon, South Korea.
Driving in Seoul
Once you've sorted a car hire in Seoul, you can hit the road - but it pays to be prepared! Let's start at the beginning: Driver's licenses. All visiting drivers must have an International Driver's Permit in addition to their home license, and these can be used for up to one year. Be sure to organise one of these before travelling to the country. Also note that Koreans drive on the right hand side of the road!
As with any country, South Korea has particular rules and limits to abide by when hitting the road. The speed limits around most of the city and country roads range between 60 and 80 kilometres an hour, while on expressways it rises to 100-120 kilometres an hour. Keep an eye out for signs giving the exact limits. The limit for blood alcohol level while driving is 0.03%, so it is recommended that drivers refrain from drinking altogether when getting behind the wheel.
Any big city can be quite intimidating to drive in, and Seoul is certainly no exception. Locals may play a little fast and loose with road rules and lane usage, so tourists with a Seoul car rental should remain vigilant, particularly around bigger vehicles like buses and trucks which tend to get their own way. Local drivers can also be very impatient - be prepared to ignore a lot of beeping horns.
Parking in Seoul
Parking in a busy city is a bit of a nightmare no matter which way you cut it - if you are staying somewhere outside of central Seoul, it's a good idea to opt for public transport to get in and save the rental car for regional travel.
Locals tend to park wherever they can find a spot, legal or not, not a practice which is encouraged for tourists! It's best to find a parking tower or underground parking lot which costs a fee but offers peace of mind. Beware of permit-only onstreet parking for residents (marked with a yellow line). Paying for any public on-street parking is done via attendants with handheld fee collection devices. Free parking can often be found outside of the main business districts.
The city has also invested in an interesting initiative called the Green Parking Initiative which aims to increase parking space by offering incentives to homeowners and landowners to allow parking on any unused space near the road.
Road trips from Seoul
Short journeys and long are made possible with a Seoul car rental from Incheon Airport. Here are a few ideas for the keen road tripper:
● Hwaseong Fortress makes a great day trip from Seoul. Massive walls extending almost six kilometres enclose the centre of Suwon, an impressive sight and a UNESCO World Heritage listed site. Built to honour the remains of Prince Sado by his son King Jeongjo in the 18th century, it is fascinating historically and wonderful to explore - you can walk along the fortress wall.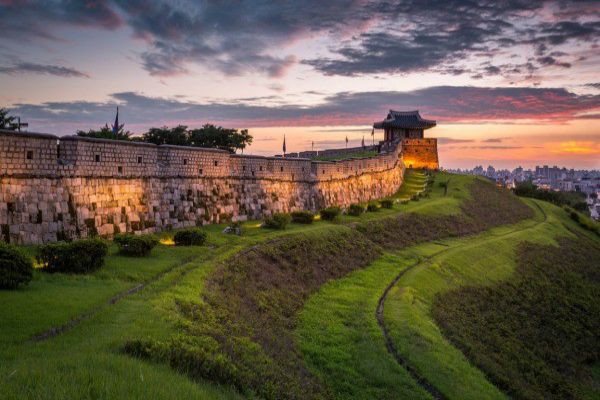 ● At around 4-5 hours' drive, Gyeongju is a bit of a journey with a Seoul car rental but well worth the trip - and you'll see a bit of Korea along the way! This city is known for its massive burial mounds called Tumuli, but it is filled with amazing things to see - temples, rock carvings, palace ruins and more. One for the history buffs.
● Seoraksan National Park is not too far from the city, about 2-3 hours' drive, and located near Sokcho on the opposite coast. This amazing place has been designated as a nature reserve by the government and a biosphere reserve by UNESCO, and is perfect for hiking, scenery and general appreciation of South Korea's natural assets.
● The charming Hahoe folk village has preserved a taste of Joseon-dynasty rural Korean life for visitors to experience. It is not solely a tourist attraction, but has real residents. Audio guides are available for self-guided tours, and there is accommodation in town as well as the fascinating Hahoe Mask Museum. The drive from Seoul is about 3.5 hours.
● In the summertime, Daecheon Beach makes a great destination - along with the country's many other beach resorts, quite a few of which are found in the south. Daecheon is a fantastic weekend destination, just a few hours from Seoul, and boasting 3.5 kilometres of golden sand so there's room for everyone.
Seoul city guide
Accommodation
You'll find whichever style of accommodation suits you, your travel companions and your budget in the big city of Seoul. Big hotel chains have found their place here, so if you want the familiarity of a known hotel brand, you'll find it here. Korean hotels have a somewhat confusing rating system which includes super deluxe, deluxe, first-class, second-class and third class categories, marked with plaques showing 1-5 flowers.
Motels in Korea are slightly different than the western iteration, sometimes called "love motels" as they have a slightly shady reputation as havens for young couples seeking privacy. However, nowadays there are some very nice ones which eschew the hourly rates and offer relatively high-end rooms. One step cheaper are the yeogwan motels, and also guesthouses which offer dormitory-style or private room accommodation for a good price. Stay in these - or a hostel - in the outer suburbs for a very affordable Seoul visit. Jongno and Hongdae are the unofficial backpacker districts.
Dining
Seoul is at the forefront of exciting dining, and with your car rental you can get around and try it all. Fermented food is well-known as a Korean staple, but there are plenty more flavours where that came from. Just venture out on the streets in any part of the city and you'll be confronted with a huge range of restaurants and eateries, from gourmet to takeaways.
The traditional Korean meal includes a variety of side dishes, best shared - so gather a group and find a nearby eatery to dine with the locals. Gimbap is also a Korean specialty, basically their own version of sushi for a quick meal fix. Bibimbap, a mixed rice dish, is another Korean favourite, so keep it in mind if you're staring in confusion at a menu.
Alongside Korean food, Seoul offers a very multicultural cuisine scene. Japanese food is popular here, along with Western eats, Chinese dishes and some chain bakeries, cafes and family restaurants from many different nations.
There's plenty of street food in Seoul, as well as high-end restaurants, so pick your price point. For the ultimate in dining, try one of the city's two triple-Michelin-starred establishments, both offering Korean cuisine: La Yeon at the Shilla hotel, and Gaon in Gangnam.
Geography, culture and people
Seoul lies inland from Korea's coast, straddling the Han River on a site which has been occupied by humans for thousands of years. It is the political, cultural and economic centre of South Korea, and a very cosmopolitan and multicultural city.
Korean is the official language and the major nationality in Seoul. The culture values family, and has quite specific roles for fathers, mothers, eldest sons and the like. Respect is shown to elders and ancestors, and Koreans will go to great lengths to avoid embarrassment to themselves or others. You will get by fine with a polite and respectful demeanour, and a quick, small bow to people you meet. If travelling on business, note that the exchange of business cards is quite the ceremony, so accept it with thanks and do not stuff it into a pocket.
Attractions
A Seoul car rental opens up all of the city's many and varied attractions. These are a few of the most popular things to see and do in Seoul:
● Gyeongbokgung Palace was the first royal palace of the Joseon Dynasty, and is simply spectacular. It houses the National Palace Museum of Korea and the National Folk Museum of Korea.
● The Namdaemun Market is a large, traditional market where you can go to buy and barter for food, clothing, and just about anything else you might wish to purchase. Wholesale prices mean it's a very affordable way to shop in Seoul.
● The 18.6 kilometres of the Seoul City Wall which stretch along the ridges and peaks of some of the mountains around the city. It's a great place for a walk, and also gives an insight into Seoul's history - there are great views, too!
● N Seoul Tower also boasts panoramic views over the city, making it a great spot to go to get your bearings.
● For more shopping, try Insa-dong. This neighbourhood and particularly its main street are a mecca for those seeking traditional Korean culture and crafts including pottery, clothing, teas and more.
● Anyone travelling with kids might like to check out Lotte World. Located downtown, it is a theme park and more: as well as parades, there's an ice rink, a folk museum and a lake. There is something for everyone!
Weather
Officially, the climate in Seoul is humid continental/subtropical, and the city experiences four distinct seasons. Summer and winter are miles apart in temperature, and visitors can expect cold and sometimes snowfall in December, January and February and hot weather in June, July and August. Spring and autumn are often considered the most pleasant times to visit.