Affectionately known as MoBay to the locals, the city of Montego Bay is a vibrant hub in the stunning northern corner of the Caribbean island of Jamaica. Bright blue waters and white sand beaches greet every tourist for the holiday of a lifetime. Relax on the beach, walk along the buzzing coast, and head into the city to experience the culture and history brought to life in museums, galleries and markets. Whether you stay around the bay, or venture around the island, renting a cheap car in Montego Bay is the ideal way to see it all.
Hire a car rental in Montego Bay with Airport Rentals
Make hiring a cheap vehicle in Montego Bay easy with Airport Rentals. Whether you're after an economy car, 4-wheel drive, or SUV, we help you find and compare multiple car rental options quickly and easily.
To view all the cars available to you, pop in your travel dates and click 'search'. Instantly compare a wide range of vehicles across multiple brands, and refine your options further using filters to sort by car type, group size and more. Ready to book? Receive instant online confirmation, with access to 24/7 customer service should you need it. Plus enjoy free benefits and pay no additional booking fees when you book with Airport Rentals.
Explore Montego Bay
Just like the capital of Kingston, Montego Bay has two halves: the tourist beach front which attracts thousands every year, and the inner city where the locals spend most of their days. Lounge on the beach, get in some retail therapy, or jump in your hired car and check out some of the sites. You can visit the National Museum West for a look into the history of Jamaica, or learn about the Rastafarian movement at the Indigenous Rastafarian Village. Get out of the city and visit the nearby towns of Lucea to the west, or head east to Runaway Bay.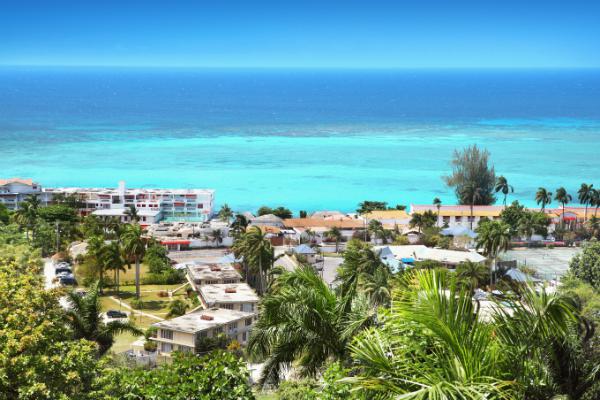 Driving your car hire in Montego Bay
As it's a popular destination, traffic can get pretty heavy in Montego Bay, especially during the summer months. Avoid peak hours and drive with care.
Driving from Montego Bay Airport
Officially called the Sangster International Airport, Montego Bay Airport is located just 6 kilometres from the city's CBD, with the trip taking about 15 minutes. From the airport, head onto The Queens Drive, and take a left onto Leader Avenue. When you reach Orange Street, turn right, and then left onto Albion Road. Continue into the CBD.
If you've arranged for city car hire, jump in a taxi or book a shuttle to pick up your rental car from Montego Bay.
Handy tips for driving in Montego Bay
● Remember to keep to the left when you're driving in Jamaica.
● Give way to traffic coming from your right.
● The speed limit in the city is 50km/h, and up to 110km/h on freeways unless indicated otherwise.
● Road conditions are not great in rural areas - watch out for potholes.
● A honking horn is a greeting, not a sign of road rage.
First time driving in a new country? Read up on our tips for driving in foreign countries.
Where to park your rental car - at the airport, in the city
At Sangster International Airport, parking is available starting at J$150.00 for the first hour (or part thereof). An additional J$150.00 is charged every hour thereafter, but you won't pay more than J$600.00 per day.
In Montego Bay, on-street parking is available, as well open-air parkings lots. Most restaurants, stores and hotels have their own parking areas with no charge.