Capital of the northern region of Guanacaste, the Costa Rican city of Liberia is the smaller, more laid-back sister of San Jose, and is the perfect place to spend a few nights before heading out to see the rest of the country. Spend your days wandering through historic buildings downtown, perusing museums, or visiting the Africa Safari Adventure Park. By hiring a car in Liberia, you can discover all the city has to offer, and then head out into the countryside and the white-sand coast to experience even more.
Pre-book a car hire in Liberia with Airport Rentals
Hiring a cheap car at Liberia Airport has never been easier with Airport Rentals. Working with an extensive network of rental suppliers, we bring you the best deals from a wide range of brands.
It's easy to get started: pop in your travel dates and hit 'search'. Your query will generate a list of suitable vehicles available from Liberia Airport on your preferred dates, arranged lowest price first. Refine your selection further using preference filters like vehicle type, transmission type, group size and more.
Get booked and ready to start your Costa Rican adventure in just a few clicks. With Airport Rentals, you will have access to 24/7 customer service and can confirm instantly online with total confidence.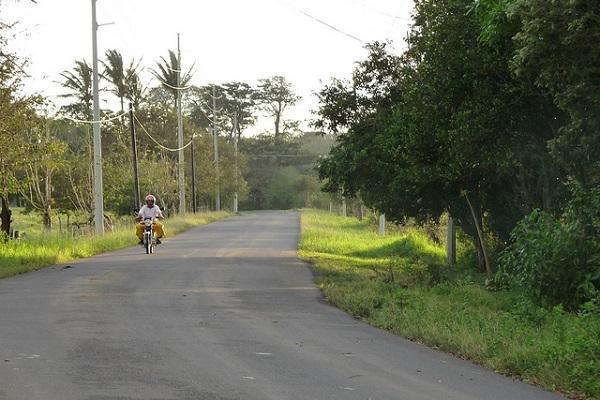 Image: Patrick Nouhailler
An overview of Daniel Oduber Quirós International Airport
Formally called the Daniel Oduber Quirós International Airport, Liberia Airport is small but comfortable. There are limited dining options, so it may pay to take some snacks with you. One of two international airports in Costa Rica, Liberia airport provides services domestically to Tamarindo and San Jose, and is a popular airport to touch down from international locations such as New York and Toronto. When you're ready to step out into the Liberian sun, pick up your car rental keys from the kiosks in the arrivals lounge.
Note there is a departure tax of USD$29.
Driving your car hire in Liberia
The city of Liberia is smaller than its Costa Rican counterparts, which makes getting around pretty easy. However, do be aware of potholes, especially in the countryside.
Driving to and from Daniel Oduber Quirós International Airport
Daniel Oduber Quirós International Airport is located just under 15km west of the city. From the airport, make your way to Route 21, and venture east. When you come to the Route 1 intersection, take a left, and then right into the city. The journey should take around 25 minutes from the airport.
Picking up your rental car from the city? Jump in a taxi or pre-book a shuttle.
Handy tips for driving in Liberia
● Keep to the right side of the road.
● Distance is measured in kilometers, with a speed limit of 45km/h in urban areas, and between 80 - 100km/h on highways.
● Take your legal documents with you everywhere, as police may ask to see your licence.
● Drive to the conditions: in the rainy season, there is often flooding.
● Motorcycles tend to weave in and out of traffic. Stay alert.
Check out our guide on driving in Costa Rica for more details.
Where to park your rental car in Liberia
At Daniel Oduber Quirós International Airport, there is some parking available, however it pays to arrive early to secure a space. The carpark is open 24 hours, and is patrolled by airport police for security.
Parking lots are available throughout the city, and most establishments such as shopping malls, retail shops, and grocery stores will have parking. Many places have parking wardens who guard your car, but make sure you don't leave anything valuable in plain view.