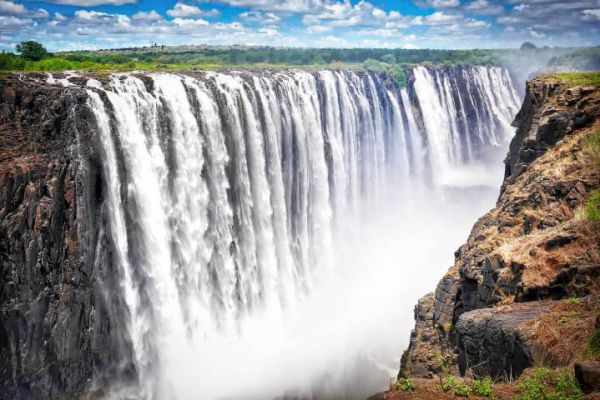 Image: Pixabay
Zimbabwe is a fascinating country full of natural wonders, rich cultures and strong artistic traditions. Nestled in the southeastern section of Africa, it boasts a variety of breathtaking landscapes and attractions. Hire a rental car so you can freely experience everything this beautiful country has to offer.
Popular destinations include the Zambezi River and Victoria Falls, as well a number of spectacular national parks scattered throughout the country. Visitors can observe exotic wildlife species, take part in daring pursuits such as white water rafting and bungy jumping, and explore lively, colourful cities.
Hiring a car also allows you to extend your trip across countries. Zimbabwe is bordered by Zambia, Mozambique, Botswana and South Africa, all of which are amazing destinations in their own right and are worth exploring if you are in this part of the world.
South Africa's Cape Town, for example, is one of the world's most photogenic destinations, and South Africa's Garden Route and Route 62 are once-in-a-lifetime scenic drives.
Zimbabwe airport car rental
Use Airport Rentals to hire a cheap rental car from Harare International Airport, Bulawayo Airport or Victoria Falls Airport. Our sophisticated search engine allows you to find and compare rental deals across multiple suppliers all in one place.
Simply type in your Zimbabwean city of choice along with your travel dates and click 'search' to generate a comprehensive list of car rental options. You can then narrow your selection using preference filters such as brand, transmission type and more.
Once you've found the ideal rental, you can complete your reservation in just a few clicks. You will receive instant confirmation and never have to worry about hidden fees. Plus, you can make changes to your reservation any time using the online booking management system. Or, give us a call at any hour of the day - our customer service team is available 24/7.
Zimbabwe airport car rental locations
● Harare International Airport
Rent a car from Harare International Airport and spend some time in Zimbabwe's capital. This picturesque city brims with charming cafes, bars and restaurants, museums and galleries, markets and parks. Enjoy the colourful streets and the subtropical highland landscapes characteristic of this city. The National Gallery, Botanic Gardens, Mukuvisi Woodlands and National Heroes' Acre are some of the popular destinations within Harare.
● Bulawayo Airport/Joshua Mqabuko Nkomo International Airport
Hire a car from Bulawayo Airport and uncover hidden gems in Zimbabwe's second-largest city. Its wide colonial-style streets make for pleasant neighbourhood strolls, and nearby attractions, such as Matobo National Park and Victoria Falls, make the city a fantastic launching pad for your adventures. With a population of less than a million people, this smaller city knows how to charm its visitors.
Pick up a rental car from Victoria Falls Airport for direct access to the world-famous Victoria Falls and surrounding parks. Watch the thundering Zambezi River tumble over the 108-metre falls and through a number of breathtaking gorges. Brave travellers like to bathe in The Devil's Pool, a calm pool right on the edge of the falls. Jump in your rental car and discover the surrounding Zambezi National Park for a chance to see white rhinos, elephants and other unique wildlife.
Rental car suppliers in Zimbabwe's airports
Compare the three car hire suppliers operating at Harare International Airport, Bulawayo Airport and Victoria Falls Airport for a cheap deal.
● Europcar. Collect your Europcar rental car hire inside the arrivals halls of your terminal.
● Keddy. Keddy is serviced by Europcar, so pick up your airport rental car from the in-terminal Europcar counter.
● Avis. Grab your Avis airport car hire at the counter located inside your destination's terminal building.
Zimbabwe road rules
It's important to get familiar with the local road rules and read your car hire supplier's conditions thoroughly. As a tourist, you are able to drive with your country's license or an international driver license in Zimbabwe for up to 90 days.
Other vital things to remember are:
● Traffic drives on the left side of the road in Zimbabwe.
● At uncontrolled intersections, give way to cars approaching on the right.
● Always wear your seatbelt and do not use a cellphone while driving.
● Yield to pedestrians crossing, even if you are at a green traffic light.
● The speed limit is 120km/hr on open roads and 60km/hr in urban areas.
● Always carry your rental car agreement, proof of insurance and your passport.
Tips for driving a rental car in Zimbabwe
● Zimbabwe's roads can be hazards, with dangers including potholes, roaming animals, pedestrians and unpredictable road conditions. For these reasons, drive carefully and avoid driving in your rental car after dark.
● Familiarise yourself with your routes before setting out, and research driving distances and petrol stop locations.
● Lock your car doors and remain aware of your surroundings, particularly at traffic lights.
● You may come across police road blocks. These are to help ensure everyone is obeying the road rules, so comply with any requests and you will likely be waved through with a smile.
● Hire a 4x4 car to help tackle challenging roads.