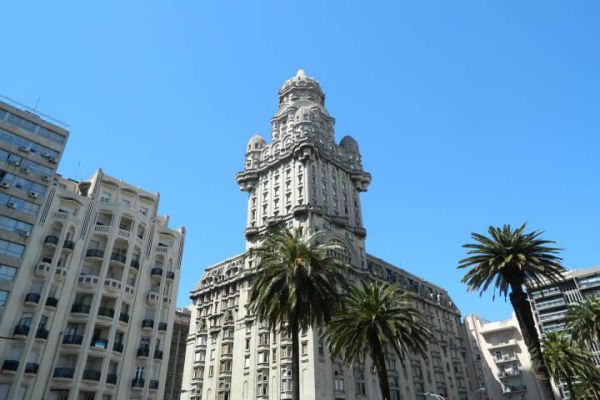 Image: Pixabay
Uruguay's capital is super accessible with a cheap rental car, book yours to see Montevideo's best sights!
Cruise around Ciudad Vieja (Old Town) and visit the iconic Plaza Independencia, the city's main square. Make time to visit Palacio Salvo, one of the tallest buildings in all of South America. Take a stroll through Barrio Reus, a colourful neighborhood favoured by tourists, and discover tango bars and beachfront clubs for a fun night on the town.
Cruise along the coastline to other Uruguayan cities such as Punta Del Este, Tacuarembo or Salto near the Argentinian border.
Hiring a cheap Montevideo rental car with Airport Rentals
Airport Rentals is the best place to hire a car for pick up at Carrasco International Airport. Simply type in your travel dates and click 'search.' In seconds, we'll compile a list of the best deals from a wide variety of rental brands. If you prefer a certain company or style, use the handy filters to narrow your search results.
Complete your booking on our secure site to enjoy free benefits such as unlimited mileage. Plus, enjoy 24/7 customer service support should you need it.
Carrasco International Airport (MVD)
Carrasco International Airport is Uruguay's largest airport serving over 1.5 million passengers each year. Upon landing, travellers will find restaurants, travel agencies, duty-free shopping and boutique stores. Guests can also enjoy free WiFi in the terminal.
Grab your rental car keys from the kiosks located in the arrivals hall.
Guide to driving a rental car in Montevideo
Use our Montevideo driving guide for tips, navigation help and parking information.
Driving from Carrasco International Airport to downtown Montevideo
Carrasco International Airport is located about 30 minutes northeast of Montevideo. For the quickest route, exit the airport and merge onto Route 101. At the roundabout take the second exit onto Cno. Carrasco, then turn left onto Dra Maria Luisa Saldun de Rodriguez. Next, turn left on Av Italia which brings you into the city near Parque Batlle.
Driving tips for your Montevideo rental car
Montevideo is like any other city, with busy streets and high traffic volume during rush hour. Note that many local drivers tend to roll through stop signs so take caution when coming to an intersection.
Uruguay car rental driving tips
● Drive on the right side of the road.
● Keep your headlights on at all times.
● Never leave valuables in your rental car.
● All passengers must wear a seatbelt at all times.
● When travelling in remote areas watch out for uneven road surfaces and potholes.
Check out our guide to the best road trip apps for your holiday.
Parking options at the airport and downtown Montevideo
Park next to Carrasco International Airport entrance and pay $U75 per hour and $U540 for the day. Valet parking is also available for an additional charge. US dollars and credit cards are accepted.
Finding parking spots is relatively easy in Montevideo. Avoid "Reservado" spaces and curbs with red paint. Monday through Friday from 10am to 6pm, paid parking is enforced in Ciudad Vieja (Old Town) and Centro (city centre). Payment is usually around USD$1 per hour. For overnight parking, it's best to park in a secure lot, at your hotel or in a well-lit area.
Enjoy your Uruguayan holiday and if this is your first time driving in a foreign country, be sure to check out our recommended tips!