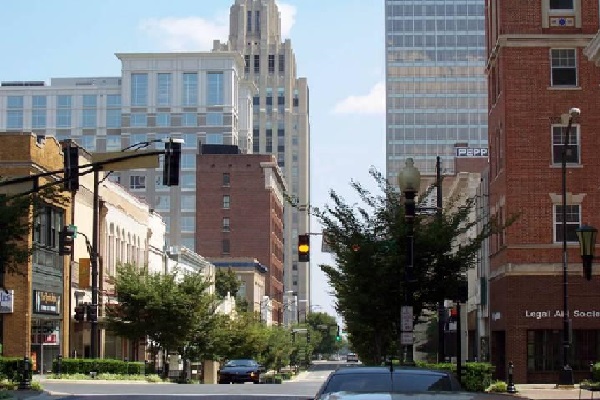 Image: James Willamor
Winston-Salem is a moderately sized city of roughly 250,000 people in the heart of North Carolina. It's often known as the Twin City thanks to its dual heritage originating from the merging of towns Winston and Salem in 1913, although locals occasionally refer to the city simply as 'The Dash' (after the hyphen in its name). If you're looking to explore Winston-Salem, a car rental will help you zip about town with ease.
Plus, a vehicle hire will open up a range of road trip possibilities to nearby cities such as Greensboro, Charlotte, and Raleigh.
Booking a cheap car hire in Winston-Salem with AirportRentals.com
There are three leading car rental brands operating at Winston-Salem Airport: Hertz, Budget, and Avis. Instead of researching your car rental options on each individual website, you can compare them all with one quick search using Airport Rentals.
All you need to do is enter your pick-up and drop-off dates into the search function to generate a list of rental vehicles available at Winston-Salem Airport. The cars are automatically ordered with the most affordable at the top, but you can also take your search one step further by narrowing down your results with the preference filter options.
Get in touch via the 24/7 phone or email assistance options should you have any questions about renting a car in Winston-Salem, or go ahead and reserve your car online with Airport Rentals to get instant confirmation and free benefits.
Introducing Winston-Salem Airport
The Winston-Salem Airport is officially known as the Smith Reynolds Airport. The facility is used for general aviation, as well as training and charter flights. Plus, it plays host to one of the city's biggest annual events, the Winston-Salem Air Show.
Inside the terminal, you'll find basic facilities in the main lobby area, including bathrooms and a small shop for snacks and drinks. This is also where you'll find car rental desks for Avis, Hertz, and Budget.
There are a number of flight services available to and from the Smith Reynolds Airport, including:
Winston-Salem car hire driving guide
Winston-Salem is a fairly spread-out city thanks to the fact that it began life as two separate townships. Because of this, most locals own vehicles to get around, although the traffic conditions are still nothing like you'd find in larger cities.
Driving from the airport to the CBD
The Smith Reynolds Airport is only 4.2 miles - a 10-minute drive - from the CBD. When you leave the terminal, turn left onto North Liberty Street, follow this road south then turn right at the major intersection onto Route 421. You can turn off here onto Main Street or any other central route.
Tips for driving a rental car in Winston-Salem
Winston-Salem is well laid out in a grid structure and is relatively easy to find your way around, although it will help to hire a GPS with your rental and familiarise yourself with a map to learn the major routes around the city. Summertime driving won't present any hassles at all, but you will need to drive slowly and be extra careful in winter when snow and ice are common on the roads.
Parking at Smith Reynolds Airport
There are plenty of parking spaces in front of the terminal, as well as a larger parking area just one minute's walk away. These stalls are uncovered and do not require payment.
Parking in Winston-Salem
The city of Winston-Salem features 800 on-street parking spaces, as well as multiple public and private lots and decks. Additionally, there is an option to park your Winston-Salem car rental and take a shuttle into the downtown area.