There's no shortage of things to see and do with a Wilmington NC car rental, from the city's port to its historic downtown area and relaxing beaches. It's known both for its rich history, and for its reputation as a gateway to the Cape Fear beaches. The Riverwalk in the city's historic district is packed with restaurants, shops and bars, and eventually leads to one of the top attractions in town: the USS North Carolina, a moored WWII naval ship. Outside of the downtown area, a car rental in Wilmington is the easiest way to visit the beaches along the coastline, such as Topsail Beach, Kure Beach, and the iconic Wrightsville Beach.
And the adventure doesn't need to stop there - Wilmington is well placed for a road trip around the Carolinas and beyond. A drive south along the coastline will take you through Myrtle Beach, Charleston, and down to Savannah for a sun-filled getaway along the US coast. And if you're around in March or April, you can keep on driving and head down to Florida to celebrate the madness of Spring Break.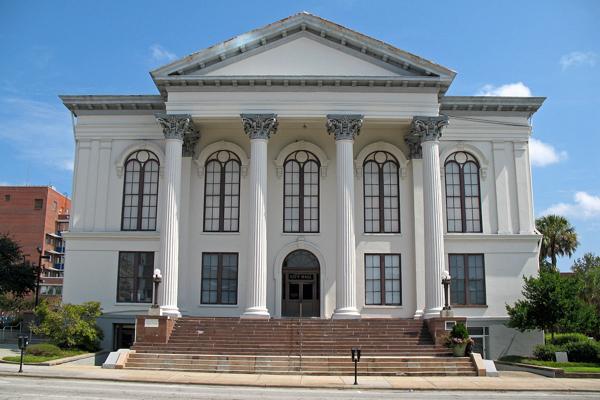 Image: Sanfranman59 (Own Work), CC-BY-SA-3.0, via Wikimedia Commons
Booking a car hire in Wilmington NC with AirportRentals.com
Normally, finding the best deal on a car hire means searching through each brand for quotes and vehicle availability. But with Airport Rentals, you can skip the hard work and run a single search to pull together all the information on vehicles from leading hire companies in Wilmington.
To begin, enter your Wilmington travel dates and click 'search cars'. This search immediately generates an up-to-date list of rentals available from leading suppliers, ordered with the best value deals at the top, allowing you to quickly reserve the cheapest car hire, or scroll through the options to find something more specific. If you have something particular in mind, use the filters to narrow down your results by factors such as transmission type, car size, or brand.
Once you've got your eye on your dream rental car, finalise your reservation with Airport Rentals to benefit from our online reservation management system, free cancellation policy, and 24/7 support - all at no extra cost.
Introducing Wilmington
Wilmington began with colonial settlers who started a community along the Cape Fear River in the 1700s. The river has continued to be the beating heart of the town for hundreds of years, and after the construction of the vibrant one-mile Riverwalk attraction, it was named as the 'Best American Riverfront' in 2014 by USA Today.
Another of Wilmington's major drawcards is the climate. This subtropical region promises hot summers and mild winters that very rarely see snowfall, making it the perfect getaway for those looking to escape the frosty northern states.
More and more tourists are realising the attraction of Wilmington, with the local Wilmington Airport serving a record-breaking 817,000 passengers in recent years.
Image: Donald Lee Pardue (Modified), CC-BY-2.0, via Flickr
Your guide to driving in Wilmington
Driving from Wilmington CBD to the airport
The Wilmington Airport is roughly 5 miles from the downtown area, with the drive taking 10-15 minutes under normal traffic conditions. One of the easiest ways to get there is to take South 3rd Street heading north and follow it as it turns onto the Martin Luther King Parkway. From here, turn off onto Route 133, veer right onto Gordon Road, then right again onto North 23rd Street which connects to Airport Road.
Tips for driving in Wilmington and North Carolina
Get ready to pick up your rental car in Wilmington with a few tips on driving in the region:
● You will drive on the right-hand side of the road in the US.
● You are required to turn your headlights on if you have your windscreen wipers on during rain.
● You are permitted to turn right on a red light when the road is clear unless otherwise signposted.
● Note that there are toll roads in the US, and they are also known as turnpikes.
● Never pass a school bus if the lights are blinking red.
● Know what to do ahead of time in the unlikely case of a car rental breakdown.
Parking in Wilmington
There are more than 800 on-street parking spots in the Wilmington downtown area, as well as two surface lots and three parking decks. The first hour of parking is free in the decks, and you can park for free in an on-street stall after 6.30 pm. On-street stalls cost USD$1.25 per hour Monday to Saturday 9 am to 6.30 pm.