Nicknamed the Heart of Texas, Waco is the perfect city to enjoy the best of Texan culture. Reserve a cheap airport rental car to cruise around the southern state.
Home to Baylor University and over 100,000 residents, Waco offers a great downtown area for all types of travellers to enjoy. You can tour Waco via the complimentary Silo District Trolley by simply waving one over and hopping on. Cruise to the city's best shopping, dining and art spots in the area using this fun and unique transportation. If you are visiting in autumn, be sure to catch a Baylor home football game to see how much Texas loves and supports the exciting sport. Fan of home improvement shows? Make time to visit one of the most beloved TV duos, Chip and Joanna Gaines at their Magnolia Market for shopping, a bite to eat, games and a hang in the gorgeous garden. Take a stroll along the Brazos River, picnic in Cameron Park and enjoy a swim in Lake Waco - all accessible with an airport rental car.
Waco is the jumping off point to other hotspots in Texas. Drive south to the live music city of Austin or cruise north to the big city of Dallas - all just a short drive away in your rental car.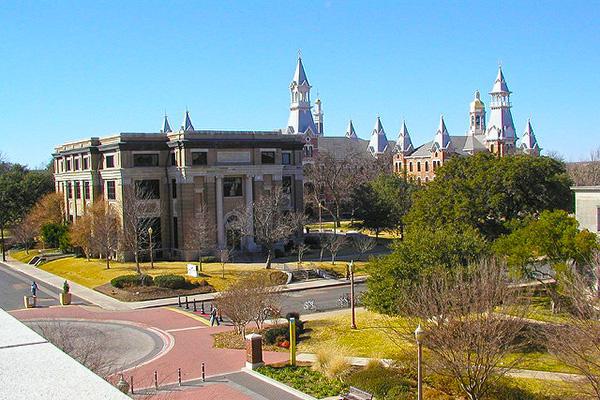 Image: Jandy Stone on Flickr, CC BY-SA 2.0
Hiring a cheap rental car in Waco with Airport Rentals
Find the perfect rental car for your upcoming Waco trip in minutes with Airport Rentals. Pre-book a car hire to save money and enjoy the freedom of transportation while cruising around this Texan city. Simply search your pick-up location, include dates and allow us to compile the top industry deals available from reputable companies across the globe. Select your favourite rental car brand like highly-rated Hertz and Avis or filter the list of options by other preferences such as transmission type or capacity. Each offer includes beneficial add-ons such as roadside assistance and unlimited mileage for no extra charge.
When you feel confident with your choice, complete your booking on our secure site or save your selection for a later date. If you have any questions along the way, reach out to our helpful customer service team available at any time, day or night.
Waco Regional Airport (ACT)
Waco Regional Airport is conveniently located just outside the city of Waco and Baylor University. The regional facility offers basic amenities, and a cafe open on weekdays from 8am to 5pm. Head to the arrivals area near baggage claim to locate the onsite rental car companies. The rental car lot is situated just outside the terminal doors.
If you are picking a vehicle up from a depot in downtown Waco, taxi to the city or pre-book the airport shuttle at least 24 hours in advance for a charge of USD$3-5.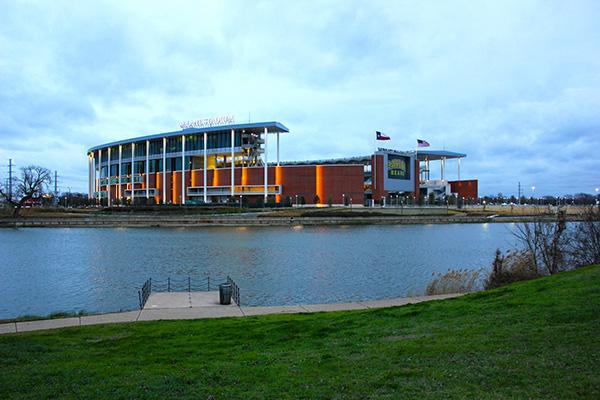 Image: Nicolas Henderson on Flickr, CC BY-SA 2.0
Driving a rental car in Waco
They say "everything is bigger in Texas" and that goes for the vehicles as well. Get used to driving alongside many extra large trucks and expect to find some of the cheapest petrol in the country.
Getting from the airport to downtown Waco
Waco Regional Airport is situated just north of Lake Waco and only a 15-minute drive to downtown. For the fastest route, exit the airport on Karl May Drive and turn left onto Steinbeck Bend Drive. Next, turn right on China Spring Road which turns into 19th Street. Follow this into Waco to arrive in the city centre.
Driving tips for Texas car hire
● New to the USA? Read our USA driving guide.
● Children 7 and under must be secured in a child passenger safety seat.
● The speed limit is up to 70 mph on the highways and 30 mph in urban areas.
● Although Texas law doesn't prohibit the use of mobile phones, it's best to stick to hands-free devices.
● Right turns on red lights are allowed unless stated otherwise.
Parking at Waco Regional Airport and around town
Great news! Parking is free at Waco Regional Airport. Use the short-term lot for a few hours or park in the long-term lot for multiple days. If these lots are full, use one of the overflow lots just across the street.
There is plenty of parking in downtown Waco including both on-street spaces and parking garages. On-street parking is limited to two hours from Monday to Friday, 8am to 5pm. Enjoy free parking at the trolley station and ride the favoured Silo District Trolley around town for free.