Traverse City is a popular tourist destination in North Michigan on the lower peninsula, famous for its National Cherry Festival. Hop in a cheap rental car to explore the city and surrounding natural attractions.
Visitors flock to Traverse City in the summer for nonstop music festivals, warm days at the lake and scenic outdoor trails. Autumn is the season for apple picking and vineyard visits plus beautiful, colourful foliage around every corner. Fill your days cycling through nature parks, playing rounds of champion golf, tasting craft beer and lounging on sugar-sand beaches. Head to Sleeping Bear Dunes National Lakeshore, one of the most beautiful places in America, to climb sand dunes, enjoy miles of pristine beaches and forested wilderness islands.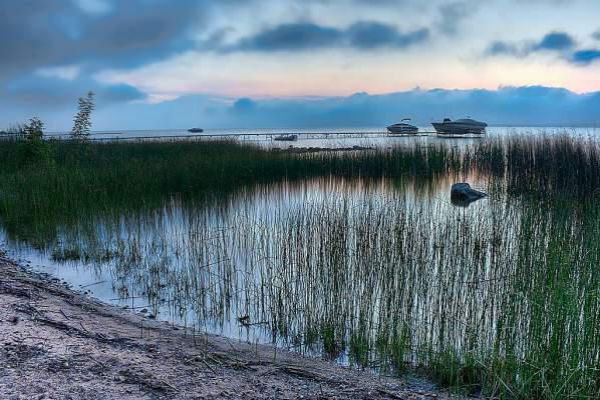 Image: Bryan Casteel
Once you've explored the area, grab your rental car and drive to nearby cities such as Detroit, Grand Rapids or road trip to the Windy City of Chicago.
Hiring a rental car at Cherry Capital Airport
For a quick and secure car rental booking in Traverse City, use Airport Rentals. Compare multiple car hire companies in seconds. Choose from a selection of vehicles such as compact cars, luxury vehicles, SUVs, convertibles and more. Find competitive rates from popular brands like Avis, Budget and Hertz. Narrow your search using filters to match your preferences and choose a vehicle that suits your plans.
When you're ready to book, enjoy secure online confirmation, pay no booking fees and access 24/7 customer service, should you need it.
Cherry Capital Airport (TVC)
Cherry Capital Airport is conveniently located just three kilometres outside of Traverse City and serves over 400,000 passengers each year. The terminal welcomes visitors with a northern woods lodge theme complete with fireplace and stained glass. Find all things cherry-related at the gift shop plus a selection of books and travel accessories. Enjoy homemade soups, salads, fresh dessert pies and more from Cherry Country Cafe.
WiFi is available for all travellers, as well as private phone areas. To pick up a rental car, head to the kiosks located on the ground floor near the baggage claim. If you're heading into Traverse City, hop in a taxi for a 15-minute ride to the downtown area.
Driving from the airport to downtown Traverse City
Depending on your accomodation, driving from Cherry Capital Airport will take 5 to 15 minutes. To head straight to the city centre, exit the airport taking a right onto South Airport Road. Turn right on Cass Street and follow this into downtown Traverse City for a 10 to 15-minute journey.
Driving your rental car in Traverse City
Traverse City is a bustling and popular tourist destination, but well signposted and navigable. Stay on highway 31 to drive along the Grand Traverse Bay.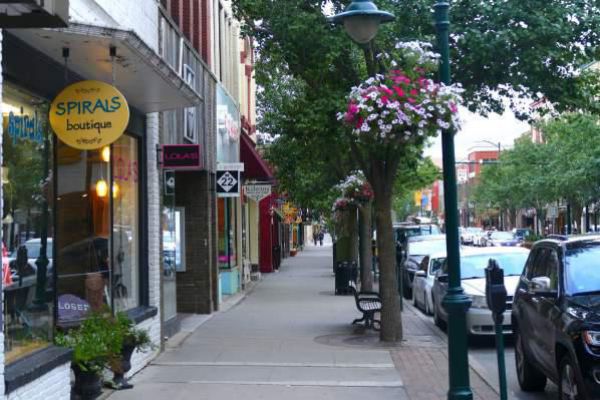 Image: marada
For more USA driving tips:
● Drive on the right side of the road and overtake in the left lane.
● Speed limits are 60-70 mph on highways and 30-40 mph in urban areas. Follow posted signs.
● Always wear a seatbelt.
● Right turns on red lights are allowed unless stated otherwise, treat it as a stop sign and only turn if there is no oncoming traffic.
● If driving your hired car during winter conditions, be cautious of ice and only drive if necessary.
● Check out our USA driving guide for more information.
Parking at the Cherry Capital Airport and the city centre
If you need to park at Cherry Capital Airport, choose from either short or long-term lots, both located within walking distance of the terminal. The rates are as follows: the short-term lot charges $1.25 per half hour with a $10 maximum and the long-term lot charges $2 an hour with a $6.75 maximum and $44 weekly rate. A cell phone parking area is convenient for quick airport pick ups at no charge.
Two large garages are open to the public in downtown Traverse City for cheap daily rates. Old Town Parking Garage allows free overnight parking from 6pm to 8am. Metered on-street parking costs $1 per hour at time limits under 4 hours, with many offering 30 minutes free.