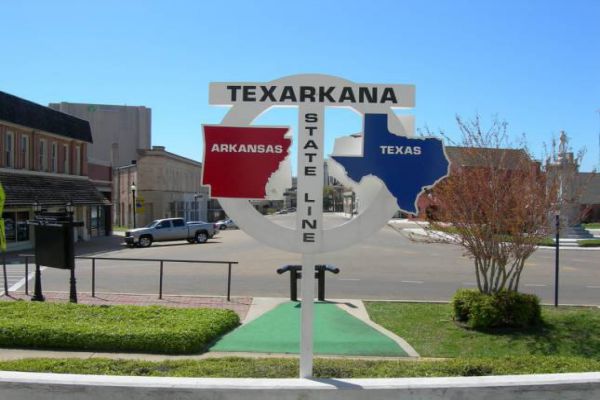 Image: Jimmy Emerson, DVM
Texarkana is a city that has one foot in the state of Texas and the other in Arkansas. Technically speaking, Texarkana is a twin city, although the two are completely inseparable. In fact, the state line runs directly through the middle of town and through the middle of the post office. In total, there are roughly 70,000 people living in the city across the two states, making it a relaxed and close-knit hub. As well as the welcoming small-town vibe, there is also plenty to see and do when you pick up a cheap car rental in Texarkana.
Once you've got your car hire sorted, you can also start planning a few road trips to nearby cities such as Shreveport, Dallas, or Little Rock.
Find the best deal on car hire in Texarkana with AirportRentals.com
Three leading car rental companies operate at Texarkana Airport, and while you could go to each one for quotes on various vehicles, you could also save yourself a lot of time and compare them all with Airport Rentals.
The search function will take your arrival and departure dates and generate a list of available vehicles during that time from all three companies. You can quickly see which company offers the best deal, or scroll through the options to see what paying a little more could get you. You can also narrow down your results with the filters if you're after something specific, such as a larger or more economical car.
When you're ready to make your reservation, book securely online with Airport Rentals to take advantage of free benefits such as unlimited mileage. If you come across any questions along the way, use the 24/7 phone assistance and speak to one of our of our friendly agents to get you sorted in no time.
Introducing Texarkana Airport
Texarkana Regional Airport - also known as Webb Field - is on the Arkansas side of the city. It's a small terminal that largely caters to non-commercial flights (flight training etc), although there are regular flights scheduled to and from Dallas Fort Worth.
The terminal is fairly basic with public bathrooms and a small waiting area. You may wish to bring a snack with you if you have a wait before your flight departs. For those arriving at Webb Field, you'll find the car rental desks inside the terminal, and you are best to book in advance to ensure the desk is manned when you arrive.
Driving a car hire in Texarkana
Getting around Texarkana by rental car is a breeze. The average commute time for workers is less than 20 minutes, and the land is reasonably flat so you won't need to worry about hills. Plus, the roads are largely laid out in a grid-like structure, making it easy to orientate yourself during your stay.
Driving from Texarkana to the CBD
The airport is only 3.2 miles from the centre of town, so you'll be able to cover this distance in less than 10 minutes. When you leave the terminal, turn left onto East Broad Street, then take any right turn into town - East 24th, East 18th, and East 12th are all good options.
Tips for driving your rental car in Texarkana
As with any new city, a GPS unit can be a huge help in finding your way around Texarkana, so consider booking one with your car rental. Even though traffic isn't too bad even in rush hour, it can also be a good idea to avoid driving at peak times just to avoid the unnecessary stress. And while you are on the border of two 'hot' states, there is the occasional winter snow storm in Texarkana, so be sure to slow down and take normal precautions for wintry conditions.
Parking at Texarkana Regional Airport
There is a large parking lot directly in front of the terminal for both short- and long-term stays. Parking during the day is free, and overnight stalls are USD$8 per night. There is also a small space outside the terminal where you can pick up or drop off passengers, but you are not permitted to leave vehicles unattended in this space.
Parking in Texarkana
You won't have any issues tracking down a car park in Texarkana. There are on-street spots around the city, as well as a handful of parking garages. Plus, most attractions and destinations include a number of spaces as well.