In central Pennsylvania, in fact in Centre County, is the small town with a big university, State College. The town exists primarily to support Pennsylvania State University, otherwise known as Penn State - and many residents study or work there. However, it is a destination in its own right, with a youthful vibe thanks to the student population, and a great place to begin a car rental adventure in the big and beautiful state of Pennsylvania.
Visitors can enjoy a range of great outdoor recreation activities like mountain biking and fishing, and time their visit to catch one of the many annual festivals and events that happen in State College. Then, head out for a road trip to one of the many other great destinations in Pennsylvania like Pittsburgh and Philadelphia, or into the wider northeastern corner of the US and cities such as New York, Boston and Washington. Supernatural enthusiasts might enjoy the state's creepier side, with the destinations outlined in our US spooky road trip guide.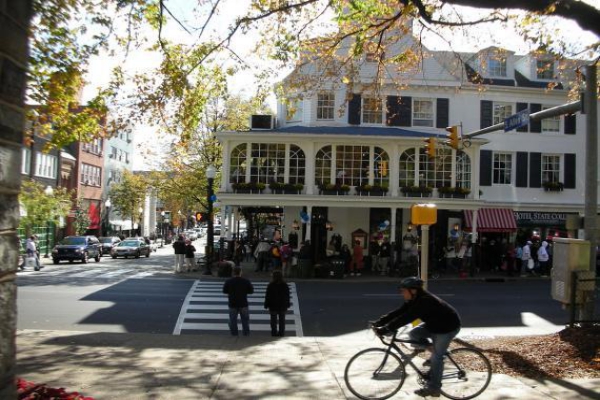 Image: Justkillingtime
Find the best deals on State College Airport car rental
You can compare cheap car rental prices in State College without flicking between multiple tabs and spending precious time looking up individual rental suppliers. Airport Rentals brings it all together in one place, serving up a variety of vehicles to hire from a range of local and international companies. With a network of locations all over the globe, we also have the buying power to ensure our customers are getting the absolute best deals and the perfect car for their self-drive adventure.
With handy filters to narrow down your options by transmission type, capacity, vehicle type and other categories, you can pinpoint the best choice for your car rental needs - and see them listed by highest or lowest price to get the deal that fits your budget. For more support in navigating the search and booking process, access the Airport Rentals team of experienced and knowledgeable car hire consultants. They are available by phone 24/7 to answer any questions and help you compare, choose and book.
State College (University Park) Airport
The airport at State College is officially called University Park Airport, and is located on Fox Hill Road just outside of town. It also serves the town of Bellefonte and the surrounding Central Pennsylvania area. Several airlines connect the airport with travel hubs in the Eastern United States such as Detroit, Philadelphia and Boston.
The terminal is open 24/7 and offers free WiFi, charging stations, a cafe, and an ATM. The car rental counters are right beside baggage claim.
Guide to driving your car hire in State College
Once you've picked up your State College rental car, you'll be wanting to hit the road. Read on to prepare!
Driving from the airport to downtown State College
The distance between the airport and town is less than 7 miles, and should only take around 20 minutes. Upon exiting the airport, follow Fox Hill Road until it veers left and becomes Fox Hollow Road. Turn right onto East Park Ave and head through the Penn State campus, then go left onto North Atherton Street and follow signs to the town centre.
Tips for driving your car hire in State College
Driving in State College and the central Pennsylvania region is much the same as driving in the rest of the state, with a few quirks. Find out what to expect when you hit the road with your State College car rental.
● You are likely to spend a lot of time driving around the college campus. Look out for pedestrians and beware young drivers.
● It can get cold, snowy and icy in winter. Read our tips for winter driving and be well prepared.
● Residential speed limits are generally 35 miles per hour, with freeways allowing 70mph at the fastest. There are several different stages between the two, so keep a close eye on the posted limits.
● In fall, there can be unexpected hazards - primarily wet leaves making the road slippery and deer on the roads in rural or forest areas.
● The blood alcohol concentration limit for driving in Pennsylvania is 0.08% and 0.02% for anyone under the age of 21.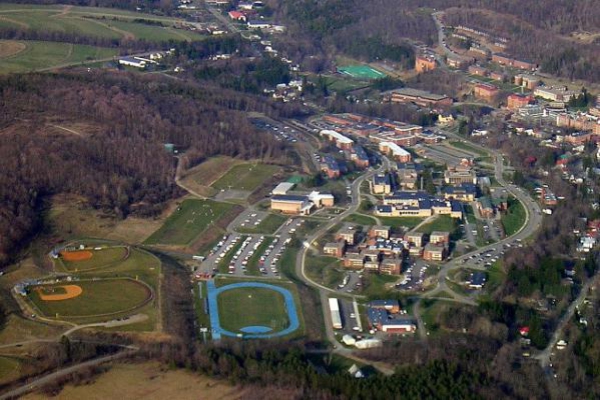 Image: Martin Klingensmith -Raidfibre
Parking in State College
At the University Park Airport you will find both short and long term parking. Rates range from $1 per hour in short term to $54 a week in long term, making it very affordable to park at the airport.
In downtown State College, you will find parking garages and on-street meters. And as you move into the outskirts it is easy to find free street parking. On the university campus, visitors can park in one of many parking garages with a one-day parking permit at $8 per day.