From humble beginnings as a small river-port town, the Louisiana city of Shreveport has grown into the third-largest city in the state. Sitting next to the Louisiana-Texas border, it's the ideal spot to pick up a Shreveport car rental and see the sights in both states.
Shreveport is a wonderful mix of arts and theatre, history and culture. Annual events (such as the State Fair of Louisiana), beautiful river walks, brilliant downtown shopping opportunities, and the various casinos draw visitors from all over the state and further afield, creating a real buzz throughout the city all year round.
If you're up for a road trip, head on down to New Orleans to visit one of America's weirdest roadside attractions (Nicolas Cage's tomb), or visit the nearby cities of Monroe and Jackson. Read up on our US driving distances guide to help plan your route.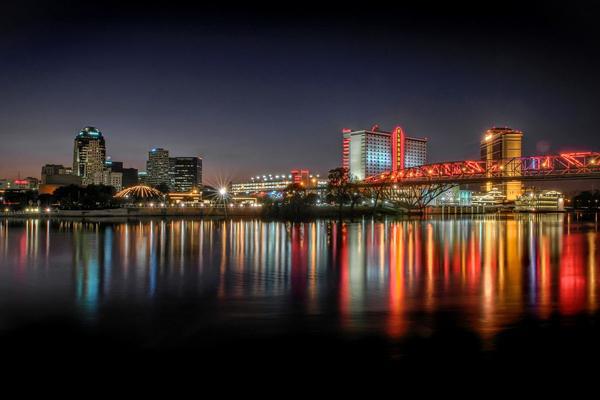 Image: Shreveport-Bossier Convention and Tourist Bureau (Own work), CC-BY-2.0, via Wikimedia Commons
Booking a Shreveport car hire with Airport Rentals
Compare cheap Shreveport car rentals with Airport Rentals.
Find the perfect vehicle to hire for your visit to Shreveport by selecting your travel dates on our sophisticated booking engine and clicking 'search'. All the cars available to you on those dates will present by order of the lowest price on one page for easy comparison. If you're looking for something specific, use the handy filters to narrow down your options. Sort your results by car brand, transmission type, capacity, and more. Book a van for your family or a compact car for a smaller group. Perhaps you're after an SUV or an economy car - whatever you need, Airport Rentals will help you find the ideal car hire at a fantastic price.
When you're ready to book, do so securely, receiving instant confirmation on most vehicles and access to 24/7 customer service should you need it.
A quick look at Shreveport city
Shreveport is the third largest city in the state of Louisiana, after New Orleans and Baton Rouge. While the city was once alive with oil companies and a thriving gas industry, these days the 200,000 odd population is more focused on service and tourism. Behind California and New York, Louisiana is one of the largest film industry states in the USA, and consequently, Shreveport has been the set of many a Hollywood film.
Shreveport has a humid subtropical climate, which means the spring and summer months are usually hot and wet with thunderstorms, while autumn and winter are mild with only occasional ice.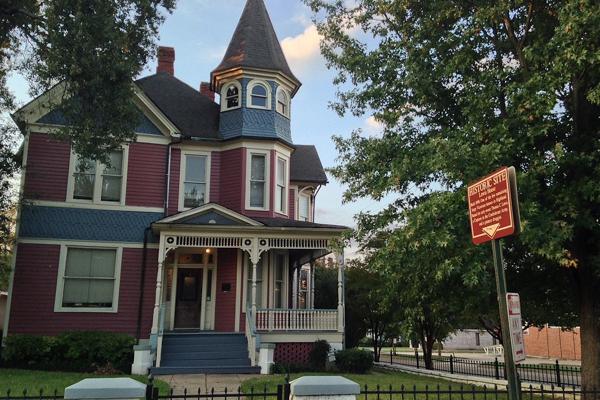 Image: Rrleffler (Own work), CC-BY-SA-3.0, via Wikimedia Commons
Getting around in Shreveport in your car hire
Shreveport is easy to navigate, with a central loop road surrounding the city. Clyde Fant Parkway runs along the river and connects downtown with the southern regions of Shreveport. The summer rains bring surface flooding at times, so avoid large puddles and take your time.
How to get to Shreveport Regional Airport
It's an easy 20-minute drive to Shreveport Regional Airport from the CBD. From downtown, follow the signs to join N Market Street and head south. Use the right lane to join Interstate 20 W and follow until you reach Monkhouse Drive. Take the exit and follow the signs to the airport.
Fly into Shreveport from the United States cities of Charlotte, New Orleans, Denver and Las Vegas, to name a few.
Tips for driving your car hire around Shreveport
● Red markings on the road anywhere in Louisiana mean you cannot enter that area.
● Always give way to pedestrians, even if they are not at the lights or a crossing.
● Road rage can lead to aggressive and unsafe driving, and it is a criminal offence in Louisiana. Keep your cool!
● Make sure you take your headphones off; it's illegal to wear them while driving.
Where to park your rental car in Shreveport
Finding parking in downtown Shreveport is easy. On-street metered parking is available starting around USD$0.25 per 30 minutes; it's free after 5 pm during the week. Free parking is also available along the riverfront at all times. Garages and parking lots are also scattered around the downtown area.
Shreveport Regional Airport offers visitors short and long-term parking. Both start at USD$1 per 20 minutes, and rise to a daily maximum of USD$10 and USD$9, respectively.