Grab a Santa Monica car rental to explore this famed and favourite city and make all your California dreams come true. Cruise down the coastline and visit beach after beach filled with families, friends and surfers.
Santa Monica Pier is the main attraction, drawing over 7.5 million visitors every year. You can while the hours away shopping souvenirs, dining on the boardwalk and riding roller coasters and the Ferris wheel at Pacific Park. Find all the favourite USA stores at Third Street Promenade, an upscale walking street full of shops and delicious dining options. The weather is always warm, and the boardwalk is always bustling - see it for yourself with the freedom of your own wheels.
For those sticking around Los Angeles for a few days, make sure to cross off the top 10 things to do in the region. When you're ready to move on, cruise along the famous Highway 1 visiting Big Sur on the way to San Francisco, or hit up Las Vegas if you are feeling lucky.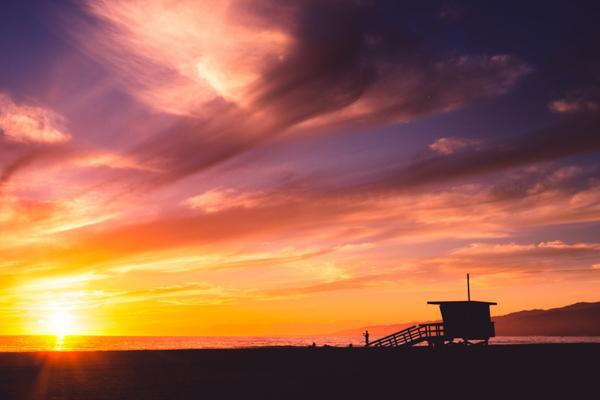 Hiring a rental car in Santa Monica
Exploring California is impossible without a car rental. Secure one for Santa Monica using Airport Rentals, ranked number one for car hire by TrustPilot. Compare all types of vehicles from multiple trusted suppliers, including convertibles for that classic California coastline experience. Select your preferences using our handy filters, narrowing down the results until you find the perfect car hire.
Book instantly on our secure site with the option to make changes if needed at a later date, and enjoy free benefits included with every rental deal. Our 24/7 customer service team is ready to assist should any questions or issues arise.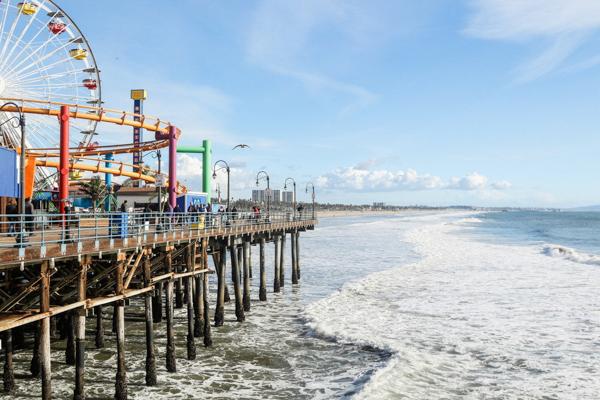 City guide for Santa Monica
Santa Monica is a condensed little seaside city of 92,000 that is easily drivable with a hired car. The resort town became famous in the early 20th century thanks to the agreeable year-round weather and historic pier landmark.
The Los Angeles International Airport is only a short drive away and is an easy spot to drop off your rental car if needed.
Car rental driving guide for Santa Monica
Driving from downtown Santa Monica to Los Angeles International Airport
If you are catching a flight out of LAX Airport, the journey from Santa Monica takes roughly 20 minutes in normal traffic conditions, but always give yourself extra time as traffic is known to be heavy on this route. From Santa Monica Boulevard, head south on Lincoln Boulevard and turn left onto Olympic Boulevard. Stay in the left lanes to merge onto I-10 E, then take exit 3B to merge onto I-405 S, and take this to exit 49. Turn right on Howard Hughes, then left onto Sepulveda Boulevard which will bring you to the airport.
Driving tips for your Santa Monica car hire
You can cruise around Santa Monica's dreamy little beach scene in your hired car with fairly minimal congestion, but if you plan to drive to other spots in the area, be prepared for heavy traffic conditions. Use a GPS or smartphone app to help you navigate.
California road rules
● Speed limits on multi-laned highways are typically 65 mph, while the famous coastal Highway 1 is 55 mph.
● Give way to pedestrians.
● Use the less-trafficked carpool lanes (also called diamond lanes) if you have passengers in the vehicle.
● For more tips, read our USA driving guide.
Where to park your rental car in Santa Monica
Parking often fills up on the weekend near the pier and beach, but there is always parking available in the downtown area. Park directly at the Pier for USD$3 per hour, open 24 hours a day. Metered on-street parking is scattered downtown - abide by posted signs regarding time restrictions and pay around USD$2 per hour. For longer parking periods, use one of the 24-hour downtown garages, free for the first 90 minutes and USD$1.25 per hour with a USD$17.50 maximum.