Touch down in Santa Fe, New Mexico's capital city for a holiday of rich culture and outdoor adventure. Explore the Santa Fe National Forest or head to the Sangre de Cristo mountain range by renting a cheap airport rental car to access the top spots.
Founded by Spanish colonists in the 1600s, Santa Fe means "holy faith" in Spanish. Learn about its complex history when you visit the city's cultural art galleries and museums. Dig into green chile dishes that wake up your taste buds and enjoy the friendly welcome from the locals. Shop at the local markets for authentic Native American jewelry and stroll amongst adobe-style homes and buildings that take you back in time.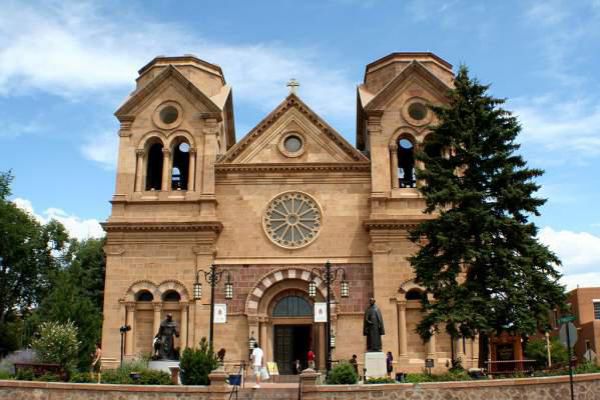 Image: Asaavedra32
If you love the outdoors, head to the mountains for hiking, biking and camping in summer, and skiing in the wintertime. The landscape alone is worth a visit to this New Mexican locale.
Off to a nearby city? Continue through the mountains to Denver or drive south to the state's largest city, Albuquerque. Hit the California coastline and stop in Los Angeles, San Diego or San Francisco along the way. With rental car drop off locations across the USA, your road trip opportunities are endless when you book with Airport Rentals. Use our driving distance guide to help plan your route.
Hiring a cheap rental car in Santa Fe
Pre-book your car rental at Sante Fe Airport to explore the region with the freedom of your own wheels. Use Airport Rentals to compare multiple car companies and find affordable rates in seconds.
Simply type in a few travel details to generate a list of suitable vehicles available from Santa Fe Municipal Airport, and then refine your search using handy filters for easier selection. Choose from popular suppliers like Avis and Hertz or pick up in downtown Santa Fe for even more options.
Choose what works best for you and book instantly and securely online, without paying any additional booking fees. Plus, enjoy access to 24/7 customer service should you need it at any time throughout the process.
Santa Fe Municipal Airport (SAF)
Each year, Santa Fe Municipal Airport serves almost 50,000 passengers with direct flights to Dallas, Denver and Phoenix. There is one terminal building offering a full-service restaurant (open 8am to 3:30pm), vending machines and information kiosks. Free WiFi is available in the building.
Rental car counters are situated inside the terminal. If you're picking your car hire in town, flag down a taxi as there are no public transportation options.
Driving from airport to the city
The quickest route downtown from Santa Fe Airport is via NM-599 North. Follow this highway until exiting onto US-285 S toward Santa Fe. Stay in the left lane to exit onto N Guadalupe St and take San Francisco St to arrive at Santa Fe Plaza in the city centre after about 20 minutes of driving.
Driving tips for your rental car in Santa Fe
The beautiful landscape surrounding of Sante Fe is hard to ignore, but make sure you keep your eyes on the road.
New to the USA? Here are a few more helpful tips for the drive:
● Stay on the right-hand side and overtake on the left.
● Every passenger must wear a seatbelt.
● Use of mobile phones is illegal.
● Drivers crossing a sidewalk entering or exiting a driveway, alley or parking lot must yield to pedestrians.
● Right turns on red are allowed unless stated otherwise, treat it as a stop sign and only turn if there is no oncoming traffic.
● For more tips, read our USA driving guide.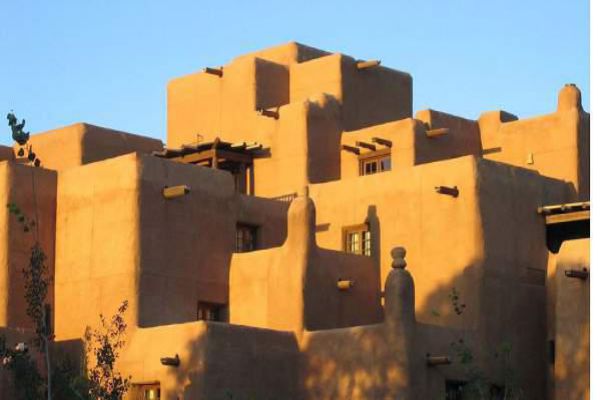 Image: Curt Smith
Parking at the airport and in the city
Santa Fe Municipal Airport offers affordable short- and long-term parking options within walking distance from the terminal. A flat pre-paid fee of $3 is accepted at the parking lot pay-stations.
Everyone drives in New Mexico which means plenty of parking spaces in Santa Fe. Both on-street metered parking and public garages are available in and around the city. Abide by designated signs to avoid fines.