Find the best deal on a Rochester MN car hire to start your trip the right way with Airport Rentals. This Minnesotan city is known as one of the best places to live in the United States for its high quality of living. An innovative city with a highly educated population, Rochester is home to the world-renowned Mayo Clinic. The city is packed with things to do with your car rental, from the Seabreeze Amusement Park to the George Eastman Museum and Rochester Museum and Science Center.
Once you have the freedom of a Rochester car rental, there's no end to the places you can visit. Drive 90 minutes north, and you'll arrive in the twin cities of Minneapolis and St Paul (the state capital). Or, make your way east for four hours to see Milwaukee and Lake Michigan, or drive a little farther down to Chicago to begin an epic road trip adventure across the United States along Route 66.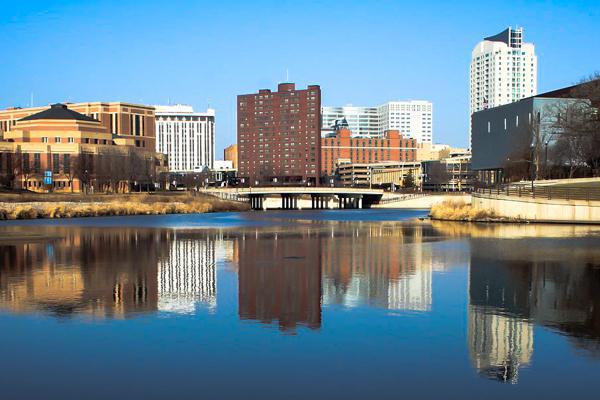 Image: Jonathunder (Modified), CC-BY-SA-3.0, via Wikimedia Commons
Booking a car hire in Rochester MN with AirportRentals.com
Make booking your Rochester car hire the easiest part of planning your trip with Airport Rentals. One search will let you compare leading rental brands in Rochester, so you can quickly see car deals on offer without having to check with each company.
Simply enter your Rochester travel dates to generate a page of rentals available during your stay, listed with the most affordable at the top. Each listing clearly outlines price, features and benefits, and you can further narrow down your results by using the filters to only view cars of a certain type, feature, or transmission.
Once you've found the perfect car rental in Rochester, you can reserve quickly and securely through our sophisticated booking platform. This will give you access to the online management system to review your booking online and make any necessary changes leading up to your trip.
Introducing Rochester
Much of the downtown area of Rochester comprises the Mayo Clinic, and various hotels, bars, shops, and restaurants. The clinic draws in over 2 million visitors every year and is the second-largest employer in the state after the government.
The time of year will play a considerable role during your stay as the summers are often hot, while the winters are frigid. You can expect an average of 50 inches of snowfall during winter, with daily averages below the freezing level. Come summer, and daily highs are usually around the 27 degree Celsius (81 F) mark.
Many visitors arrive at the Rochester Airport, which is less than 10 miles from the city and offers direct flights to Chicago, Atlanta, and Minneapolis.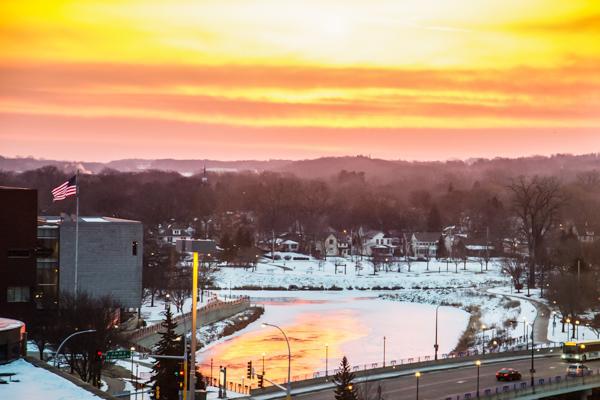 Image: Tony Webster (Modified), CC-BY-2.0, via Flickr
A guide to driving a rental car in Rochester
Driving from the CBD to Rochester Airport
It's less than 10 miles - or roughly a 15-minute drive - from the downtown area to the airport. As you are leaving the city, head south on Route 52, then turn right onto Route 63. Follow this road south before taking a final turnoff onto County Rd 16 SW to reach the airport.
Tips for driving in Rochester
Whether it's your first time driving in the US or Minnesota, read our useful tips to prepare to pick up your car hire in Rochester.
● You will drive on the right-hand side of the road in the US.
● Prepare for winter driving in Rochester with these tips.
● The speed limit on rural highways in Minnesota is usually 70 mph, and 65 mph on expressways and interstates.
● Do not pass a school bus if the red lights are blinking, even if it has stopped.
● You are permitted to turn right on a red light if the road is clear.
● Toll roads are also known as turnpikes in the US, and they are scattered about the country.
Parking in Rochester
There are five parking buildings and eight surface public parking lots in the downtown area, with a total of more than 2,900 parking stalls. There are also on-street spots that are free after 5 pm but note that you cannot park overnight. The Mayo Clinic offers private parking for USD$12 per day.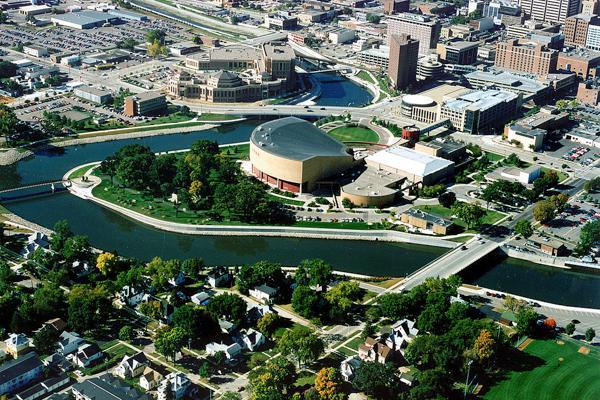 Image: U.S. Army Corps of Engineers Digital Visual Library, Public Domain, via Wikimedia Commons