"Magic City", "Capital of the Blue Ridge", "Star City of the South": these are heady monikers for a small city in Virginia, but Roanoke lives up to its various nicknames. One of them comes from the giant star atop Mill Mountain which overlooks the city, and another from its proximity to the beautiful Blue Ridge Parkway. The magic refers to Roanoke's quick formation as a railroad town in the late 1800s, and there is a fantastic heritage to discover here, overlaid with a modern vibrance.
The Blue Ridge Parkway stretches to the north and south of Roanoke, one of the United States' most famous road trips and beautiful in all seasons. Take it to visit Charlottesville or Asheville, or head east towards the coast and see Norfolk or Washington D.C. Nature lovers might make Shenandoah National Park their destination, a beautiful spot featured in our list of winter wonderlands.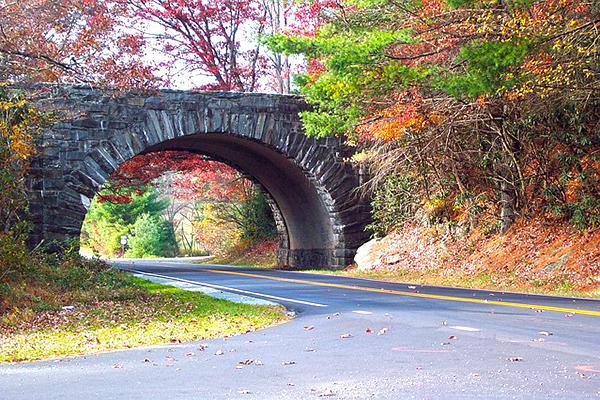 Get your ideal Roanoke Airport car rental with Airport Rentals
There's no need to spend hours on planning your road trip from Roanoke when you do it with Airport Rentals. Enter your travel dates into the easy-to-use search engine, look over the resulting list of options from many different rental suppliers and pick the perfect vehicle. All the information you might need is visible right there on the results page, so it's no problem to compare the choices.
Filters make the search even easier. You can narrow your list down by filtering for particular features and vehicle types. The cheapest rental cars are at the top of the list by default, so it's a breeze to spot the best bargains. Should you need help during any part of the search and booking process, the friendly Airport Rentals team are well-versed in all aspects of car hire, and available by phone 24/7.
Guide to Roanoke Airport
The Roanoke-Blacksburg Regional Airport is a busy place, with many daily flights to domestic locations including Chicago and New York LaGuardia by a range of airlines. With seven gates and a restaurant and bar both before and after security, it is a great place to fly to or from. There is also free WiFi throughout the terminal, a news and gift shop, vending machines, work desks and even a pet relief area. Rental car counters are near the baggage claim.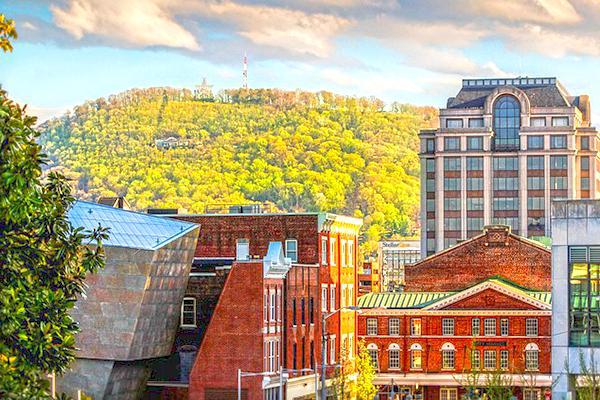 Guide to driving a car hire in Roanoke
Getting from the airport to downtown Roanoke
Depart the airport on Aviation Drive NW and merge onto Hershberger Road NW heading towards the I-581. Get on that heading towards Roanoke, and take exit 5 on to Williamson Road NE. From there, turn right onto Campbell Ave which will lead you into the central city.
Tips for driving a rental car in Roanoke
Driving in Roanoke and Virginia is not much different than driving in the rest of the United States - however, there are a few things to remember. If you are arriving from overseas, remember to stay right!
● Roanoke is a major stop on the Blue Ridge Parkway. This scenic route attracts many visitors, so watch out for inexperienced drivers. Drive defensively, and always pull over to admire the scenery.
● The I-81, a main thoroughfare passing just outside of Roanoke, is known to be a difficult road. It is winding and mountainous. Take care.
● Virginia can get snowy in the wintertime, especially in the higher altitude and mountainous areas. Read our winter driving tips and be prepared.
● There are a few stretches of interstate in Virginia where the speed limit is 70 miles per hour. The limit in residential areas is 35 mph, but lower speeds are required in school zones. Always check the signs!
● In Virginia, all passengers under the age of 18 must be wearing a seatbelt or appropriate child restraint. Those over 18 must wear one when in the front seat. We recommend always wearing a seatbelt.
Parking at the airport and around Roanoke
There are more than 1800 parking spaces available at Roanoke Airport, so you should have no problem finding a spot. Short term parking is right outside the terminal. The first 15 minutes in either lot is free, and after that the short term lot charges USD$1 per 30 minutes to a daily maximum of USD$16. The long term lot charges the same but with a daily maximum of USD$9.
In downtown Roanoke, you'll find the usual combination of on-street spots and parking garages or surface lots with small fees. Many of these are free in the evenings or weekends - just read the signs carefully to determine whether you need to pay, and how much.