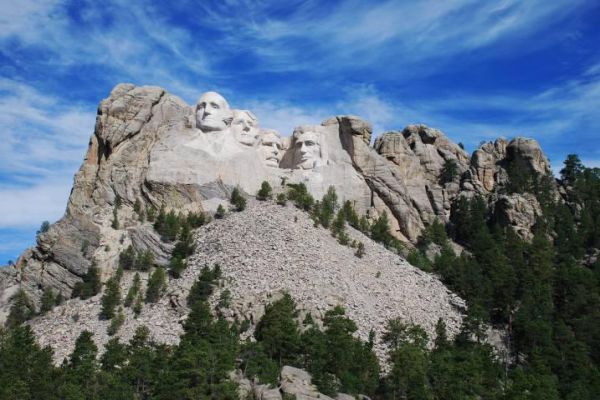 Image: Pixabay
Rapid City, located in the "Badlands" region of South Dakota, sounds like a setting in a post-apocalypse movie. However, it's a real place - and one that has many wonderful activities for visitors. The small, walkable downtown area is packed with art, attractions and restaurants, and from the city it's just half an hour's drive to one of the USA's most famous sights: Mount Rushmore, the mighty cliff carved with the faces of significant presidents Washington, Jefferson, Roosevelt and Lincoln.
Once you've seen the highlights of Rapid City, a car rental will put you in a good position to visit and enjoy the rest of South Dakota and beyond. Nearby cities include Sioux Falls, Bismarck, Omaha and Denver. Yellowstone is within an easy day's drive too, as well as Grand Teton National Park which is featured in our list of winter wonderland destinations - there are many options for a road trip from the small but unforgettable Rapid City!
Hiring a cheap rental car at Rapid City Airport
For a great road trip, you need the perfect rental car, and tracking it down is easy when you enlist the help of Airport Rentals. Rather than searching each rental supplier separately, just enter your travel dates into the search panel and be presented with a list of available vehicles from many different companies to compare and choose from.
Airport Rentals can offer you options from a huge range of major car rental brands, both international and local, and with some of the best prices you'll find on the internet thanks to huge bulk buying power. With a tailored list of vehicle choices that match up to your travel plans and handy filters to narrow them down even further by features like transmission or capacity, you will spend much less time searching, and more time daydreaming of hitting the South Dakota highways.
Should you have any questions regarding the search and booking process, give the friendly team of rental experts a call. They are available 24/7 and can get you sorted with car hire all over the globe.
Guide to Rapid City Airport
Rapid City Regional Airport offers domestic flights to major US centres including Las Vegas, Dallas and Denver with a range of carriers. The terminal was majorly upgraded in 2012 and is a pleasant place to fly to and from, with a restaurant and gift shop for basic dining and shopping needs.
There are a number of car rental counters which are easy to locate inside the terminal.
Guide to driving a car hire in Rapid City
Getting from the airport to downtown Rapid City
The Rapid City Regional Airport is about ten miles from the city. To get into town, leave the airport on Airport Road, turn right onto SD-44 W and continue through Rapid Valley. Stay on it as it becomes Omaha Street. Turn left after the Memorial Park on Mount Rushmore Road, which will take you into the centre of Rapid City.
Driving tips for Rapid City car rental
Driving in South Dakota is not much different than it is in the rest of the USA, but it is always important to know the state laws and any quirks of the area. Here are a few things to keep in mind when hitting the road if you are arriving from out of state or even overseas:
● The speed limit on interstate highways in South Dakota is set high at 80 miles per hour in many places, with lower limits in urban areas and on smaller highways. Always check for posted limits.
● Seatbelt usage is relatively low in South Dakota, where the law only requires drivers and front seat passengers to wear seatbelts, and children under five must wear appropriate restraints. For safety, we recommend everyone wears a seatbelt at all times.
● The blood alcohol concentration limit in South Dakota is 0.08%, but you can be charged with a DUI if yours is over 0.05% and you were driving unsafely.
● The nearby Black Hills National Forest is great for scenic drives, but can be windy and mountainous, so take care and pull over to fully enjoy the views.
● Winter in South Dakota is often very snowy. Be very cautious, be prepared, and read our tips for winter road trips.
Parking at the airport and around Rapid City
At the airport, there are two parking lots: A and B. Lot A is closest to the terminal and costs USD$1 per 30 minutes, with the first one being free, to a daily maximum of USD$12. Lot B is farther from the terminal and costs USD$2 per hour after the first free 30 minutes, with a daily maximum of USD$10.
In downtown Rapid City you will find plenty of lots and metered spaces. These are free after 4pm on weekdays and holidays, and all weekend. There are time limits on most on-street parking spaces, and they are enforced - so move your hired car if need be to avoid fines.