Centrally located in North Carolina, second largest city in the state and forming one corner of the Research Triangle with Durham and Chapel Hill, Raleigh is a city of diversity, culture, education and history. It was a planned city, one of the earliest of its kind in the country, and built specifically in the late 18th century to serve as the state capital.
The city is filled with museums, galleries and great places to shop, dine, drink and be entertained- these concentrated mostly in the downtown area. With a car hire from Raleigh Airport, you could take in the North Carolina Symphony or the Carolina Ballet, watch sports of many kinds, head out to see some of the state's natural hotspots like Lake Johnson Nature Park, and then explore the rest of the region.
Other cities of note in North Carolina and the surrounding area include Charlotte, Norfolk and Wilmington on the coast, and Washington DC a little to the north.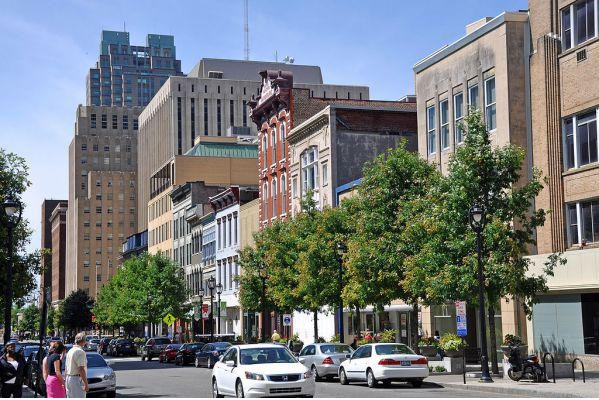 Image: Bz3rk
Car rental made easy in Raleigh
There's no need to spend hours online tracking down the best and cheapest rental car for your time in Raleigh. Airport Rentals has it all in one place, with a wide variety of vehicles and rental brands available on an easy-to-use site. With international buying power, we can offer some of the best rates for car rentals available on the web. Just enter your travel dates and a few other details and you'll be presented with a list of rental options to peruse and compare.
Handy filters make it even easier to find the vehicle that fits your needs. Narrow the options down by picking your preference for vehicle type, transmission, brand and capacity, and list them by lowest or highest price to find a deal. As well as a variety of different suppliers, Airport Rentals will show you all kinds of wheels from SUVs to luxury cars to small and compact economy options.
For any issues or questions about the search and booking process, there is also 24/7 phone support, with a team of expert car rental consultants ready to help.
Guide to Raleigh Airport
Raleigh-Durham International Airport serves not only Raleigh but the whole Research Triangle region of North Carolina. It is centrally located between Raleigh and Durham, and averages 400 departures daily. There is no shortage of dining and shopping opportunities in both Terminal 1 and Terminal 2 for all those passing through: fast food, coffee, ale houses, bookshops, drugstores and even a nail salon. There are self service check-in kiosks offered by many airlines, and WiFi and power outlets so you can connect and catch up while you wait for a flight.
Heading out? The rental car companies offer shuttles to their nearby depots from stops in Zone 5 at Terminal 1 and Zone 18 at Terminal 2.
Guide to driving your rental car in Raleigh
Getting from the airport to downtown Raleigh
The drive from the airport to Raleigh (and vice versa) is around 14 miles, and takes around 20 minutes to half an hour when there is not too much traffic. Follow signs from the airport to get onto the I-40 heading east. Exit onto Wade Avenue and follow it all the way along to Capital Boulevard. Go right onto the boulevard and it will take you into the heart of Raleigh.
Driving tips for Raleigh car hire
Driving in Raleigh is much like driving in many other parts of the United States. Here are a few pointers for those who are unfamiliar!
● All drivers and passengers must wear seatbelts while the car is in motion.
● The limit for blood alcohol concentration while driving in North Carolina is 0.08%. It is zero for those under the age of 21.
● Parts of the state can get very snowy in winter, particularly those away from the coast and in the mountains. If you are heading there in the colder months, be prepared and check out our winter road trip tips.
● Within cities in North Carolina, the speed limit is 35 miles per hour. On country roads, it is 55mph and freeways can have limits of up to 70mph. Keep a close eye on the posted speed limit signs.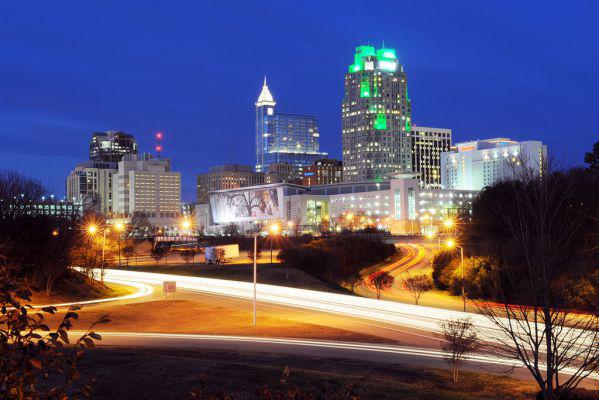 Image: NCDOTcommunications
Parking at the airport and around Raleigh
At Raleigh-Durham International Airport, travellers can park short or long term and easily access the terminals by walking or with shuttles. Short term parking close by starts at $3 an hour, while the long term economy options cost as little as $6 per day.
In downtown Raleigh you'll come across a mixture of parking garages and free or metered on-street parking. When parking on the street, read the signs carefully - some places have time limits, others are free after 5pm and weekends but charge the rest of the time.