Plattsburgh is a small city in the state of New York, not far from the border between Canada and the United States. In fact, it's close enough that it was once under French rule with Quebec, which is why there are still facets of French architecture and history throughout the city. Today, Plattsburgh is known for its many museums, gorgeous beaches, and outdoor recreation such as fishing and boating.
As well as seeing everything this town has to offer, a car hire in Plattsburgh will let you explore surrounding areas and cities. It's only an hour from Montreal, so you can nip up north for a day trip to taste the famous Montreal bagels and poutine. Or you could take a scenic drive through the state to visit Albany, which is just a few hours south of Plattsburgh. For a real adventure, you might even consider Plattsburgh as a starting point for an incredible road trip across the States!
Image (modified): Cs302b (Own work by the original uploader), CC BY-SA 3.0, via Wikimedia Commons
Find the best deal on Plattsburgh car hire with AirportRentals.com
The trick to finding the best deal on anything is to know all the options before making a decision, and the same goes for finding that perfect rental car at Plattsburgh Airport. There are roughly half a dozen rental brands at the airport, but instead of researching every single one, you can do a quick search with Airport Rentals to view and compare all available cars in one place.
Simply enter your arrival and departure dates into the search function to generate a list of vehicles across multiple brands. You can easily book the cheapest car hire by selecting the vehicle listed at the top of the page, or scroll down for more options. Each rental is presented with not just the price, but also benefits and features, making it easy to compare. Use the filters to narrow down your results by car size, transmission type, and more.
You can book securely and immediately with Airport Rentals without paying additional fees, and you have access to 24/7 assistance if you have any questions along the way.
Introducing Plattsburgh Airport
The Plattsburgh International Airport (PBG) is found at the old Air Force Base, where it switched to commercial use as a passenger terminal in 2007, replacing the Clinton County Airport as the city's main air transport hub. It is also sometimes known as 'Montreal's US Airport' as it is so close to this Canadian city. Some of the airport's more popular destinations include Orlando, Boston, and Fort Lauderdale.
While the terminal is small, it does include a food kiosk for basic snacks such as sandwiches and drinks, as well as an ATM and free Wi-Fi. You will find the car rental desks inside the terminal by the baggage claim area.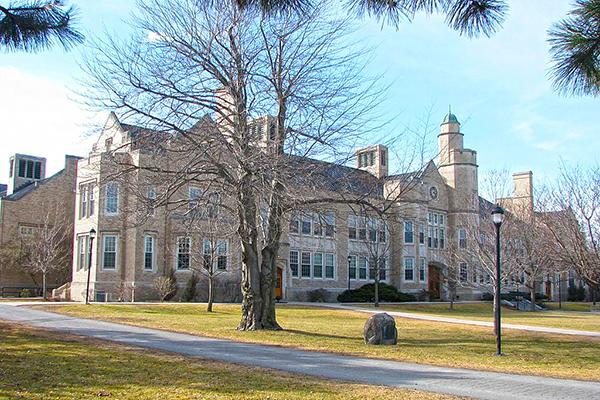 Image (modified): Mwanner (Own work), CC BY-SA 3.0, via Wikimedia Commons
Guide to driving in Plattsburgh
Driving from Plattsburgh Airport into town
The Plattsburgh Airport is just 3.5 miles out of town, which should be reachable in no longer than 15-20 minutes by rental car. As you leave the terminal, you'll turn right onto Route 22, then left at S Peru Street. Follow this street for 10 minutes, then turn left again over Bridge Street to drive into the heart of the downtown area.
Tips for driving in Plattsburgh
Plattsburgh is a small town of just 20,000 people, so you won't need to worry about battling congestion every time you take your car rental out. Keep in mind a few tips for driving in Plattsburgh to keep your visit as stress-free and easy as possible:
● You must keep your headlights on whenever using your windscreen wipers.
● The speed limit for most major highways is 55 mile per hour.
● If you arrive in fall (autumn), be wary of leaves on the roads as they can hide potholes, and will make braking difficult when wet.
● Mobile phone use is strictly prohibited while driving in Plattsburgh, unless you have a hands-free kit.
● The blood alcohol limit in New York State is 0.08%, but it is best not to drink at all if you plan to drive.
● Read our tips for driving in North America in winter, as the roads will be snowy should you arrive during the colder months.
Parking at Plattsburgh Airport
Parking lots are located directly in front of the terminal at Plattsburgh Airport, and there is a free shuttle that circles the lots if you prefer to catch a ride. All lots are free for the first three hours, after which they are USD$8 for anything over three hours per day. Note that Canadian currency is also accepted for payment.
Parking in Plattsburgh
There are almost 700 on-street parking spaces in Plattsburgh, as well as more than 1,100 off-street stalls. You should be able to find a place to park in town on the street, but if not, the Durkee Street parking garage is conveniently located and usually has plenty of open spaces.