Nestled along the banks of the Illinois River, Peoria is an energetic little city with an impressive skyline, thriving nightlife and art scene, and ample opportunity for outdoor recreation. Its central location in Illinois makes it a perfect starting off point for a mid-western road trip but before you and your airport rental hit the open road, discover the diversity and natural beauty in Peoria.
Start your visit in the lively Riverfront District where you can dine at some of the city's best restaurants, explore the Peoria Riverfront Museum, cruise down the Illinois River on the Spirit of Peoria paddlewheel boat, walk nature trails, and enjoy live entertainment. Take a drive down gorgeous Grand View Drive & Park - referred to as the "world's most beautiful drive" by Theodore Roosevelt during a visit to Peoria in 1910. The drive is lined with parks, historical sites, and biking and hiking trails.
With a rental car from Peoria Airport your opportunities for exploration and adventure don't stop. Set your cruise control and head north down Interstate 55 to enjoy a plethora of activities in big city, Chicago. Be sure to stop in at Naperville along the way!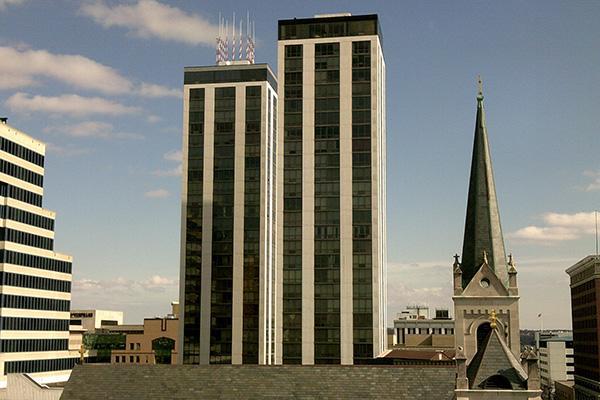 Rent a car at Peoria Airport with Airport Rentals
Choose Airport Rentals to get the best value on a Peoria Airport rental car. Simply type in a few travel details and our powerful search engine will present a large variety of rental cars across multiple brands for comparison. To taper search results and find the perfect rental, select preference filters for transmission type, rental supplier, capacity, and more. Hire an economy car to save on gas, or a sporty SUV for good handling
Once you've made a decision, reserve your rental and receive instant confirmation from our secure site. Rated No. 1 by TrustPilot, Airport Rentals is the one-stop shop for all of your car rental needs.
Guide to General Wayne A. Downing Peoria International Airport (PIA)
Located five miles west of Peoria, the Wayne A. Downing Peoria International Airport, better known as Peoria International Airport, supports domestic flights to cities like Chicago, Detroit, Charlotte, and Atlanta. The two-level airport is furnished with comfortable seating, free WiFi, and two full-service restaurants, located at pre and post-security. Families with small children can take advantage of the kids' areas located beyond security at both wings of the terminal.
Get the keys to your car hire at the car hire counters in the baggage claim area. If you've opted for a city rental pick up, use the taxi or bus service located in arrivals.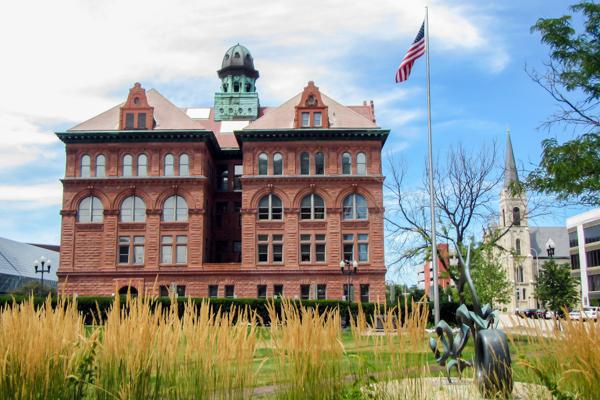 Image (modified): Bohao Zhao, CC BY 3.0, via Wikimedia Commons
Guide to Driving in Peoria
Driving from Peoria Airport to Peoria
From the airport, exit onto Everett McKinley Dirksen Parkway and veer right onto Interstate 474. At SW Adams Street/SW Washington Street, turn left and continue on to downtown Peoria. The drive is 7.5 miles and takes about 16 minutes depending on traffic and road conditions.
Tips for driving in Peoria
Peoria has a fairly uncomplicated road system and the main challenges you could encounter are rush hour traffic and snowy roads in the winter. Read on for some handy driving tips:
● Follow the posted speed limits. Speed limit signs are displayed in miles per hour (mph).
● Carry cash for toll roads and ask your rental company about an I-Pass transponder.
In winter:
● Drive slowly when road conditions are unfavourable.
● Check the local weather forecast and road conditions before driving.
● Scrape snow and ice from all windows before driving.
● If possible, avoid travel during snowstorms, and read our winter driving tips for more information.
Parking at the airport and around Peoria
Use one of three parking lots at Peoria Airport. All three lots are free of charge regardless of length of stay. For transportation to and from the terminal, use the shuttle bus between the hours of 4:30am and 11:00pm.
Downtown Peoria has over 30 parking lots and decks including metered street parking. Metered parking is enforced Monday through Saturday, 8:00am to 6:00pm, and costs USD$1.00 per hour. Follow the posted time limits to avoid being ticketed.