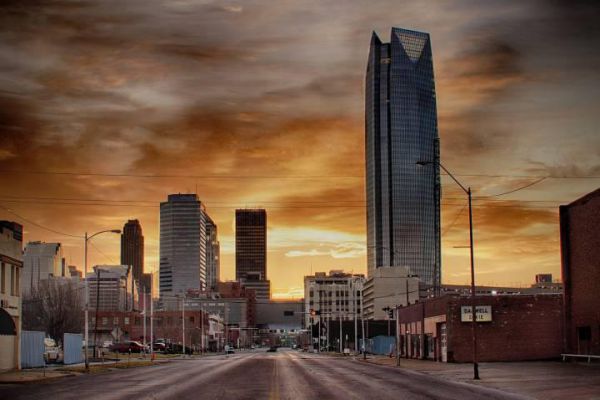 Image: Pixabay
Cowboy culture still has a toehold in friendly Oklahoma City, as you'd expect from an urban metropolis located in the prairies with a past of midwest pioneering and oil strikes. There are even working stockyards in OKC, so it comes by the cowboy charm honestly. It is also surprisingly modern, filled with great places to eat, shop and explore, has all manner of museums and is an excellent place to live or visit. The heritage of the place shines through, and the current culture, arts and dining opportunities add another wonderful aspect.
The capital and biggest city of the state, it is the logical hub for anyone wanting to pick up a cheap rental car and explore. From the city, it's a great drive on the wide open highways to places like Dallas, Albuquerque, Denver and Kansas City for a fantastic typical USA road trip. OKC is even a stop on the famous Route 66!
Hiring a cheap car rental in Oklahoma City
With Airport Rentals, it's not a problem to find the perfect set of wheels to get you going in OKC - from luxury cars to minivans to zippy little economy numbers. Rather than hunting out deals from individual rental suppliers and comparing across multiple windows and tabs, you can search, compare and book from a great variety of the best rental brands all in one place.
To see what's available for your travel dates, just enter them and some other details into the search panel and wait for a tailored list of options. The cars are automatically presented with the lowest prices at the top and from there, it's easy to narrow them down even further with filters for preferences like transmission type, brand or capacity.
For more support and to have your questions about the process of searching, comparing and booking answered, you can contact the Airport Rentals team by phone.They are experts in car rental, and available 24/7 to help you get the right vehicle.
Guide to Oklahoma City Airport
Also known as Will Rogers World Airport, the airport that serves OKC is the busiest in Oklahoma and sees primarily domestic flights. The terminals are peppered with interesting art pieces including sculptures, statues and paintings, and well equipped for hungry passengers with bars, cafes, restaurants and fast food outlets around the place. Books,magazines, gifts and souvenirs are available for purchase. The airport also offers free unlimited WiFi to passengers.
Buses take rental customers from the terminals to the Car Rental Center, which is a few minutes' drive north.
Guide to driving a car hire in Oklahoma City
Getting from the airport to downtown OKC
Head out of the Car Rental Center on Meridian Drive and go right onto Airport Road, then merge onto I-44 East. Exit right onto I-40 towards the city centre, and then exit from there onto South Shields Boulevard which will take you right into Oklahoma City.
Driving tips for Oklahoma City car hire
Driving in Oklahoma and its capital city is a similar experience to driving elsewhere in the midwest. If you are new to the country or region, here are a few important things to keep in mind when you hit the road. You might also like to download these handy road trip apps for a smooth ride!
● Always drive on the right hand side of the road!
● Winter in Oklahoma can get snowy. Be cautious, and read our winter driving tips.
● The blood alcohol concentration limit for drivers in Oklahoma is 0.08% for drivers aged 21 and over, and 0 for those under.
● Tornadoes are a threat on Oklahoma. Avoid driving with bad weather forecast, and if you encounter one try to get out of your car and seek a safe shelter.
● The maximum speed limit is 75 miles per hour on turnpikes and rural highways, 70 mph on other freeways, 65 mph in urban areas, 55 mph on country roads, 35 mph in state parks and 25 mph in school zones.
Parking at the airport and around Oklahoma City
There are various options at different price points for parking your rental car at the airport. In the 5-storey covered parking garage near the terminals, you will pay USD$9 per day, while at a lot with access to the terminals by shuttle bus you will pay as little as USD$5 per day. The short-stay lot charges USD$1 per hour, and is intended for those just calling in for a few hours.
The available parking in downtown Oklahoma City is a mixture of on-street metered parking (meters operate from 8am to 6pm) and parking garages owned either by the city or by private firms. It is relatively inexpensive. Many attractions will offer free parking, and outside of the city centre you are likely to have no troubles finding somewhere to leave your vehicle.