Marvel over New England's rich history, Victorian architecture and awe-inspiring landscape when you hire a cheap car rental in New Haven.
Sitting on the coast of Long Island Sound in Connecticut, this charming city is most well known for its Ivy League School, Yale University. Home to over 12,000 students, the architecture of this distinguished institution alone makes it worth a visit. Tour the 300-year-old campus with its museums, galleries, and concert halls, and learn about the school's ancient secret societies.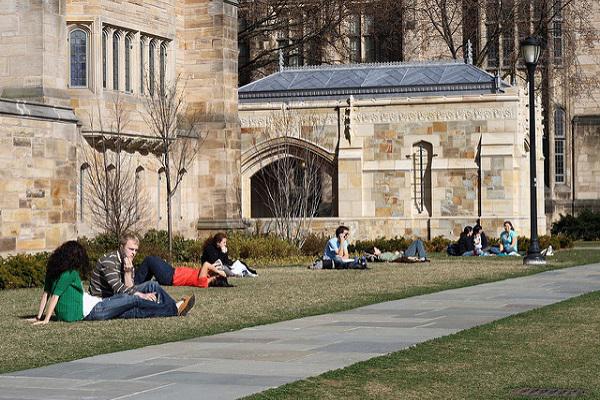 Image: Sage Ross
After exploring Yale, head downtown for coffees and pizza or picnic in New Haven Green. Take your rental car to the beach or nearby lakes and state parks. Visit during autumn when the leaves turn vibrant reds, oranges and golden yellows or in spring when the Japanese cherry blossom trees bloom for picturesque scenery.
Explore more of New England with a road trip to nearby cities such as Boston, Hartford or Providence, or travel a bit further south to the Big Apple. Head across the USA for a long distance trip with stops through Chicago, Denver, and more.
Check out our driving distance guide to start planning your route!
Hiring a rental car in New Haven
The best way to tour Connecticut is with a cheap rental car. Hire a vehicle in a few clicks using our highly advanced search engine. Simply enter your chosen pick-up location along with your travel dates and then choose from a wide selection of cars from multiple rental brands. Enjoy benefits such as breakdown assistance, free cancellation and unlimited mileage. Narrow your search using handy filters for vehicle style, transmission type, group size and more.
When ready to complete your booking, confirm instantly and securely through Airport Rentals. Enjoy zero booking fees and a customer service team available at any hour of the day.
Tweed-New Haven Regional Airport (HVN)
Located 5 kilometres southeast of New Haven's downtown district, Tweed Airport serves over 30,000 passengers a year. American Eagle is the sole airline servicing New Haven, with direct flights to Philadelphia and connections to over 130 domestic and international destinations. It is a popular airport for private aircraft and tourist companies.
Because of its small size, passing through security to your gate takes little time. However, the amenities are limited to two vending machines and a coffee cart that opens for just a few hours each morning.
Free WiFi is available and rental car kiosks are located within the terminal, with the car lot just outside the airport.
Driving from the airport to New Haven
The drive to New Haven takes up to 15 minutes from Tweed Airport in normal traffic conditions. Exit the airport on Fort Hale Road and turn right on Townsend Ave. Merge onto I-95 S crossing the Quinnipiac River. Take the I-91 N exit and keep left following signs for Hwy 34 W. After a slight right onto N Frontage Road, turn right onto Church Street to arrive downtown.
Driving your rental car in New Haven
New Haven's downtown area is very walkable - always yield to pedestrians when driving your hired car. More useful tips for driving in New Haven are as follows:
● The use of mobile phones while driving is prohibited.
● Right turns on red are allowed unless stated otherwise, treat it as a stop sign and only turn if there is no oncoming traffic.
● At a four-way stop, allow the driver first to the intersection to proceed first.
● Always stop for a school bus that is stopped with flashing red lights on either side of the road.
● Be extra cautious if driving during winter and avoid icy conditions when possible.
● For more tips, read our USA driving guide.
Parking at the airport and in the city
Due to its small size, the onsite parking lots are within walking distance to the terminal. The first 15 minutes are free; after that, the airport charges $3 per hour with a daily maximum of $15. Bring your ticket inside the terminal to pay at one of the Automated Pay Stations near arrivals, or at the exit gate by credit card or with an attendant.
When parking on the street in downtown New Haven, pay the allotted time at the nearest meter, which are in effect Monday to Saturday from 8am to 9pm. Pay with US coins or credit cards. Parking garages are also available in the area and many allow for all-day parking.
During a snowstorm, abide by snow parking bans or your rental car may be towed.