Muskegon is a town of just 40,000 people, but it's a year-round playground that promises fun and adventure no matter when you visit, or how long you stay. You'll find the town on the eastern shore of Lake Michigan where the Muskegon River flows into this Great Lake. From water sports on the shorefront to historic adventures in town, you'll never be short of something to do, so book at Muskegon Airport so you can see it all during your visit.
Another perk of this town is that it's close to a number of other major cities and destinations. For example, it's a scenic three-hour drive around the lake's edge to reach the bustling hive of Chicago, and you can make a real trip of it and continue north to Milwaukee. Of course, Chicago marks the start of the famous Route 66 road trip across the US, so starting in Muskegon can add something special to the beginning of this adventure. Or, make your way across Michigan state to visit Grand Rapids, Ann Arbor, and Detroit.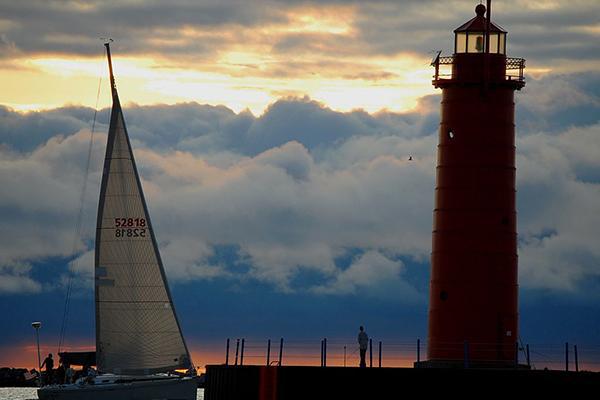 Image (modified): Krebelo (Own work), CC BY-SA 3.0, via Wikimedia Commons
Get the best deal on car hire in Muskegon with AirportRentals.com
With multiple car rental companies operating at Muskegon Airport, it's a time-consuming process to check with each one to find out which vehicles are available, and how much each one will cost you. Save yourself the time and the effort by using Airport Rentals to run a single search and view all available rentals across multiple suppliers in one go.
Simply enter your travel dates and hit 'search cars'. This generates a complete list of vehicles with the most affordable at the top so you can quickly find the best deal on a rental. Or, scroll through the options to see more information about the features and benefits of booking each one.
You'll find the perfect car rental in no time at all, and once you do, you can book immediately and securely through Airport Rentals without paying any additional fees. Note that we also offer 24/7 assistance should you have any questions throughout the process.
Introducing Muskegon Airport (MKG)
The Muskegon County Airport is a small transport hub serving roughly 40,000 passengers annually, with the majority coming and going on the daily flights between Chicago O'Hare Airport.
Within the terminal itself, you can grab a meal at the bar and restaurant, and you will find WiFi available in the restaurant area. The car hire desks are located inside the terminal in the arrivals' area.
Image (modified): By Larry Pieniazek, Lar (commons) or User:Lar (wikipedia) (Picture taken by User:Lar), GFDL, CC-BY-SA-3.0 or CC BY-SA 2.5, via Wikimedia Commons
Guide to driving in Muskegon
Driving from Muskegon Airport to town
The Muskegon Airport is 8.5 miles south of the town centre, with the drive taking roughly 20 minutes under normal traffic conditions. When you leave the airport, turn left onto E Ellis Road, right onto Robert Hunter Drive, then another left onto E Porter Road. From here, take the next left onto Grand Haven Road, then left again onto Seaway Drive. If you follow Seaway Drive, it will take you all the way into town.
Tips for driving in Muskegon
Prepare for your visit to Muskegon by reading a few tips on driving in Michigan before you arrive.
● There isn't much traffic in Muskegon, but be prepared for congestion if you plan on visiting larger cities such as Chicago and Detroit.
● Michigan highways have a speed limit of 75mph, but always watch for signs and drive safely for the conditions.
● Muskegon is snowy in the winter, so be extra careful on the roads and prepare for driving in wintry conditions.
● Watch for 'deer' road signs and be cautious around these areas.
Parking at Muskegon Airport and in town
You can take a spot in the short- or long-term parking lot at Muskegon Airport, both of which are directly in front of the terminal. The first 30 minutes are free, and it's USD$1 per hour in both areas. The daily rate for the short-term lot is USD$10 per day, and USD$7 per day for the long term lot.
In town, there are metered parking spaces on streets throughout the central area, as well as a number of parking garages and lots. Metered stalls are usually free in the evenings and on weekends, but be sure to read the instructions on each one as they can vary from street to street.