The beautiful coastal city of Monterey is popular with Californian locals and tourists alike, providing a nice change of pace from the Sunshine State's more populous cities. The best way to explore the depths of this northern California gem is by renting a cheap car hire at Monterey Airport.
As well as being home to stunning historic buildings, a rugged coastline, and the setting for many a John Steinbeck novel, Monterey is home to incredible numbers of fascinating marine life. The city prides itself on the fantastic aquarium and marine centres, as well as spectacular beaches and sailing opportunities.
Don't want your holiday to end? Check out the great Northern California coastal road trip itinerary, or visit the nearby cities of Salinas and San Jose.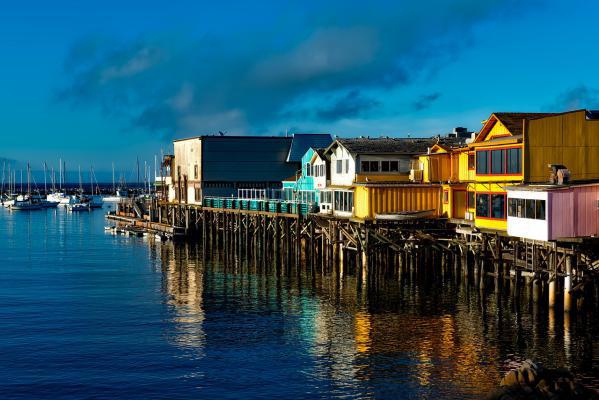 Image: Pixabay
Secure a cheap Monterey rental car with Airport Rentals
Tick another item off your holiday to-do list by booking your rental car in Monterey with Airport Rentals. It's easy to get started: simply select your travel dates and hit 'search'. From economy cars to convertibles, you will be shown a wide variety of vehicles across multiple brands, and can compare them easily. With a few clicks you can narrow down your options even further by group size, transmission type and more. Found the right car? Booking is straightforward, and confirmation is instant. You'll be picking up your rental car at Monterey Airport in no time.
A brief look at Monterey Airport
The Monterey Airport may be on the small side, but it has everything you need as you touch down from major United States locations such as San Francisco, Phoenix, and Las Vegas. Enjoy a meal at Golden Tee Restaurant or a coffee at the Fly Away Cafe, and grab a few souvenirs or last minute travel essentials from Gifts and More. Check your emails with the airport's free WiFi before picking up your rental car keys at the kiosks located on the first floor.
Taxis, busses, Uber and Lyft are all available at the airport, should you prefer to pick up your vehicle hire from the city.
Driving around Monterey
While streets can be busy during the height of summer, it's generally pretty easy to get around in Monterey. With the CA-1 route right on its doorstep, it's the perfect base from which to explore the surrounding state.
Driving from the airport to the city
Monterey Airport is situated a short 8-minute drive away from the city. From the airport, drive your rental car out onto Olmsted Road, and turn right onto CA-68 W towards the coast. Keep left at the fork and follow the signs for Monterey.
Things to remember while driving your car hire in Monterey
Read up on these handy tips for driving in Monterey:
● Visiting from overseas? Stick to the right hand side of the road.
● Speed limits are 25mph in the city, and 55mph on the freeways.
● Seat belts must be worn at all times.
● At a four-way stop, vehicles move on in the order they arrive.
● Turning right on a red light is allowed, unless otherwise stated.
● You must always stop if a school bus is displaying flashing red lights.
● Watch out for pedestrians down on the waterfront.
Where to park your rental car
Monterey Airport has short and long-term parking available. Short-term parking rates begin at USD$2 per half hour, with a daily maximum of USD$24. Long-term parking costs USD$1 per half hour, with a maximum of USD$13 per day.
With 31 parking facilities across Monteray, you won't be short on options. Lots, garages and on-street parking vary in price, however a general starting rate is around USD$0.50 per hour. Always double check time restrictions before leaving your hired car.