Eastern Utah is scattered with spectacular national parks. Fly into Moab, pick up an airport rental car and take an amazing road trip to experience the scenery for yourself.
Moab is a small town home to just 5,000 residents, but each year attracts tourists from around the world for easy access to its amazing nearby parks. Hikers, cyclists, RV campers and plenty more pass through the small town to freshen up on supplies and grab a bite to eat, while many others make it a homebase as they spend their days exploring the surrounding desert landscape.
Before you head to the most popular attractions, make time to visit the Moab Giants, an interesting dinosaur park that will surely amuse you. Thrillseekers can book adventure trips such as ATV tours, whitewater rafting, mountain biking and much more at tourist offices in Moab, as well as find information about camping in the Arches National Park, the area's number one attraction famous for its fiery red sandstone arches and hiking trails. Make sure to explore the colourful canyons and incredible viewpoints in Canyonlands National Park, just an hour's drive away from Moab in your car hire.
Salt Lake City is another area worth visiting in Utah. For more motivation on why to go there in winter, check out our cold weather road trip tips on the region and be sure to add a stop in Bryce Canyon National Park, another winter wonderland en route to sin city Las Vegas.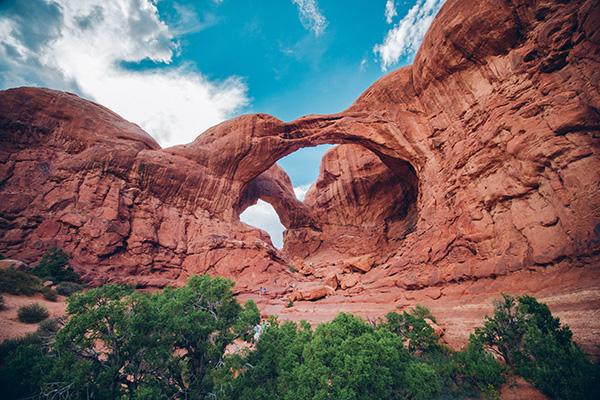 Hiring a cheap rental car in Moab with Airport Rentals
There is only one way to visit Moab's awe-inspiring national parks and that is with your own set of wheels. Pre-book a vehicle for your Utah adventure with Airport Rentals. Our user-friendly site lets you compare hundreds of vehicles from both local and international brands in a matter of seconds.
Simply type in your expected holiday dates and let our search engine get to work on finding the best online deals. Filter the results by ticking your preferred transmission type, rental supplier and more until you find the most suitable rental for your trip Complete your booking quickly and easily, and without the hassle of hidden fees, receiving instant confirmation. Plus, enjoy access to our customer service team at any hour of the day from anywhere in the world if you require assistance throughout the process.
Canyonlands Field Airport (CNY)
Situated 33 kilometres from Moab, Canyonlands Field Airport is a small transport hub serving eastern Utah. The terminal includes basic amenities such as vending machines and courtesy phones, and plays host to adventure activities like hot air balloon rides, scenic flights and skydiving. Collect keys for your rental car from the kiosks located in the arrivals area near baggage claim.
If you are collecting a car hire in downtown Moab, hail a taxi or take a shuttle service into town.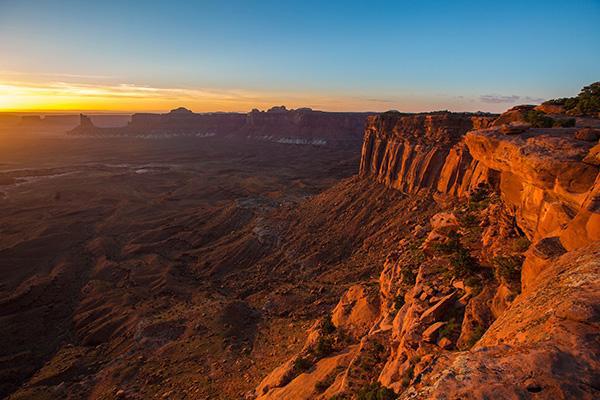 Driving a rental car in Moab
Getting from the airport to downtown Moab
The drive from Canyonlands Field Airport to Moab's city centre is a straight shot down US-191 S, which turns into Main Street once reaching the downtown area. The drive takes around 20 minutes and passes the entrance to Arches National Park.
Driving tips for Moab car hire
Make sure to prepare for driving through Moab's surrounding national parks. Always fill up on petrol, pack extra food and water, and expect extra traffic on holiday weekends and during the summer months.
Utah road rules
● Visiting from overseas? Check out our USA driving guide.
● Right turns at red lights are allowed unless stated otherwise.
● Children 8 years old and under must be restrained in a car seat.
● Keep a road map in the rental car in case of lost GPS signal.
● Be sure to read up on winter driving tips as this city gets icy in the colder months.
Parking at Canyonlands Field Airport and around town
Parking is absolutely free at Canyonlands Field Airport and found directly across from the terminal. Make sure to fill out a vehicle registration card inside the terminal if you plan to leave your rental car there for long periods of time.
Finding free parking is easy in Moab's town centre. Street parking and surface lots are available throughout the town plus accommodation providers offer guest parking. The surrounding national parks include parking with the entrance fee. For example, Arches National Park is USD$25 per vehicle for up to 7 days.