Head to Martha's Vineyard for a summer getaway you won't forget. Relax on the beaches, visit lighthouses and catch spectacular sunsets from any point on the island. Hire a cheap rental car from the airport to access this idyllic holiday spot.
Martha's Vineyard is located south of Cape Cod in Massachusetts west of Nantucket Island and it is split into six small towns. Choose a homebase and drive to each area in under thirty minutes. Cycle around Chappaquiddick nicknamed Chappy Island, tour brightly-painted gingerbread style houses in the Oak Bluffs and hike up to Aquinnah Cliffs (Gay Head) for dramatic views over the ocean. Hike, kayak, birdwatch and more at Felix Neck Wildlife Sanctuary. Celebrate Independance Day with parades and fireworks and check out the Oak Bluffs' Grand Illumination Night, a lantern festival that includes sing-alongs and concerts.
Take your rental car on the ferry to explore more of New England. Drop-off in nearby cities such as Boston, Hartford or Providence, or travel a bit further south to the Big Apple. Head across the USA for a long distance trip with stops in Chicago, Denver and more.
Check out our driving distance guide to start planning your route!
Image: Bob P. B.
Hiring a cheap rental car in Martha's Vineyard
In summer, the population of Martha's Vineyard grows from under 20,000 residents to more than 100,000 people. Beat the crowds and pre-book a car hire with Airport Rentals in three easy steps.
Step 1: Type in your travel dates and choose to pick up at the airport or in Vineyard Haven. Step 2: Compare multiple deals from Avis, Budget and Hertz and narrow your options using filters for brand, style, transmission type and more.
Step 3. Confirm your selected vehicle and book securely online.
It's that easy! Plus enjoy benefits such as free cancellation, unlimited mileage and a customer service team just a phone call away.
Insider tip: Car rentals sell out quickly during peak season, book early.
Martha's Vineyard Airport (MVY)
Martha's Vineyard Airport is centrally located, only five kilometres from Vineyard Haven and nine to Edgartown. The airport serves four airlines and charters private aircrafts. Plane View Restaurant is the airport's only dining option open from the end of June to early September serving breakfast, lunch and dinner. Enjoy fresh seafood, burgers, sandwiches and more.
Free high-speed WiFi and charging stations are available throughout the airport. The rental car kiosks are located within the main terminal across from the baggage claim area. Make sure to pre-book yours to guarantee a rental during all seasons.
Getting around the island in your Martha's Vineyard island car hire
The island is split up into six towns. Edgartown is the most populated and only a 12-minute drive from the airport. Head southwest on Airport Road, turn left onto Edgartown Road with a final right turn onto Main Street to arrive downtown and access Chappaquiddick Island. Regardless of where your rental home or hotel is located on the island, the drive from the airport should take no more than 30 minutes.
Driving tips on Martha's Vineyard island
The island is less than 260 square kilometres making it quick and convenient to get around. Drive safe and watch out for pedestrians.
● The driver and passengers must wear a seat belt.
● No texting or browsing on your phone while driving.
● Right turns on red are allowed unless stated otherwise, treat it as a stop sign and only turn if there is no oncoming traffic.
● At a four-way stop, allow the driver first to the intersection to proceed first.
● Be extra cautious if driving during winter and avoid icy conditions when possible.
● For more tips, read our USA driving guide.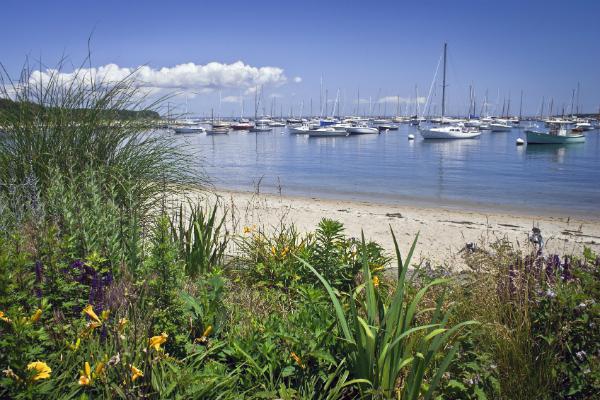 Parking at the airport and around the island
Choose from long- and short-term parking at Martha's Vineyard Airport. Rates are $10 per day or $50 per week. Both lots are located near the terminal, but spaces are limited and public transportation is recommended.
Parking around the island is easy during the off-season. Between June and September it can be difficult. As an alternative, carpool or use public transportation if heading into a city centre. Street parking is metered during the day and valet services are available on the island.