Long Beach, the second largest city in the Los Angeles metropolitan area, is a bustling seaside town known for its entertaining attractions and lively coastlines. Hire a cheap rental car to soak up as much California fun as possible.
Come face to face with sharks, jellyfish and more at the Aquarium of the Pacific or step aboard the haunted Queen Mary cruise ship. Shop and dine on Retro Row for vintage finds, cafes and theater, or check out the East Village Arts District for eclectic restaurants and artsy boutiques. Explore tide pools and sea life at White Point-Royal Palms Beach and Nature Reserve only 20 minutes from the city centre. Disneyland and Hollywood are less than an hour's drive away.
A road trip along the California coastline is every traveller's dream! Drop off your rental along the way in San Francisco, San Diego, or San Jose. Head to the desert and Las Vegas or take your hired car across the country, finishing your trip in New Orleans, New York City, Tampa or other popular hubs.
The possibilities are endless. Use our driving distance guide to help plan your route!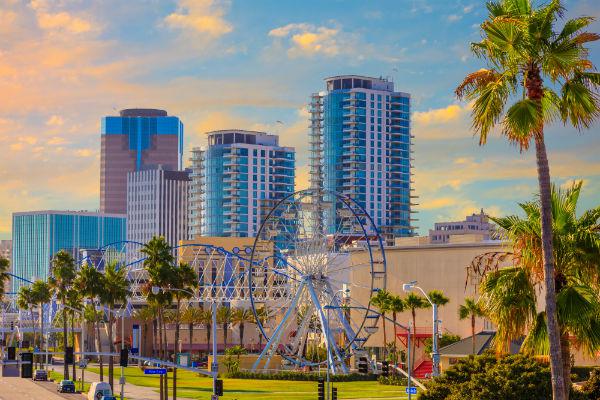 Hiring a rental car in Long Beach
Skip the hassle of scouring the web for car rental deals and let Airport Rentals do the hard work for you. Simply type in a few travel details to quickly and easily compare vehicles from multiple rental brands. Prefer a particular transmission type or car size? Use our handy filters to narrow your search. Choose from popular suppliers like Alamo, Avis, Budget and Hertz, and pay no additional fees. Ride comfortably in a luxury car or hire a convertible for the ultimate Californian road trip.
The choice is yours, and with instant online confirmation, your trip will be sorted in just a few clicks.
Long Beach Airport (LGB)
Situated 5 kilometres from downtown, Long Beach Airport serves over one million people a year. It has one long terminal with 11 gates, a Meeter/Greeter area and multiple food and shopping outlets. Grab a burger at the Long Beach Burger Bar or try Mexican at Taco Beach Cantina. Shop for gifts or pick up some reading material at 562 Experience, and relax with a cup of joe from Polly's Gourmet Coffee. WiFi is available throughout the terminal and boarding lounges. Head outside to find the Ground Transportation Center which includes public transport and rental car kiosks.
Driving from Long Beach airport to the city
The trip from the airport to downtown Long Beach is only 16 kilometres and takes around 15 minutes in normal traffic. For the quickest route, get on the I-405 N to I-710 S and exit at 1C to arrive on Pacific Ave, a block away from the ocean.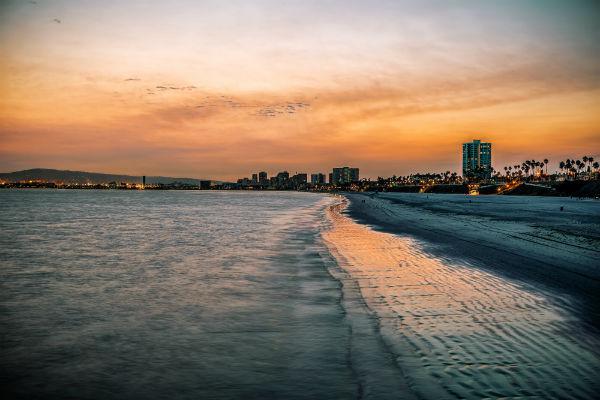 Driving your rental car in Long Beach
Rush hour in the Los Angeles area can add hours to your trip. Avoid it if you can and follow these tips when driving your rental car:
● Drive on the right-hand side and overtake on the left.
● Every passenger must wear a seatbelt.
● Pedestrians always have the right of way.
● Right turns on red are allowed unless stated otherwise, treat it as a stop sign and only turn if there is no oncoming traffic.
● Drive in the carpool lane if you have more than one person in the car to save time in rush hour.
● A GPS is handy for navigating multiple highways and re-routing in highly congested areas.
● For more tips read our USA driving guide.
Parking at the airport and in the city
There are two main garages at Long Beach Airport. Both are covered and charge an hourly rate. Parking Lot A is closer to the terminal while B is located behind it and $2 cheaper a day. Valet parking is available and includes a free car wash. If you're picking someone up, make use of a free hour of parking at the cell phone waiting lot.
Downtown there is plenty of parking. Choose from metered on-street spots, covered garages and monitored spaces near the waterfront. Follow designated signs regarding allotted times and meter rates.