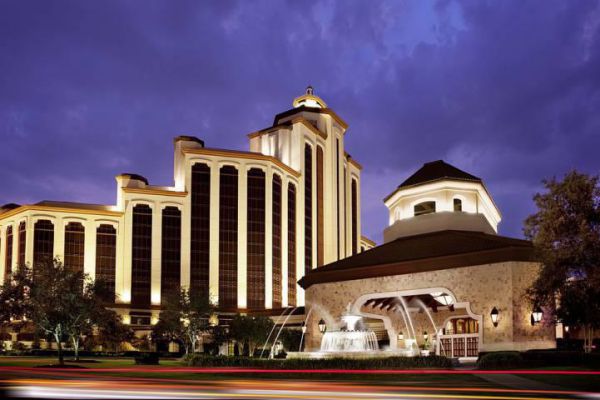 Image: Jburge123
Enjoy a little holiday in southern USA visiting the lively destination of Lake Charles. Cruise around the city to catch all the top sights and make it easy with a cheap rental car.
Lake Charles is a city in Louisiana known for its enticing lakeside casinos and iconic festivals. Treat yourself with a stay at one of the resorts which feature golf courses, spas, casinos and nightly entertainment. If you time it right, you could visit during the iconic Mardi Gras festival for a parade and party like you've never experienced. Learn about the history of Mardi Gras and the local cultures at the Imperial Calcasieu Museum.
Stroll around Charpentier Historic District to see classic southern homes with overhanging trees where you're likely to bump into some friendly southerners. Finally, a trip to this region wouldn't be complete without a visit to the "outback." Book a boat tour for the Creole Nature Trail to say hi to the local gators and learn about the cajun culture. Continue your southern-style road trip visiting iconic New Orleans, stopping by the capital, Baton Rouge on your way. Alternatively, head west to check out Texas and the big city of Houston - the options are endless with your own wheels.
Hiring a cheap rental car in Lake Charles
Don't waste a minute looking for car rentals deals. Find everything you need for your Louisiana road trip at Airport Rentals. Simply pop in your travel dates to generate a list of the best deals available at Lake Charles Regional Airport in seconds. Then it's easy as choosing your favourite car type or supplier. Filter your options based on your own personal preferences - whether that be economy vehicles, luxury SUVs or a specific brand.
Once you've made your selection, book securely online and receive instant confirmation without the hassle of additional or hidden fees. Need a hand? Reach out to our 24/7 customer service team if you have any questions during the process.
Lake Charles Regional Airport (LCH)
Each year, 375,000 travellers pass through Lake Charles Regional Airport, located less than 10 kilometres from the city centre. The modern airport features a terminal resembling a two-storey Louisiana plantation home and offers basic amenities such as vending machines, gift shops, a newsstand and a lounge area. Enjoy access to free WiFi to look up any last minute reservations or directions, then head to the first floor near baggage claim to locate your designated rental car kiosk.
If you are collecting a car hire at a downtown Lake Charles depot, hail a taxi from just outside the baggage claim area.
Getting from the airport to downtown Lake Charles
The drive from Lake Charles Regional Airport is roughly a 20-minute drive to the city centre. Exit the airport and follow signs to LA-385 N, then turn left to merge onto the highway for a straight shot north to the city centre. Take a left onto Kirby Street and continue on to reach the lake and downtown area.
Driving a car hire in Lake Charles
Lake Charles Road Rules
● Visiting from overseas? Check out our USA driving guide.
● All passengers in the vehicle must wear a seatbelt.
● Right turns at red lights are allowed unless stated otherwise.
● Children 6 years old and under are not permitted in the front seat of any vehicle with an airbag.
● Children weighing less than 20 pounds must be in rear-facing car seats.
● Texting while driving is illegal.
● Pedestrians at intersections, crosswalks and even jaywalking on roads always have the right of way.
● Littering on the roadways is illegal.
Parking at Lake Charles Regional Airport and around town
There is a large passenger parking lot located directly across from the main terminal and parking spaces are free for all guests.
It's easy to find on-street parking throughout Lake Charles. Most hotels, restaurants and tourist attractions include free guest parking. Make sure to abide by signs especially in neighborhood areas to avoid fines and towing.