Aloha to the Big Island of Hawaii! Spend your holiday on black sand beaches, snorkeling with manta rays and partaking in luaus (traditional Hawaiian feast with music, hula and a roast). Discover the island and all it has to offer by picking up a car rental at Kona International Airport.
Kona is the perfect home base for your trip with short drives to the island's best attractions. Visit the Historic Kailua Village, and kayak at Kealakekua Bay State Historical Park. Swing through Holualoa for 100% pure Kona coffee, exclusive to the area. Head inland for a trip to Hawai'i Volcanoes National Park, home to Kilauea - one of the most active volcanoes in the world. Surf, swim, scuba or spend all day lounging on the beach.
Heading to other Hawaiian islands? Pre-book your car rental for Honolulu, Kahului, and Lanai.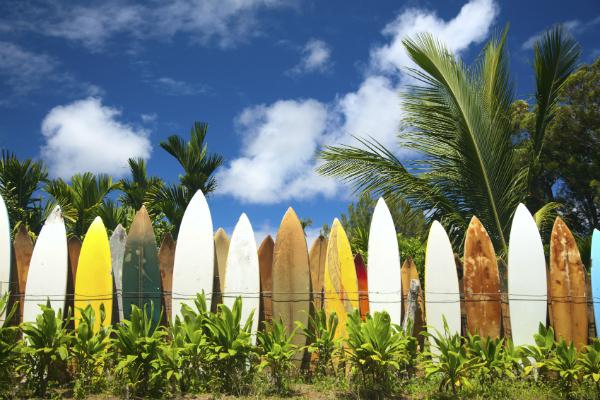 Hiring a cheap rental car at Kona International Airport
Pre-book a cheap rental car to explore the Big Island of Hawaii. Use Airport Rentals to quickly and easily compare top-rated hire companies, such as Alamo, Budget, Hertz and Thrifty. Narrow your search using handy preference filters, such as transmission type, group size, style and more. Select a 4WD for some off-road adventures or enjoy the sun on your face with a convertible.
Return your car hire to the same location or tour the island and drop it off at Hilo Airport. Complete your booking on our secure site and pay no booking fees. We also provide 24/7 customer service if you have any questions or concerns throughout the process.
Ellison Onizuka Kona International Airport at Keāhole (KOA)
Kona Airport is located on the west coast of Hawai'i serving over 3 million passengers each year. The Big Island's transport hub is split into two main terminals with 10 operating gates. Although the airport is small, each terminal has access to a cafe, newsstand and flower shop. WiFi is not available at the airport.
To pick up a rental car, exit the airport and board the shuttle across the street from the baggage claim area. One of these continuously-running shuttles will drop you off at the rental car parking lot located within the airport grounds.
Driving from Kona Airport to the city
The airport is situated 12 kilometres north of Kona. There are two easy routes to the city, each taking roughly 20 minutes in normal traffic conditions. Option 1: Follow signs to HI-19 taking a right onto the highway. Stay on HI-19 until turning right on Palani Road bringing you into the downtown area. Option 2: Follow HI-190/Hawaii Belt Rd to Kaahumanu Place which brings you straight into Kona.
Driving your rental car on the Big Island
Life on the island runs at a much slower pace. Here are a few tips for driving your hired car on the Big Island:
● Avoid using the horn unless you are saying hello to someone.
● Let cars in, it's the island way.
● Don't pull over onto the road shoulders as the soil can be soft and cars can easily get stuck.
● "Makai" means towards the ocean and "mauka" means towards the mountains. (These words are commonly used when asking for directions.)
● For more tips, read our USA driving guide.
Parking at the airport and in the city
There is one large car park at Kona International Airport, located across from the main entrance. It allows for a free 15-minute grace period, but after that it's $1 per ½ hour, with a $15 maximum for a 24-hour period. Need to kill time before picking someone up? Pull into the cell phone waiting lot for up to an hour free of charge.
Paid parking lots are scattered around the downtown area. Make sure to adhere to designated parking rules to avoid fines.
Insider tip: Park at the farmer's market lot (Alii Drive/Hualalai Road) for free, but move the car by 11pm to avoid a ticket.