Whether you come to partake in world-class outdoor recreational activities, or simply marvel at the stunning scenery, Kenai on the Kenai Peninsula in western Alaska promises fun and adventure for all who visit. Each spring and summer fishing enthusiasts from around the globe travel to this small coastal city to try their hand at luring king salmon from the flowing waters of the Kenai River. Others come to enjoy the surrounding scenery and wildlife that make up this spectacular corner of the world. Whatever your reason for visiting Kenai, a dramatic showcase of bountiful nature awaits you.
For those who wish to experience more of Alaska, an airport rental car is the best way to discover it all. Try a road trip to the famous Denali National Park Reserve in Anchorage, and visit quaint northern towns like Soldotna, Cooper Landing, and Portage along the way. After Cooper Landing, head south on Route 9 to the picturesque harbour town of Seward.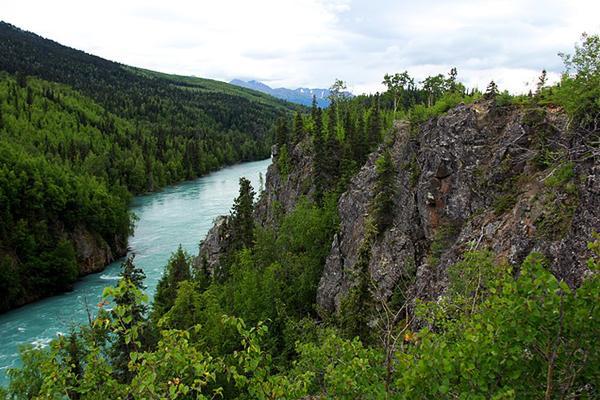 Hire a rental car for cheap with Airport Rentals
With Airport Rentals, you can spend more time planning the fun things you want to do in Kenai and less time scouring the net for the best car hire deal. View our live inventory of cars for hire across multiple brands at Kenai Airport simply by typing your travel dates into our optimal search engine. From here you can compare a wide variety of car types, including economy, mid-size and luxury vehicles, from trusted rental brands like Avis and Budget. Cars are sorted with the cheapest option at the top of the list, so you don't have to spend hours tracking down rates from multiple websites. It's all right there! Narrow search results further with preference filters like transmission type and vehicle capacity to find the best rental for your travel needs.
For added convenience, each car hire is outlined with a complete breakdown of rental details including free included benefits, vehicle specs and vehicle pick-up location (either at the airport or an off-site depot). Once you've made your selection, reserve your rental and receive instant confirmation from our secure site.
Questions? Call our friendly and knowledgeable customer care team any time, day or night. Rated No.1 by TrustPilot, Airport Rentals is your one-stop shop for convenient and affordable car hire in Kenai.
Guide to Kenai Municipal Airport
Kenai Municipal Airport is a small airport providing flight service for the Kenai Peninsula Borough and West Cook Inlet. The airport's two airline carriers, Grant Aviation and Ravn Alaska, offer flight routes to several communities in Alaska including the state's largest city and international gateway, Anchorage. Visitors to the airport can enjoy a warm meal at Double OO Express restaurant and sip cocktails at the Upper Deck airport lounge.
To locate the keys to your rental, head over to the car hire counters in the arrivals area. A taxi service is also available should you need it.
Guide to driving in Kenai
Tips for driving in Kenai
Aside from challenging road conditions during the winter months, driving the streets of Kenai will be mostly enjoyable as you take in the beautiful surrounding scenery. Traffic tends to pick up in the summer but with a relaxed state of mind and a few handy tips, you'll be on your way to a memorable holiday in Kenai.
● Driver and passengers must be buckled in at all times.
● Scrape snow and ice from all windows before driving.
● Be on the lookout for wildlife on rural roads.
● Check the local weather and road conditions before driving, and if possible, avoid driving during snowstorms.
● Pack extra snacks and warm clothes for extended road trips.
Getting from the airport to Kenai
To access Kenai from the airport, exit right onto North Willow Street and right again at Main Street Loop. Continue on Main Street to access the Old Town or, turn left on Frontage Road to locate many of the city's hotels and restaurants. The drive should take about five minutes depending on weather and road conditions.
Parking at the airport and around Kenai
Free two-hour parking is available at Kenai Airport in the lot across from the terminal. Park long term for up to 30 days at a daily rate of USD$7. Additional parking can be found in the gravel lot located across North Willow Street.
Most businesses in Kenai offer free patron parking, and on-street parking can be found in Kenai's residential areas. Daily parking in the north and south beach lots costs USD$20 and USD$45-55 overnight, respectively.