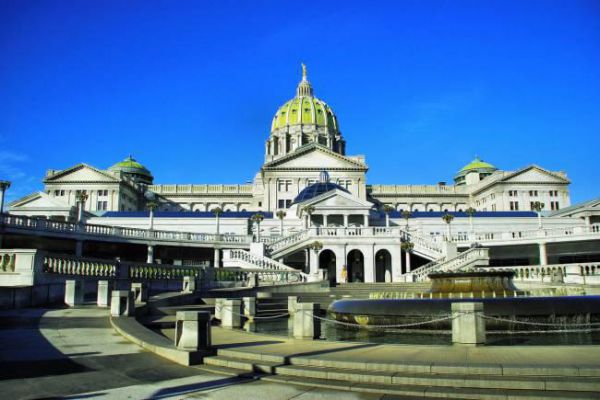 Image: Pixabay
Enjoy a holiday to the capital of Pennsylvania. Home to over 48,000 people, Harrisburg offers a rich historical background and many family-friendly activities. Experience it all with an airport rental car.
The capital city is situated on the Susquehanna River on the east side of the state near Dutch Country. Harrisburg played a big role in shaping American history; learn how at the National Civil War Museum and partake in interactive exhibits and re-enactments. Tour a Revolutionary War-era mansion and visit the State Capitol building and State Museum. Celebrate all things sweet at a theme park dedicated to confection, and test your guts at the one of the highest, fastest and longest roller coasters in the country. Hang out on City Island on the river for an afternoon picnic or pick-up sports game. Make it all possible with a cheap car hire.
Extend your Pennsylvania road trip and swing through Steel City aka Pittsburgh and then make your way to Philadelphia to soak up a bit of US history. If you enjoy a good ghost story make sure to stop by these spooky places — all just a few hours away in your rental car.
Hiring a cheap rental car in Harrisburg
Compare top rental brands and multiple vehicles using Airport Rentals, the one stop shop for all of your Harrisburg car hire needs.
Simply type in your travel dates and click 'search' to generate a list of cars available at Harrisburg Airport. Select your favourite rental preferences such as style of car and brand using our handy filters to shorten your search time. Hire with Alamo, Budget, Hertz and more, plus enjoy free benefits like breakdown assistance and unlimited mileage.
Select your preferred vehicle and complete your booking in just a few clicks. You never have to worry about hidden fees, and you can reach out to our 24/7 customer service team at any time throughout the quick and easy process if you have any questions.
Harrisburg International Airport (MDT)
Touch down at Harrisburg International Airport, just 19 kilometres from the capital city and begin your Pennsylvania road trip in comfort. Each year over 1 million passengers travel through Harrisburg Airport which offers standard facilities such as cafes, newsstands, gift shops and more. Hop on the complimentary WiFi to pull up reservations or directions then head to the ground floor to the transportation center where you will find your designated rental car company.
Alternatively, if you made arrangements to pick up a rental at a downtown Harrisburg depot, hop in a taxi or rideshare, or take the local bus available Monday through Saturday from 7am to 7pm.
Getting from the airport to downtown Harrisburg
The drive from Harrisburg Airport to downtown takes about 25 minutes. Leave the airport and take the ramp onto PA-230 W from Terminal Drive. Continue on this road along the river north to the city. When you reach Herr Street, turn left, then right on 7th Street and make one more left on Reily Street to arrive downtown.
Driving tips for Harrisburg car hire
Harrisburg road rules
Out of town guests often find Harrisburg's roads confusing. Expect many one-way streets, poorly maintained roads and fading lane lines. It's best to prepare with directions and a few handy tips before hopping behind the wheel of your rental car:
● Visiting from overseas? Check out our USA driving guide.
● Buckle up - it's the law.
● Right turns at red lights are allowed unless stated otherwise.
● Beware of potholes which are common on side streets.
● Expect a high volume of traffic during typical rush hour times around the city.
● If you are visiting during winter, be sure to read up on our safety tips for driving in icy conditions.
Parking at Harrisburg International Airport and around town
Choose from a number of parking options at Harrisburg Airport. For a quick pick-up, use the cell phone lot to wait for your passenger free of charge. For short-term use, park in the garage for the price of USD$4.40 for the first hour and USD$2.20 for each additional hour, with a daily maximum of USD$20. Alternatively, pay only USD$9.50 per day at the long-term lot which includes a free shuttle to the terminal.
Similar to most cities, Harrisburg offers both on-street spaces and garage parking. The metered on-street spaces are enforced Monday to Saturday from 8am to 7pm for a rate roughly USD$3 per hour depending on the area. Choose one of 11 garages scattered throughout the city if you are unable to locate an on-street space.