Fall in love with the most picturesque city in South Carolina when you book a Greenville car rental.
This idyllic town sits at the foothills of the majestic Blue Mountains with a charming downtown you won't want to leave. Over 70,000 residents call this city home, and the population continues to multiply. Visitors love the eclectic shops tucked between hand-crafted brewpubs and top-notch restaurants. New art galleries are popping up all the time, and visual art events are often held in this cool, unique city. Greenville's brightly coloured buildings decorate the pedestrian-friendly city centre, and with regular live music gigs, it's no wonder why more people want to call this place home. Take advantage of your hired car to visit the city's fabulous museums and relaxing green spaces, and enjoy a scenic drive to the mountains.
From Greenville, there are more great places to visit just a short drive away, including Asheville, Atlanta, and Charlotte. Plan a mini-road trip in your rental car or take a one way trip all the way to the Atlantic coastline for a relaxing beach getaway. We recommend Hilton Head or Charleston, also great spots for a less crowded spring break holiday.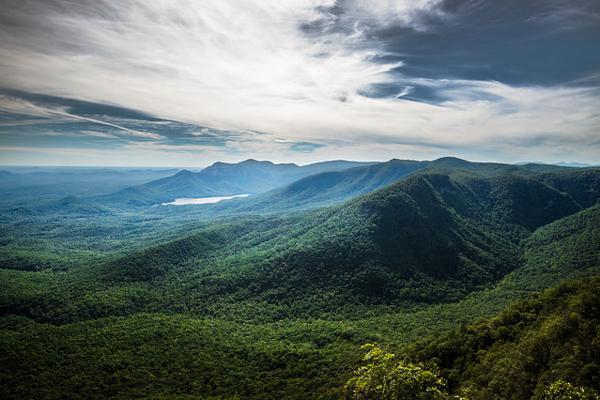 Image: Neil Williamson (Own work), CC-BY-SA-2.0, via Flickr
Hiring a rental car in Greenville
Use Airport Rentals to compare rental car deals for your upcoming trip to Greenville. Simply type in your travel dates to generate a list of available vehicles from a variety of top brands, then scroll through deals until you find the right car hire. To hone in on vehicles which match your preferences, take advantage of our handy filters. Tick transmission type, car style, company brand and more until you have a shortlist of vehicles that meet your requirements.
Once you make a decision, book instantly on our secure site or save the quote for a later day. Need a hand? Our Airport Rentals service team is available to assist you at any time of the day.
City guide for Greenville
Greenville is the sixth-largest city in South Carolina and over the past few years has been recognised as one of the fastest growing cities. This mountainous region has a humid subtropical climate with hot, humid summers and short, cool winters. Snowfall is less common, but those looking to enjoy the winter season can make the short drive to the Blue Mountains.
Major highways make it convenient to connect to other cities, and for those flying in or out, Greenville Spartanburg Airport is a short drive away.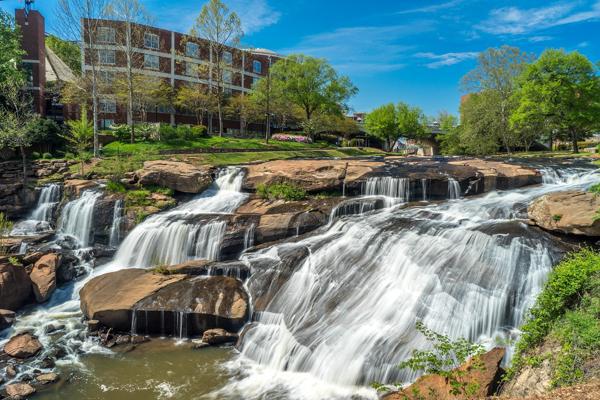 Driving guide for your Greenville rental car
Driving your car hire from Greenville to the Greenville Spartanburg Airport
If you are heading to the airport with your rental car, the drive takes roughly 20 minutes from downtown Greenville. Exit the downtown area taking North Street to merge onto I-385 S following it east until taking exit 35 for Woodruff Road. Take a left off the highway and then merge onto I-85 N. Last, take exit 57 toward the airport following signs to reach the terminal.
Car hire driving tips for Greenville
This laid-back little city is easy to navigate and rarely sees traffic jams, but it will pay to familiarise yourself with the local road rules and learn a few handy tips.
● Speed limits are as follows: 60-70 mph on highways and 30-40 mph in built-up areas.
● Texting while driving is illegal, but hands-free mobile devices are permitted.
● Right turns at red lights are allowed unless stated otherwise.
● Simplify directions by hiring a GPS or using a smartphone app.
● Bring a roadmap if you head into the mountains, as phone service is known to be unreliable.
● New to the United States? Drive on the right side of the road and overtake in the left lane. For more road rules, read our USA driving guide.
Parking your car hire in downtown Greenville
Choose from various options for parking in downtown Greenville. Multiple public parking lots and structures are great for multi-hour use, charging around USD$7.50 for the entire day. Metered on-street spaces are available throughout town, allowing the first hour free, followed by a charge of USD$1 to USD$1.50 per additional hour. Free spaces can also be found in surrounding neighbourhoods of the downtown area. Always be sure to abide by posted signs to avoid fines.