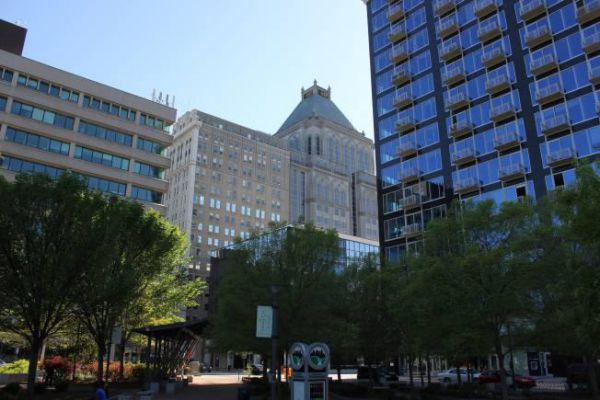 Image: Nicolas Henderson
Greensboro in North Carolina is a city rich in history and culture, jam-packed with entertainment and attractions. Pick up a hired car and start exploring the gems of this city the moment you touch down at Piedmont Triad International Airport.
History lovers will find no shortage of museums and historical landmarks to explore in Greensboro. Start with a visit to the International Civil Rights Centre & Museum and the Guilford Courthouse National Military Park. Then head downtown to experience culinary delights at some of the city's best restaurants, indulge in some retail therapy, and get lost in the exhibits at the fabulous art galleries. Looking to spend some time in nature? Greensboro has many parks, gardens and hiking trails just waiting to be explored.
Don't miss the opportunity to visit the neighboring towns of Winston-Salem and High Point, easily accessible with a rental car. And if you fancy going a little further, consider exploring more of North Carolina with a trip to Charlotte and Asheville or put Wilmington on your list for a perfect spring break destination.
Hiring a cheap rental car in Greensboro
Pre-book your Greensboro rental car with AirportRentals.com and have it ready for collection the moment you touch down at Piedmont International Airport. No need to waste hours searching multiple websites, at Airport Rentals all the hard work is done for you.
Simply pop your travel dates into our optimal search engine to compare all the top rental deals available conveniently on one page. Use the handy preference filters to quickly and easily refine your search. Compare by car size, capacity, transmission type and more.
Finalise your reservation in just a few clicks and enjoy peace of mind with instant confirmation and no hidden fees or charges. Feel free to contact our friendly customer service team who are available to help 24/7, should you require any assistance.
Piedmont Triad International Airport (GSO)
Piedmont International Airport is located 11 miles from downtown Greensboro and is an important hub for the Piedmont Triad region. A number of airlines offer daily nonstop flights to major US destinations.
The recently renovated terminal has a variety of passenger services including free WiFi, device charging outlets and conference rooms. Visitors can also utilise the interactive kiosks to find local area information, including accommodation.
Restaurants and snack food outlets are located both before and after the security check area. Shopping outlets include a bookshop, gift shop and PGA Tour shop with golfing apparel and accessories.
When you are ready to collect your keys and begin your Greensboro holiday, make your way to the arrivals hall to locate the rental car service desks.
Driving your rental car in Greensboro
Getting from Piedmont Triad International Airport to downtown Greensboro
Navigating from the Piedmont Triad International Airport to downtown Greensboro is straightforward and should take 20 minutes. From the airport, drive straight along Joseph M Bryan Boulevard and then onto Benjamin Parkway. Merge onto Smith Street and continue straight to arrive in downtown Greensboro.
Driving tips for Greensboro car hire
Use our driving and safety tips below to get the most out of your Greensboro rental car.
● Motorists are required to move to the shoulder of the road for emergency vehicles with flashing lights.
● Right turns at red traffic lights are permitted after coming to a complete stop.
● It is compulsory to use headlights between sunset and sunrise and anytime when using your windscreen wipers.
● Take extra care when driving in winter conditions by reducing speed and giving yourself plenty of time to reach your destination.
● You must move your car to the shoulder of the road after a minor accident.
Visiting from overseas? Check out our guide to driving in America for more information and safety tips.
Parking at the Piedmont International Airport and around Greensboro
At the Piedmont International Airport, travellers will find plenty of parking available. The multi-level parking garage is located directly opposite the terminal and has over 2000 parking spaces. Parking options include long-term, short-term and a valet parking service.
There is no shortage of parking options in Greensboro, with a multitude of parking garages dotted around the city. On-street parking is also plentiful and affordable. Visitors will find over 900 on-street spaces with prices ranging from USD$0.75 to USD$1.00 per hour, free after 6pm and on Sundays.