They called it Furniture City for its thriving lumber industry back in the late 19th century, but now Grand Rapids has a new nickname: Beer City USA. The city boasts over 60 breweries, and draws visitors in from all over the US to sample its many beer varieties. Wine and dine by the Grand Rapids River, enjoy the shopping and nightlife, and visit the museums to soak up the city's interesting cultural and industrial history. There's no better way to explore this west Michigan city than by renting a cheap car hire in Grand Rapids.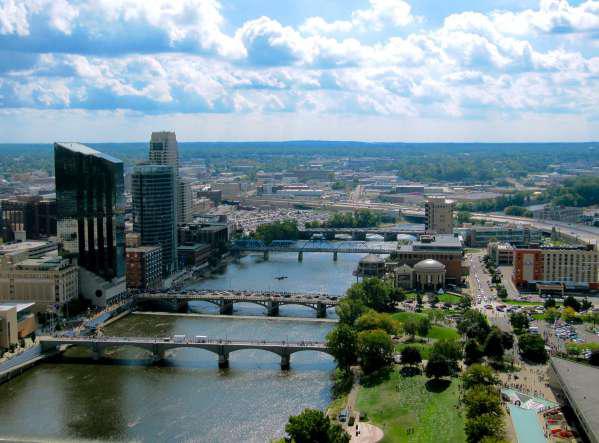 Image:Rachel Kramer
Secure your car rental in Grand Rapids with Airport Rentals
Secure a cheap rental car for your trip to Grand Rapids in just a few clicks with Airport Rentals. Through our network of rental suppliers, we're able to bring you the best rental car deals available at Gerald R. Ford Airport.
Enter a few basic details about your stay, hit 'search' and compare multiple companies is seconds. Refine your search by car type, transmission type, group size, brand and more to narrow your options to the optimal vehicle.
Confirm immediately and securely online with 24/7 access to customer service, should you need it. With no additional booking fees and free cancellation on most cars, Airport Rentals is your one-stop shop for booking a cheap car hire in Grand Rapids.
A quick look at Gerald R. Ford Airport
Gerald R. Ford International Airport (more commonly known as Ford Airport) is a beautiful, easy-to-navigate building with a stunning mix of architecture. Make use of the complimentary WiFi and device charging stations, and grab a coffee before picking up your keys from the car rental station located in the parking garage across the road from the terminal.
Ford Airport offers 120 non-stop flights each day to cities around the United States, including Baltimore, Fort Lauderdale and Philadelphia.
Driving around Grand Rapids
With its grid layout and efficient street numbering system, driving in Grand Rapids is largely a pleasure - much like that of Washington D.C. There are many cycling paths and trails around the city, so be on the lookout for bikes, and remember to share the road.
Getting to and from Ford Airport
Gerald R. Ford International Airport is located 14 miles southeast of Grand Rapids, with the drive to town taking around 20 minutes. From the airport, follow John J Oostema Blvd SE, take a right on Patterson Ave, another right on 28th Street, and head onto the I-96. From here, follow the signs to the centre of Grand Rapids.
Planning to pick up your hired car from the city? Hail a taxi or jump on the Rapid public bus, route 17. A bus ride will cost $1.50.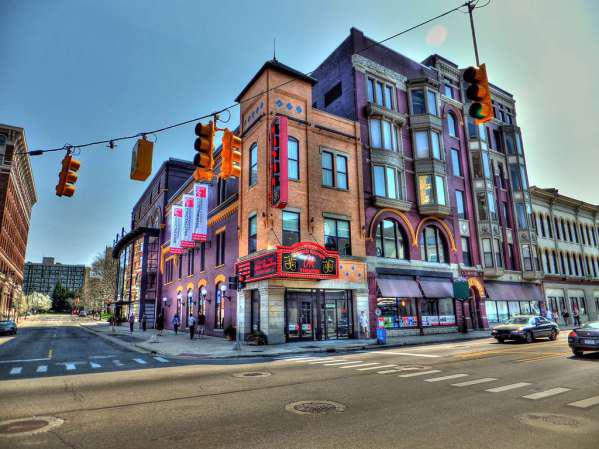 Image:Juan234xxx
Tips for driving your car hire in Grand Rapids
While getting around in Grand Rapids in your rental car is pretty straightforward, take note of bike lanes. These lanes are not yet that common across the US but appear on most major roads in Grand Rapids. They have markings known as sharrows painted on the road to indicate where the cyclist should be, but it's good to keep an eye out and remember to share the road.
New to the USA?
● Keep to the right on the road.
● Read up on our winter driving tips.
● Remember to wear your seatbelt at all times.
● See our US driving guide.
Where to park your rental car
Ford Airport offers a range of parking options for passengers. Short and long-term parking is located just outside the main terminal, and the Economy car park is just a short shuttle ride away. All zones start at $2 per hour, and have various daily maximums.
● Short-term max: $24
● Long-term Garage Parking max: $13
● Long-term North Lot max: $10
● Economy Lot max: $9
In downtown Grand Rapids, parking can be a bit of a hassle and a little on the pricey side during the weekdays, however just outside of the CBD there are many free car parking spaces.