Arrive in Flint, Michigan and you'll find a city that grew around the automotive industry now finding new life. Not far northwest of Detroit, it is a satellite city with its own flavour. The lively music scene and fascinating history in Flint are best visited with a rental vehicle - as could be expected in a city that revolved around car manufacturing for so long.
A car hire from Flint can get you to many places around the beautiful Great Lakes region and the Midwest. Cleveland, Indianapolis and Chicago are all major centres within half a day's drive of Flint, and it is also not far at all to the border with Canada, the major metropolis of Toronto and the tourism hotspot and natural wonder that is Niagara Falls.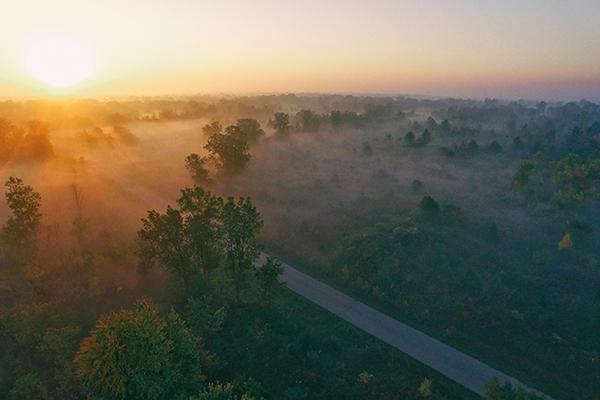 Get the best car rental from Flint Airport
In a city full of cars it can be tough to track down the perfect rental vehicle. However, it's a breeze to book your wheels with Airport Rentals, car hire specialists in the United States and across the globe. Simply enter your details and dates, then peruse the list of personalised results and pick the car that works for your plans.
Handy filters make the search experience even easier, narrowing down the results to a handful which meet your requirements exactly. Pick your ideal transmission type, passenger capacity, vehicle type (from economy to SUV to luxury models) and even the rental brand to pinpoint the right car, and your results will be listed with the cheapest at the top by default so you can find a Flint Airport car hire bargain. For extra support and to have any questions answered, get in touch with the friendly Airport Rentals team who are available by phone 24/7.
Guide to Flint Airport
Officially named Bishop International Airport, Flint's airport is located just six miles from the city. It is used for commercial flights and general aviation, and is the third busiest airport in Michigan with several passenger airlines operating there. In the terminal, passengers will find gift shops, restaurants and bars and the iconic Joe's Shoe Shine service. There is free WiFi throughout, and places to plug in and charge devices. Car rental counters are found on the first floor near the baggage claim.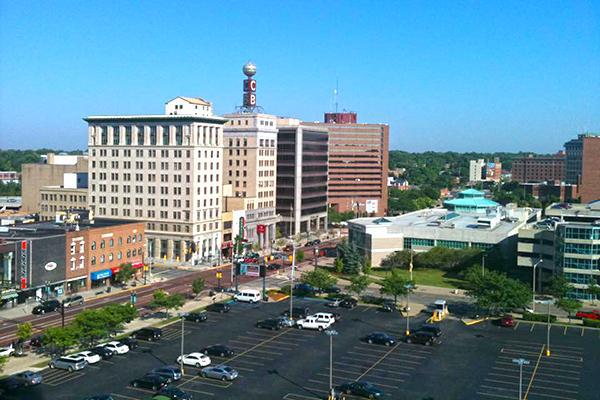 Image (modified): By Flintmichigan (Own work) CC BY-SA 4.0, via Wikimedia Commons
Guide to driving in Flint
Getting from the airport to downtown Flint
The journey from the terminals to Flint's CBD should take around ten to fifteen minutes, dependent on traffic conditions. Head out on W Bristol Road and follow signs to get onto the I-69 E towards Flint. Take exit 136 and turn left onto S Grand Traverse Street, then go right onto W 5th Street. A left on Harrison Street will take you into the centre of the action.
Tips for driving in Flint
Take note of these pointers for an enjoyable and safe driving experience in Flint and the state of Michigan. If you are a foreign road tripper, remember the most important thing is to drive on the right-hand side of the road.
● Winters in Michigan are snowy and icy. See our winter driving tips to be prepared.
● There are currently no toll roads in Michigan, but be prepared to encounter some if you leave the state.
● Drivers, front seat passengers and those under the age of 16 must wear seatbelts or appropriate child restraints at all times.
● Texting while driving is illegal in Michigan.
● 75 miles per hour is the fastest speed limit in Michigan, allowed on some freeways. Non-freeway open roads have limits between 55 and 65 mph. Urban speed limits are set at 25 mph. Always obey the posted signs.
Parking at the airport and around Flint
Flint Bishop Airport has three types of parking lots: Short Term, Long Term and Economy. The Short Term Lot has a charge of USD$2 per half hour up to a maximum of USD$22 per day, while the Long Term Lot has a charge of USD$2 per hour up to a maximum of USD$8 per day. The Economy Lot has a 24hr free shuttle to the terminals, and costs USD$2 per hour up to USD$6 per day.
Much of the parking in downtown Flint is on-street metered, and you can find free parking if you park just a little outside of the central area. These mostly cost USD$1 an hour, with a 2-hour limit. There are also parking lots and ramps scattered throughout downtown.