It may be the gateway to the breathtaking Grand Canyon, but Flagstaff is a destination in and of itself. With a laidback lifestyle, stunning mountainous scenery and a historic downtown like no other, you'll want to rent a car and explore this Arizona region for weeks.
There is something for everyone in Flagstaff. The active theatre and music scene is evident as you wander through the city streets listening to buskers pluck a song or two. The varied terrain surrounding the city makes it ideal for hiking, mountain biking, and camping. See what piques your interest when you arrive in this Arizona wonderland.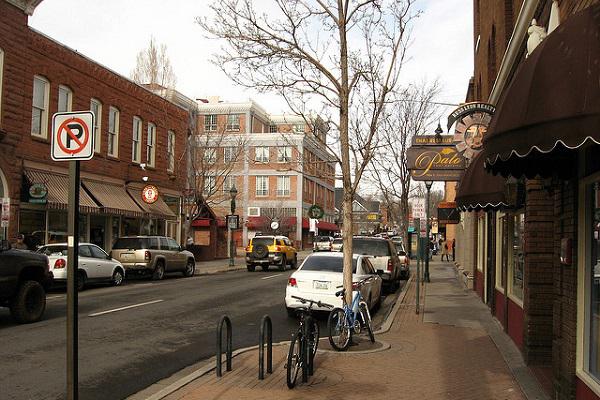 Image: Ken Lund
Secure a cheap car rental in Flagstaff with Airport Rentals
Hiring a cheap car rental in Flagstaff is easy and stress-free with Airport Rentals. Find and compare available vehicles across an extensive range of suppliers, in just a few clicks.
Pop in a few details to begin your search, and refine your options using filters for transmission type, group size, brand and more. When you've found the perfect car and a great deal, booking confirmation is instant - with no hidden costs. Give our customer service team a ring if you need a hand; they're ready to help 24/7.
Quick guide to Flagstaff Pulliam Airport
The Flagstaff Pulliam Airport is modest in size, but that doesn't stop tourists flying in via Phoenix to explore the Grand Canyon State. Check up on emails with the terminal-wide free WiFi, and grab a coffee and a snack from the Air Cafe. When you're ready to head off, pick up your hired car keys at the desks located by the baggage claim.
Driving your car hire in Flagstaff
Laid out in a grid system much like that of New York City, Flagstaff is easy to navigate. Roads are well maintained, signposted and efficiently plowed when it snows in the winter.
Getting to and from Flagstaff Pulliam Airport
Situated just 5.5 miles south of the city, it's an easy 10-minute drive from Flagstaff airport to the CBD. Head out onto the I-17 north and continue on to Milton Road. Follow the signs towards the city and you'll be unpacking at your hotel in no time. Picking your hired car up from the city? Simply hail a cab from the airport.
Handy tips for driving your rental car in Flagstaff
Take note of these helpful tips for driving in Arizona and greater USA.
Flagstaff
● Residential areas in Flagstaff have a speed limit of 25mph, and the highways have a limit of 65mph.
● Flagstaff is a very bicycle-friendly city, and there are many bike lanes. Keep an eye out for cyclists when driving.
● Visiting in winter? Read up on our US winter driving guide.
United States
● Motorists drive on the right.
● You may turn right on a red light, unless otherwise stated.
● The speed limit on the Interstates is generally 75 mph, however be aware of changes if you're crossing state borders.
● For more tips on driving in America, visit our US driving guide.
Where to park in Flagstaff
Flagstaff Pulliam Airport provides over 400 car parks at no charge. You can park for a short amount of time, or stay longer if need be. The airport does ask that if you plan on leaving your vehicle there for more than 2 weeks that you notify them of your travel plans.
Flagstaff have recently upgraded their parking systems. New meters have been installed for on-street parking, with rates beginning at $1 per hour. Garages and parking lots are also available around the city, with similar rates. Note that in winter, there is no parking allowed on city streets between midnight and 7am, so snow plows can sweep the streets if need be.