Fayetteville in Northwest Arkansas is a picturesque place renowned for beautiful green spaces and gardens, and home to the University of Arkansas. The award-winning Farmer's Market adds extra charm, and craft beer lovers will find plenty of breweries to enjoy in Fayetteville. Rich civil war history, performing arts and a buzzing nightlife round out the attractions of this university city and make it a fantastic starting point for a car rental journey in Arkansas and beyond.
Fayetteville is quite centrally placed in the United States, opening up the possibilities for a long or short term car hire adventure in many different directions. Head down and enjoy the soul food and cultural diversity of various southern destinations such as Dallas, Atlanta and New Orleans, or visit St Louis, Chicago and the all-American Midwest. You could also make a break for either coast and enjoy a lengthy cross-country road trip to take in the many and varied sights of the nation - just make sure you prepare with an epic driving playlist!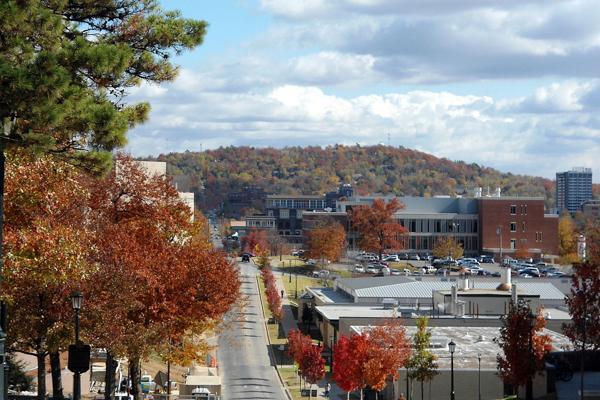 Image: Brandonrush (Own work), CC-BY-SA-3.0, via Wikimedia Commons
Find your Fayetteville car rental deal
You can find the perfect rental car in Fayetteville right here at Airport Rentals, with our simple search engine. Just enter your dates and a few other details and see a list of rentals available, with everything you need to know visible right there on the results page to compare, choose and book. The rentals are listed with the cheapest at the top by default, and you can narrow it down with filters for features such as transmission or passenger capacity to find the right vehicle -whether that's a big SUV or small, economical hatchback.
The convenience of finding your car hire with Airport Rentals doesn't mean a big price tag. We put our international buying power to use, negotiating low everyday rates and great bargains for our valued customers. We also provide top-notch support throughout the search, booking and rental process, thanks to a team of friendly rental consultants who are available over the phone 24/7.
A guide to Fayetteville
Fayetteville is the third largest city in Arkansas and the seat of Washington County. It has been home of the University of Arkansas since 1871, and it was named after the city by the same name in Tennessee. It consistently ranks among the best places to live and visit as designated by various publications, and much of its economy is based around the university while its social life revolves around Dickson Street and Fayetteville Historic Square. Northwest Arkansas experiences a humid subtropical climate, with four distinct seasons.
The closest big airport to Fayetteville is Northwest Arkansas Regional Airport (XNA), which offers domestic flights to nearby travel hubs.
Guide to driving in Fayetteville
Getting from Fayetteville to Northwest Arkansas Regional Airport
Should you need to go to the airport in your car hire, head north out of the central city on Garland Ave and follow the AR-112 route until you can turn left on Wager Drive then right on Colonel Myers Road. Turn left again onto AR-264 until you reach Airport Boulevard.
Fayetteville Driving Tips
● If you are not used to driving on the right, be sure to practice before setting out!
● Arkansas winters can get cold and snowy. Read up on our winter driving tips if you are planning to be there during that time.
● The Ozark Mountains are close by Fayetteville. When driving mountain roads, try to use your engine to slow down as well as your brakes, and take care on blind corners.
● There are many big trucks on the interstates and other highways passing through Arkansas. Stay alert and ensure you are not driving in the blind spot of a big rig.
● The legal blood alcohol concentration limit for drivers in Arkansas is 0.08%.
Parking in Fayetteville
There is limited free parking available in the downtown square, for periods of up to two hours, along with short-term metered parking at a rate of USD$0.25 per hour and long-term metered parking at USD$0.25 per 100 minutes for up to ten hours. There are also a few parking decks where you can park all day for a small fee.