The biggest city and travel hub for southern Indiana, Evansville flies under the radar as a great place to live and visit. The city sits on a bend in the Ohio River, right on the border with Kentucky, and boasts a proud German heritage, southern-style hospitality and strong economic vitality. Riverboat gambling is one of its entertainment draw cards, along with a great zoo and several interesting museums.
With a cheap car rental from Evansville Airport, you are well-placed for a road trip into either the south or midwest of the United States. Indianapolis is close by, as are the other major centres of St Louis, Louisville and of course the country music capital, Nashville.
Hiring the best Evansville Airport car rental with Airport Rentals
With a tool like Airport Rentals, there's no need to spend hours searching the internet for a rental car. Just enter your travel dates, sit back and let the options come to you. Our search and booking engine will generate a list of what's on offer from a wide range of suppliers all in one place, so you don't have to do the legwork.
Filter the search results for features like vehicle type, passenger capacity, transmission and more to make it even easier to find the perfect rental car. Results are listed with the cheapest price at the top so you can find the best bargains, and the information for each vehicle is clearly visible to make it simple to compare and choose.
Phone support from the friendly Airport Rentals team is available 24/7, so you can ask any questions or book your car hire over the phone.
A guide to Evansville Airport
Evansville Regional Airport, just a few miles north of the city, is well-connected to destinations around the United States. The small terminal has one "Meals and More" restaurant and a gift shop, as well as a bar in the airline lounge. Free WiFi is available in all public areas.
The counters for several car rental companies are in the terminal building near the baggage claim.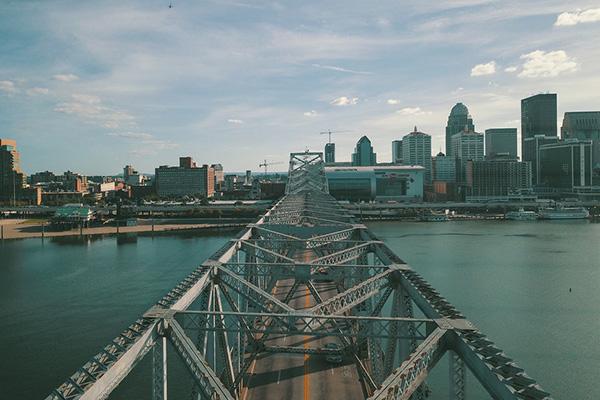 Guide to driving a car hire in Evansville
Getting from the airport to downtown Evansville
From Bussing Drive where the airport is located, turn left onto IN-57 to join the US-41 heading south towards Evansville. Exit left to merge onto the Lloyd Expressway. Exit onto W Division Street and turn left to head under the expressway on NW Martin Luther King Jr Boulevard. Turn right into Sycamore Street and you will soon be in the central city.
Tips for driving a rental car in Evansville
Whether or not you are new to Indiana or even the United States, it's important to be intentional about staying safe. Read these driving tips and brush up before hitting the road.
● Winter driving can be very hazardous, particularly if you are heading north from Evansville. Read our winter driving tips and be prepared.
● Speed limits in Indiana are generally set at 70 miles per hour on interstates, 55 or 60 mph on other freeways, and 20-30 mph in residential and commercial areas.
● The blood alcohol concentration limit in Indiana is 0.08%. It is always recommended that you abstain from drinking entirely before driving.
● All passengers must wear seatbelts, and those under the age of 7 must use appropriate child restraints.
● The state of Indiana is split between Eastern and Central time zones, so if you drive north or east of Evansville, be prepared for the time to jump ahead an hour.
Parking at the airport and around Evansville
There are long and short term parking spots near the terminal. In both, the first ten minutes are free and the first hour costs USD$1. In the short term parks, each additional hour costs USD$1 to a daily maximum of USD$14. In the long term parks, additional hours are USD$0.50 to a maximum daily rate of USD$7 and weekly maximum of USD$35.
Parking in downtown Evansville is available in parking lots or garages or on streets, often controlled with meters. At city-owned parking garages, the rates are USD$2 for the first hour and 50c for each additional 30 minutes, to a daily maximum of USD$7.