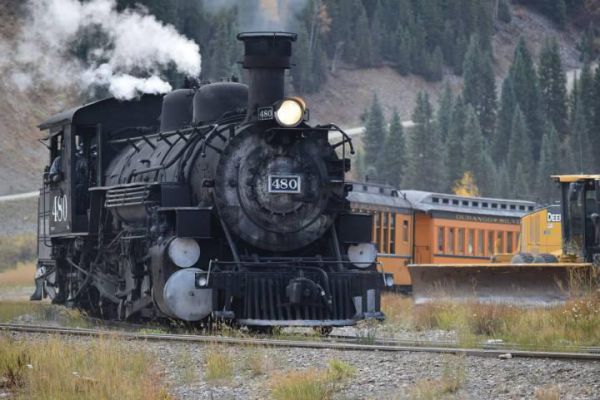 Image: Pixabay
Surrounded by the jagged San Juan Mountains in the Animas River Valley, the picturesque city of Durango is just waiting to be explored by rental car. Nestled in southern Colorado, Durango attracts tourists looking to experience an array of recreational activities in summer, including rock climbing, hiking, white-water rafting, kayaking, and off-roading. And with Purgatory Ski Resort only a short drive away from downtown Durango, the city is transformed into a premier ski-town during the winter months.
The streets of historic downtown Durango are lined with unique boutiques, award-winning galleries, museums, and restaurants galore. When the sun goes down, the city lights up as tourists and locals alike wind down with a tasty drink at some of Durango's lively bars. Spend a day at one of Durango's most popular attractions, the Durango and Silverton Narrow Gauge Railroad. You'll be transported back to the Old West as you hurtle down the tracks through the San Juan National Forest.
Discover more of Colorado as you head north in your rental to experience one of America's most scenic drives along the San Juan Skyway, also known as the 'Million Dollar Highway'. This winding road takes you high up through the San Juan Mountains to the quaint village of Silverton, and further ahead to charming, Ouray. Expand your trip further for an exciting journey to Pueblo, Colorado Springs, and Denver.
Hiring a cheap rental car in Durango
Find the best deal for car rental in Durango with Airport Rentals and leave behind the hassle of comparing rental rates from multiple websites. Simply enter your travel dates into our powerful search engine and find great deals on a wide-range of vehicle types from big name brands like Hertz, Alamo, and Avis. Hire an economy car for a cross-country road trip, or choose a 4WD to cruise the winding roads of the Rocky Mountains. Our handy preference filters - like car type and transmission - allow you to narrow search results even further. Once you've made your selection, check out the extra items page in case you need an add-on like an infant seat or GPS.
Receive instant confirmation from our secure site and call us anytime, day or night should you have any questions. Rated No.1 by TrustPilot, Airport Rentals is the mosted trusted choice for car rental.
Durango-La Plata County Airport (DRO)
Durango-La Plata County Airport is a small airport located approximately 14 miles southeast of downtown Durango. Flights from cities like Denver, Phoenix, Dallas, and Grand Junction operate here, with seasonal flights to Los Angeles. Satisfy your hunger and quench your thirst at The Durango Deli located at pre and post-security. Purchase a unique Colorado souvenir at La Plata Gifts, and access free WIFI throughout the airport.
Grab the keys to your rental at the car rental kiosks located directly across from baggage claim. The rental car parking lot is conveniently connected to the airport.
Driving a car hire in Durango
Getting from the airport to downtown Durango
The drive from the airport to Durango should take about 21 minutes, depending on traffic. From the airport, exit onto route 172 N and turn left onto route 160 W. At the junction, keep right onto route 550 N/Camino Del Rio to access the city.
Driving tips for Durango car rental
A drive through Durango and the surrounding area will produce absolutely stunning views of the region's lush landscapes and San Juan Mountains. Stay safe and take note of these driving tips:
● Keep up to date with the weather forecast. Weather can change rapidly making for unfavourable road conditions.
● Be sure to keep at least a half tank of gas and carry a road safety kit in case of emergencies.
● Follow the posted speed limits.
● Ensure you and any passengers are buckled in at all times.
● Visiting from overseas? Read out US driving guide for further information.
Parking at Durango-La Plata County Airport and in Durango
Use either the Main or Credit Card parking lots located within walking distance of the airport terminal building. The first 30 minutes of parking are free, with a maximum fee of USD$7 per 24 hours. Pay by either cash or credit card in the Main lot, or credit card only in the Credit Card lot. If you wish to pay by cash in the Credit Card lot, visit the paystation inside the terminal prior to leaving.
Downtown Durango has on-street metered parking for over 1,000 cars and 350 permit spaces in off-street parking lots. Prices vary but you can purchase a temporary parking permit for USD$7.50 per day and park for free after 5PM.