If an endless summer sounds good to you, Daytona Beach is heaven on Earth. This city is known for its annual Daytona 500 NASCAR Race, laid-back lifestyle, and of course, beaches. While its population of year-round residents is surprisingly low at less than 70,000, many more flock to the city for major annual race events and spring break. In fact, an estimated 8 million people visit Daytona Beach each year to frolic in the sun and watch some of the most exciting sports around.
A car rental in Daytona Beach will help you get around - but you can leave the speed racing to the professionals.
How AirportRentals.com can help you find a cheap Daytona Beach car hire
Save yourself the hassle of comparing rental vehicles and brands separately by using the site that brings together all of this information in one place. Simply enter a few key details at Airport Rentals, and let the search engine do all the work.
You'll be presented with all available vehicle rentals at Daytona Beach Airport for your travel dates, and you can refine your search with filters to help find the perfect fit. Once you've got your eye on the right vehicle, you can reserve the car online without paying any extra booking fees.
Need a hand? Give us a call or email the help desk at any time.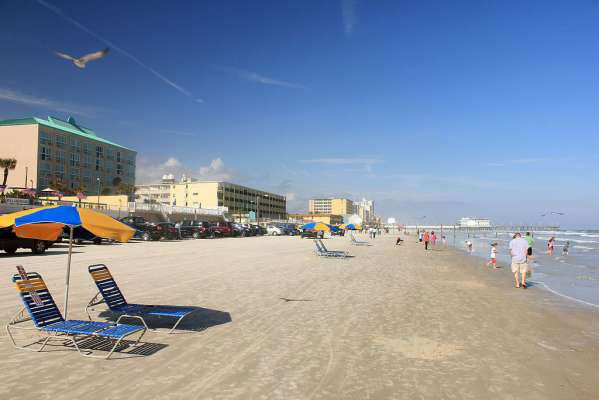 Image :Yinan Chen
Introducing Daytona Beach Airport
The Daytona Beach Airport helps roughly 700,000 people fly in and out of the city every year. Located just 10 minutes down the road from Daytona Beach, it's perfectly located to help you get a flying start on your visit to central Florida.
You'll find all your usual airport facilities on hand, such as free WiFi, a gift shop, multiple restaurants and bars, and ATMs. You will find the rental car counters inside the main terminal on the first level right across from the baggage claim.
Regular flights run between Daytona Beach Airport and these transport hubs:
● Atlanta
Driving your car hire in Daytona Beach
Daytona Beach is famous for its car racing, but driving around town is a far more relaxing experience. Most locals drive to get around, and while you can expect some traffic at peak times and during major events, it is otherwise a straightforward driving experience in town.
Driving from the airport to the CBD
Leaving the airport, turn left onto Bellevue Ave, then left again onto South Clyde Morris Boulevard. When you hit the West International Speedway Boulevard, turn right and follow the road into town. This trip only takes 10 minutes in normal traffic, but leave yourself spare time just in case.
Tips for driving your car rental in Daytona Beach
The main question when hiring a car rental in Daytona Beach is whether or not you can drive on the beach itself. While you should be able to, it's important to check with your rental company when you pick up the vehicle to ensure your insurance covers this trip. If you get the go-ahead, note that there is a $10 charge per day for beach driving, and you should always be careful to stay in the designated driving areas and watch out for people and wildlife.
Parking your car hire in Daytona Beach
There are long- and short-term parking options at the Daytona Beach Airport right outside the terminal. You get the first 15 minutes for free in the short term spaces, and it's $1 for every 30 minutes after that. Long-term parking spots cost $11 per day.
You won't have any problems finding a park in Daytona Beach, as there are plenty of private and public garages around town. For somewhere central to the beach, grab a spot in the garage at Breaker's Oceanfront Park, which is at the base of the pier and costs $10 per day.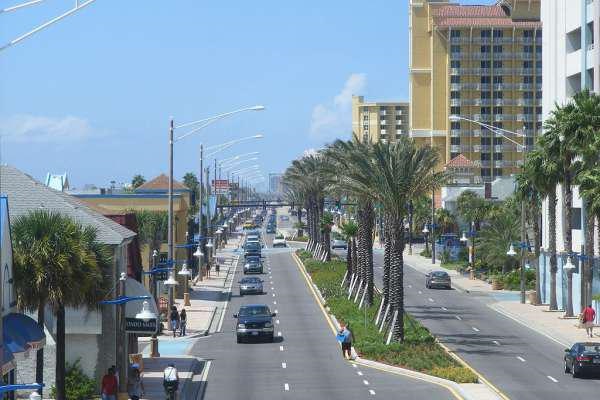 Image :Gamweb