While most people head to the Texan city of Corpus Christi for the stunning coastline and beautiful beaches, the "Sparkling City by the Sea" has so much more to offer than sunbathing opportunities. Rent a cheap car in Corpus Christi to make the most of your visit and explore the hidden gems of the surrounding areas. Discover the breathtaking Mustang, Padre and Shamrock Islands, wine and dine on fine cuisine, visit numerous interesting museums, or try your hand at bird watching; there's plenty of exciting experiences to be had in this southern town.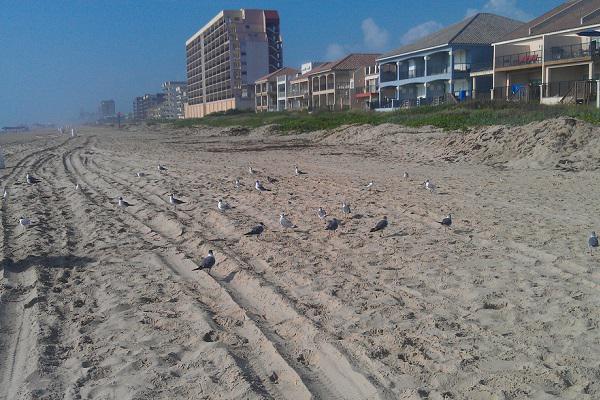 Image: Charles Willgren
Grab a great Corpus Christi rental car deal with Airport Rentals
Tick Corpus Christi car rental off your holiday to-do list in just a few clicks by pre-booking with Airport Rentals. We bring all your vehicle hire options from a vast range of suppliers together in one spot, so you don't have to sift through various rental websites for hours.
It's easy to get started; simply type in your travel dates and and select 'search'. A list of available vehicles from Corpus Christi International Airport will be generated, which you can refine further with easy-to-use filters such as brand, group size, transmission, or style. Ready to book? Confirm securely online in a few short minutes, without paying any additional booking fees.
Need a hand? Our customer service team is ready 24/7 to answer any questions you may have.
A short guide to Corpus Christi International Airport
Catch a direct flight from Houston, Dallas and other United States cities to Corpus Christi International Airport. Upon arrival you can browse the gift shop, grab a bite to eat in one of the diners, and even get your shoes shined at Watchamacaller's Place. Make use of the free terminal-wide WiFi to catch up on email and social media.
Ready to see the sights? Pick up your bags from baggage claim and your rental car keys from the kiosks opposite.
Driving your car hire in Corpus Christi
Corpus Christi is a popular tourist destination that attracts many people to its beautiful waterfront. While driving in this "Sparkling City by the Sea" is pretty straightforward, be on the lookout for cyclists and pedestrians crossing the road.
Driving from Corpus Christi Airport to the city
Corpus Christi Airport is situated just under 10 miles west of the city. An easy 13-minute drive will take you straight to the CBD. From the airport, head out onto the TX-44 and merge onto the TX-358 north. Take the exit onto the I-37 towards the city and follow the signs to the city centre.
If you've decided to pick up your hired car from the city, your best bet is to hail a cab from the airport.
Tips for driving your car hire in Corpus Christi
New to the USA? Take time to familiarise yourself with the national road rules and follow these handy tips.
● Remember to keep to the right. Rental cars often have a sticker or sign installed to remind you.
● The speed limit on the Interstate is 70mph. Watch your speed as it can creep up on these long stretches of road.
● The blood alcohol level is 0.08 percent, but we suggest not drinking at all if you intend to drive.
● If driving in rural Texas, be sure to watch out for animals that may stray onto the road.
Considering a road trip? Visit our guide to USA driving distances to help plan your route.
Where to park
Parking is affordable at Corpus Christi Airport, and all car parks are located just outside the terminal building. Short-term parking begins at $1 an hour with a daily maximum cost of $10. The long-term car park also begins at $1 per hour, but you'll only pay $7 for the entire day.
Downtown Corpus Christi has a mixture of on-street parking, garage lots and open-air lots, starting at around $2 per hour. You may be hard pressed to find a car park in the summer along the waterfront, however if you head away from the coast a little, more options will open up.