Explore Boone County on your own time with a Columbia MO car rental. This Missouri city is a hub of arts, adventure, and education. There are no fewer than three major colleges - including the Columbia College and the University of Missouri - located in the city, which makes it a place of learning, and also a fun location with a youthful vibe and non-stop nightlife. While the city has moved on from its main business of agriculture, it is now built upon insurance and medicine as well as its educational branch. That said, Columbia is not short of adventures to be had in the outdoors, modern restaurants, shopping areas, and arts and cultural attractions.
For road trippers, Columbia is ideally located in the centre of Missouri, making it easy to take day trips to nearby cities and attractions. It's only 30 minutes south to visit the state capital Jefferson City, which is known as the 'Most Beautiful Small Town' in the United States. You could also drive 2.5 hours east to see St. Louis, its iconic Gateway Arch and the Mississippi River.
Booking a car hire in Columbia with AirportRentals.com
From Avis and Budget to Hertz and Enterprise, many of the world's leading car brands operate in Columbia. To find the best deal without spending hours contacting each company for quotes and availability, use Airport Rentals to run a single search to pull together all of that same information in one place.
Simply enter your Columbia travel dates and hit 'search cars', or uncheck the 'return vehicle to same location' and enter your destination to organise a one-way car hire from Columbia. Your results page is automatically listed with the most affordable vehicles at the top for quick selection, or you can take a few moments to scroll through the options and view their features. If you already know what you want, use the filters to only view cars that fit the bill such as those with additional seating or automatic transmission.
When you book with Airport Rentals, note that you don't pay anything extra for your reservation. But you do get access to our online reservation system, free benefits, and 24/7 customer support.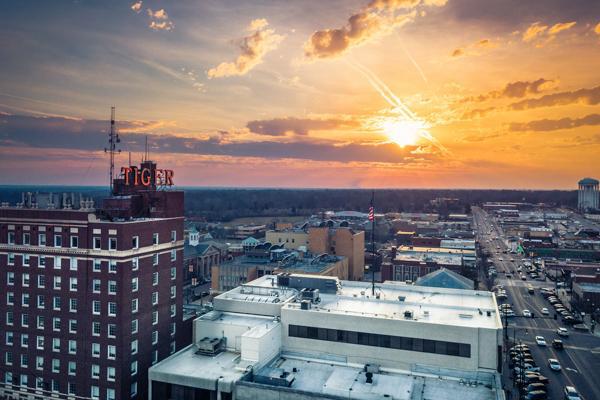 Image: Heath Cajandig (Own work), CC-BY-2.0, via Flickr
Introducing Columbia
Columbia could easily be a poster child for Middle America. It is at its heart a small town that prides itself on education, but thanks to this large population of students, it has also built itself a buzzing dining, culture, and arts scene. The downtown bars are always popular, and a number of breweries have sprung up throughout the city. Plus, locals often spend time in the Rock Bridge Memorial State Park, an outdoor area for hiking, biking, and exploring caves.
The closest airport to the city is the Columbia Regional Airport, which offers flights to and from Chicago, Denver, and Dallas, as well as some charter flights. Even though Jefferson City is the capital, the closest international airport is the St. Louis Lambert Airport just under two hours from Columbia.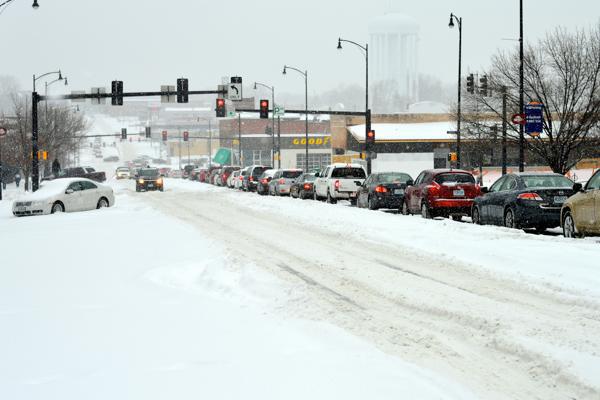 Image: Tim Tai (Own work), CC-BY-2.0, via Flickr
Your guide to driving a rental car in Columbia and Missouri
Driving from Columbia to the airport
The city's regional airport is 13 miles from the downtown area, so it won't take much longer than 20 minutes to make this drive. Take East Broadway out of the city, then turn right onto Route 63 to head south. After 15 minutes or so, take a left onto E Rte H to access the terminal.
Tips for driving in Columbia and the US
Get ready to drive your Columbia MO car rental with these handy road tips for Missouri and the US:
● You will drive on the right-hand side of the road in the US.
● You are permitted to turn right at a red light unless the intersection is otherwise signposted.
● Columbia receives snow through winter, so read our winter driving tips if you arrive during the cooler months.
● All traffic must stop if a school bus has its red lights flashing, even if you are on the other side of the road.
● Mobile phone use is illegal while driving unless you have a hands-free kit installed.
Parking in Columbia
There are roughly 4,000 parking spaces in Columbia across on-street stalls, garages, and surface lots. The city uses a colour coding system on its meters to determine how long you are permitted to park in a stall. For example, yellow meters only allow 24 minutes, while red meters allow an hour, and dark green means you can stay for two hours. Rates vary from USD$0.50 to USD$1 per hour depending on the area.