The city is named College Station, but the local folks refer to it as Aggieland in honor of Texas A&M University. Grab a cheap rental car for an adventure through the central heart of Texas.
Every August, Aggieland's population grows by over 50,000 when university students return to College Station. The campus is the oldest public university in Texas and offers visitors the chance to experience a proud and welcoming school. Stroll through campus and join a free tour to learn about the history, visiting George Bush Presidential Library along the way. Autumn is football season and Texas is serious about football. Experience the school spirit in all its glory at Kyle Field. Head to the historic downtown of Bryan, a short drive in your rental car, where you will find shopping, restaurants, bars and multiple museums.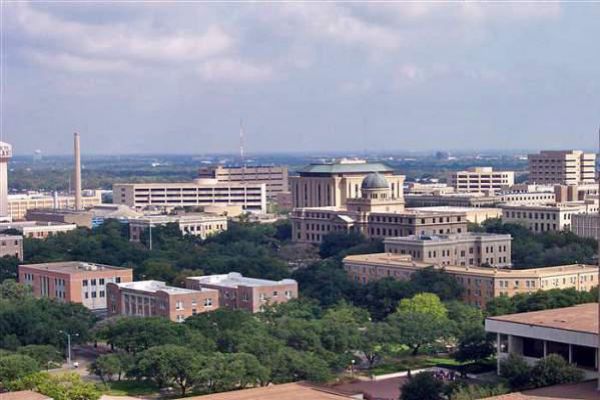 Image: Aggie0083
Extend your Texan holiday and swing by other favourite cities such as Austin, Houston and San Antonio. Hit the Gulf of Mexico for a famous spring break vacation or simply cruise the open road across the USA for one memorable road trip.
Hiring a rental car in College Station
At Airport Rentals, find cheap rental cars in seconds using our powerful search engine. Simply enter in your travel details and click 'search' to access numerous deals at Easterwood Airport from rental car companies such as Alamo, Budget and Hertz. Use handy filters on the left-hand side of the page to narrow your search and select a car type that suits your holiday plans.
Complete your booking quickly and securely without the hassle of booking fees, and enjoy 24/7 customer service access should you need it.
Easterwood Airport (CLL)
Touch down at Easterwood Airport conveniently located next to Texas A&M University. The university-owned facility provides daily regional flights to Dallas and Houston. Pre-book your meals, snacks and drinks from the Easterwood Cafe, available for incoming and outgoing flights. Take advantage of free WiFi to browse the web, and charge up electronics at one of the many stationed outlets throughout the terminal.
To pick up a rental car, head to the lower level near baggage claim and visit your corresponding car hire agency. If you hired a car from a depot in College Station, taxis are your only mode of transport from the airport.
Driving from Easterwood Airport to College Station
Travelling time from Easterwood Airport to College Station is around 10 minutes. The easy route is as follows: Exit the airport on McKenzie Terminal Boulevard and merge onto Raymond Stotzer Parkway. Follow signs to College Station which will bring you into the downtown area.
Heading to Bryan? Take McKenzie Terminal Boulevard, merge onto Raymond Stotzer Parkway and follow signs to Harvey Mitchell Parkway. Turn right onto Leonard Road to arrive in the city centre in 15 minutes.
Driving your rental car in College Station
Trade your rental car wheels for walking shoes when you visit Texas A&M during the school year. Follow these Texan driving laws to arrive safely in your hired car:
● Drive on the right-hand side and overtake on the left.
● Always buckle up.
● Although Texas law doesn't prohibit the use of mobile phones, it's best to stick to hands free devices.
● Right turns on red lights are allowed unless stated otherwise, treat it as a stop sign and only turn if there is no oncoming traffic.
● The speed limit is up to 70 mph on the highways and 30 mph in urban areas.
● For more tips, read our USA driving guide.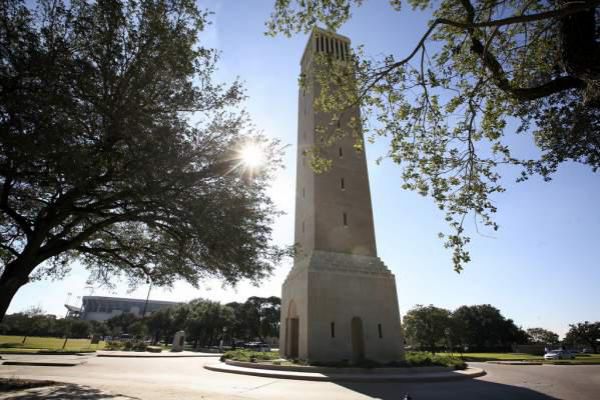 Image: Ed Schipul
Parking at the airport and in College Station
Easterwood Regional Airport provides complimentary parking for up to 2 hours. If you need to park for longer periods of time, choose either the short-term lot or long-term lot for a daily rate of $7 and a weekly rate of $35. Both parking lots are the same price and located within walking distance to the airport.
When parking in the city of College Station, beware of many restrictions around the campus area. Utilise garages for multi-hour parking and on-street spaces for short-term sessions. Abide by posted signs regarding sporting and campus event days to avoid fines and possible towing.