In the heart of Virginia in the eastern USA lies a beautiful and history-rich Charlottesville. Affectionately known as C'ville, the city has an impressive range of attractions despite its modest size. Discover them all by renting a cheap car at Charlottesville–Albemarle Airport.
Not one but two US Presidents called Charlottesville home - Thomas Jefferson and James Moore - and their presence is still very much evident today. Jeffersonian brick-style architecture prevails around town, and both Presidential homes are open for visits. Enjoy wine tours, hiking, hot-air ballooning and the fantastic indie music scene, and then get out to discover more of the USA's eastern seaboard.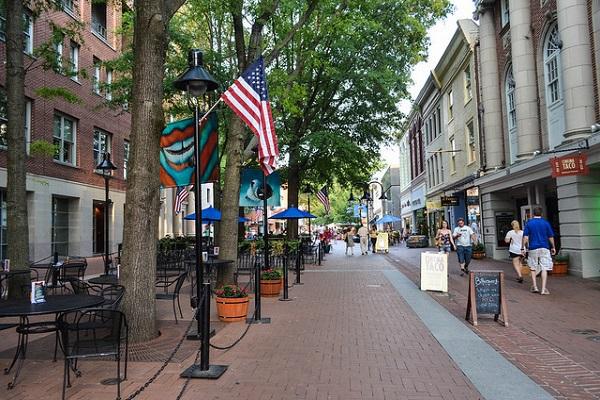 Image: m01229
Book a cheap car hire in Charlottesville with Airport Rentals
Remove the hassle of renting a car when you arrive in Charlottesville by pre-booking your vehicle with Airport Rentals.
Use our powerful search engine to find and compare vehicles from a wide range of suppliers, including Avis, Hertz, and Enterprise. Simply type in your travel dates to generate a list of suitable cars available at Charlottesville-Albemarle Airport, and use filters to refine your options by transmission, group size, style and more. Once you've found the ideal vehicle, booking is just a few clicks away. Confirmation is instant, and with no additional booking fees, you're saving for what really matters.
A quick look at Charlottesville–Albemarle Airport
In June 2017, the Charlottesville–Albemarle Airport began phase two of a Runway and Taxiway Rehabilitation Project to improve the quality of the runway. The project takes place at night, so won't affect your flight plans. Fly in from cities such as New York, Chicago, Atlanta, and Philadelphia, and be welcomed by all the services you would expect from a city airport. Make use of the free WiFi, pause to wine and dine, and when you're ready to head out, pick up your rental car keys from the kiosks located by the baggage claim.
Driving your rental car in Charlottesville
Most visitors and commuters to Charlottesville use the US-29, so this road can get congested at peak hour. Avoid it at these times if you can.
Driving to and from Charlottesville-Albemarle Airport
It takes just 23 minutes to drive the 10 miles from Charlottesville airport to the CBD. Drive along Airport Road, and take a right onto the US-29. When you reach Hydraulic Road, take the exit and merge onto US-250 towards the city. A right on Park Street will bring you into the heart of the city. Planning to pick up your hired car from the city? Hail a taxi from the airport.
Tips for driving your car hire in Charlottesville
Virginia:
● Keep at least 500 ft away from emergency vehicles.
● Stop for buses which are flashing red lights.
● Always give way to pedestrians, even on unmarked intersections.
● Cyclists have the same laws as vehicles; on a shared road give them plenty of room.
United States:
● Motorists drive on the right.
● Speed is measured in miles, with posted limits changing often.
● You can turn right on a red light, unless otherwise stated.
For more tips on driving in the United States and Charlottesville, read our US driving guide.
Where to park in Charlottesville
The Charlottesville–Albemarle Airport offers visitors 30 minutes of free parking in all zones. Short-term parking rates are $2 for the first paid half hour, and $1 per hour thereafter. For long-term, there is a flat rate of $13, and the economy carpark has a daily rate of $9. All zones are just outside the terminal.
The Downtown Visitor Center in Charlottesville will validate your on-street parking for two hours, and you can also find paid parking at garages and open-air lots around the city, generally at around $1 - $2 per hour.