Rent a car in Charlotte to discover the Queen City in North Carolina. The capital and largest city in the state, Charlotte is a thriving metropolis and commercial centre for the region.
With a diverse range of entertainment from vibrant theatre productions and public art displays to amusement parks and white water rafting and everything in between, Charlotte has a plethora of things to do. Suiting families, couples and singles, this unique city will keep you amused and occupied for days. Take in a show or head to a sporting event and enjoy the vibe! Highlights include the NASCAR Hall of Fame, Discovery Place and the Levine Museum of the New South.
Once you've exhausted the long list of attractions in Charlotte, you can also take your rental car to head out and enjoy other nearby destinations. Atlanta, Charleston, Myrtle Beach and Savannah are all within a few hours' drive south, while a similar distance north will bring you to Richmond, Washington and Baltimore.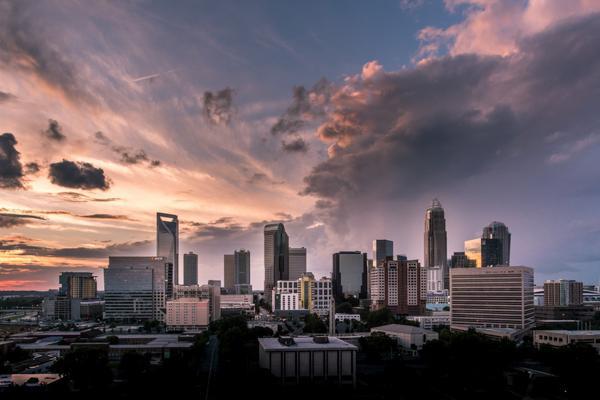 Booking a Charlotte car rental
Pre-book a rental car with Airport Rentals for your trip to Charlotte, North Carolina. Our sophisticated search engine draws together information from multiple big brands like Enterprise, Hertz, Avis, Budget and more to bring you the best deals available in the city.
Type in your travel dates to generate a list of available cars and compare the features and benefits side by side. From compact economy cars to luxury vehicles, our inventory is extensive and sure to suit your needs. Finding the best car hire deal is a cinch, with the lowest priced vehicles always on top.
Once you've identified the perfect vehicle, lock in your decision by clicking through to the booking page and filling out a quick form. Add on any necessary extras like a GPS or child seat and then confirm your selection using our handy and secure online reservation management system. You can log on and update your booking at any time, and you have access to 24/7 customer service should you have any questions throughout the process.
A guide to Charlotte
Charlotte has roughly 2.5 million residents and is one of the fastest growing cities in the United States. It is also one of the main financial centres, hosting the headquarters of major banking institutions like Bank of America. Charlotte has a humid subtropical climate and rarely sees snow.
Charlotte Douglas International Airport is a major transportation hub, located just six miles from the downtown area.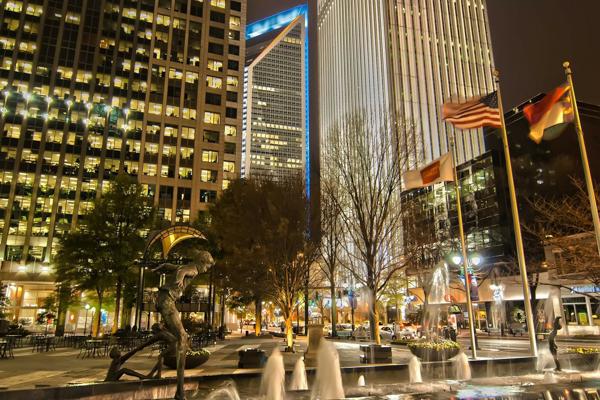 Guide to driving in Charlotte
As with any new city, it pays to familiarise yourself with the local driving laws and customs. Refer to the following directions and tips to help you on your way.
Getting to the airport from Charlotte
The drive to Charlotte Douglas International Airport from downtown Charlotte is very easy and should take around 15 minutes in normal traffic. All you need to do is get to US-74 W and follow until you take a left onto Josh Birmingham Parkway and arrive at the airport.
Charlotte car hire driving tips
● Heavy traffic can be an issue in Charlotte. Try to avoid peak hours and drive with patience.
● Hire a GPS or download an appropriate smartphone app to assist with navigation.
● North Carolina regulations state that all vehicle occupants must wear seatbelts.
● The default speed limit in North Carolina cities is 35 miles per hour. On open roads, it is generally 55 miles per hour, but some highways allow speeds of up to 70. Always check posted signs.
● Road conditions can get icy in the colder months. Read our winter driving tips to prepare.
● First time visiting the USA? Remember to keep to the right side of the road and check out our US driving guide for more tips.
Parking your car hire in Charlotte
There are many parking options when you are in downtown Charlotte. The city offers real time tracking of available spaces and the rates which you will pay. Ensure you are following the posted signs and meters when parking on-street or in a parking garage.