Idaho's state capital is a captivating city with a thriving arts and music community. Boise spills out from the river into districts full of museums, restaurants, markets and theatres. Starting with the beautiful downtown area, there are many fantastic attractions to enjoy and the best way to do it is by hiring a car rental.
Heading to a nearby state? Drop off your rental car in Las Vegas, Denver, Sacramento, or Spokane.
Pre-book a car hire in Boise with Airport Rentals
Take the stress out of booking a rental car in Boise by securing a cheap vehicle with Airport Rentals. Find and compare multiple brands with just the click of a button. Simply enter your travel dates to view available rental car options from Boise Airport. Choose from luxury SUVs, family-friendly minivans and compact cars. Select filters to favour by transmission type, preferred brand and more.
With no booking fees, secure online confirmation and a customer service team just a call away, why would you look anywhere else?
A short guide to Boise Airport
The Boise Airport is the busiest one in the state, annually serving more passengers than all of Idaho's other airports combined. Relax in one of the cafes with free WiFi before picking up your hired car. Collect your keys from the customer kiosks on the first floor.
Driving your car hire in Boise
The majority of Boise's working population spend their days in the CBD, so there is commuter traffic at the usual peak times between 8am - 9am and 5pm - 6pm. It's rarely an issue, but plan accordingly around those times.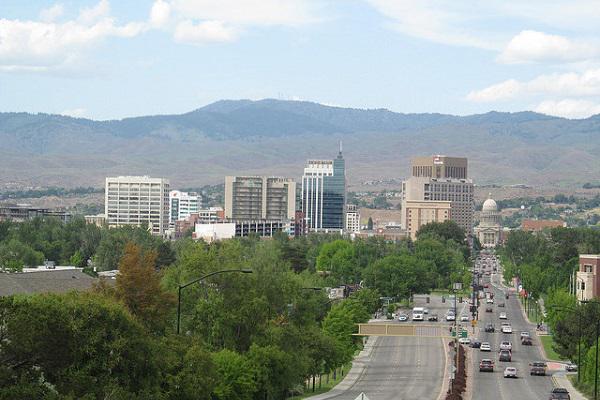 Image: Doug Kerr
Driving to and from Boise Airport
The drive to the city from the airport takes just ten minutes. Head 3 miles north toward the city on S Vista Ave, continue onto W River St and follow the signs towards the CBD.
Should you need to catch a ride into town to pick up your rental car, the airport has specifically coloured curbs to help you find your way to taxis, shuttles and buses.
Handy tips for driving your rental car in Boise
Take note of these tips for driving in Boise, and check out our USA driving guide for further information.
● Motorists in the US drive on the right-hand side of the road.
● At a four-way stop sign, every vehicle must stop, and the motorists move on in the order they arrive.
● Turning right on a red light is permitted, unless stated otherwise.
● The legal blood alcohol level in America for drivers is 0.08 percent.
● Watch your speed on the highways, and leave plenty of room between you and the vehicle ahead.
● Watch out for animals wandering onto the roads when driving in the countryside.
Planning a cross-country road trip? View our USA driving distances guide to help plan your route.
Where to park
At Boise Airport, there are several parking options. Stay in the short-term car park just outside the terminal building for $2 per hour, or park your hired car in the long-term lot for $9 a day. An overflow car park is also available, costing $7.50 per day and just a short shuttle ride away.
It's easy to find a park for your rental car in Boise. Long-term car parking buildings are located downtown with flexible payment options, including cash, card and the latest pay-by-phone option. Short-term and on-street metered parking are widely available, and while the first 20 minutes are always free, you won't pay much with rates starting as low as $0.50 per hour.