Explore the 'Gateway to the Scenic Southern Indiana' when you book a Bloomington car rental. This city is home to fewer than 100,000 people and is known for two things: its limestone and its university. The first commercial limestone quarry was opened in 1827 just 20 miles from Bloomington, and the area has been a source of some of the highest quality limestone in the United States ever since. Many of the towns sculptures and important buildings are crafted from limestone, including Indiana University, a major drawcard for thousands of students and academics who come from all over the world to attend.
Located in the heart of Indiana, Bloomington is also an ideal location for road trippers looking to explore the northeast. The state's capital Indianapolis is just over an hour away, and known for its car racing. Or, you can head south to cross the border into Kentucky and arrive in Louisville in exactly two hours.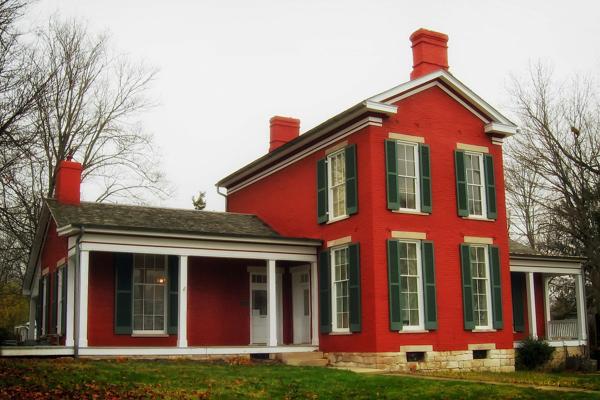 Booking a car hire in Bloomington with AirportRentals.com
Spend less time on finding a car rental in Bloomington and more time planning your adventures in the city by comparing brands and deals with one easy search on Airport Rentals. A single search is all you need to pull together information on available rentals from leading hire brands in the city.
To begin, enter your Bloomington travel dates and hit 'search cars' to generate a list of cars available in Bloomington in order with the most affordable rentals at the top of the page. Switch on the filter options if you are searching for a particular size, make, or transmission, and hit the heart icons to create a shortlist if you need to narrow it down. As you scroll through the options, you can quickly view each car's features and benefits, making it easy to find your perfect rental.
The next step is easy, too. Book your car hire in Bloomington with Airport Rentals at no extra cost, and you'll gain access to our online reservation management system, as well as 24/7 customer support and free benefits.
Introducing Bloomington
Aside from the naturally occurring beautiful limestone in the area, the city of Bloomington is a place of abundant lush landscapes and flowers, which are in fact how the town got its name. Bloomington is also a 'Tree City', meaning that it has been recognised by the National Association of State Foresters for its urban and community forestry.
Note that nearest airport to the city is not Bloomington Airport, which is almost three hours away in Illinois. The local airport is the Monroe County Airport, which is less than 30 minutes from Bloomington, IN, but does not currently offer passenger flights. Instead, visitors to Bloomington will often fly in via the Indianapolis International Airport, which is just over an hour from the city.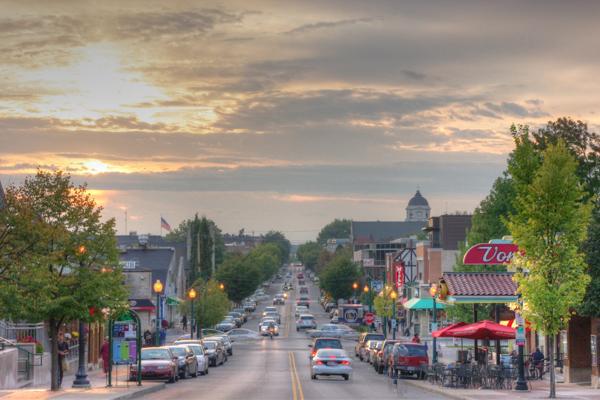 Image: Yahala (Own work), CC-BY-SA-3.0, via Wikimedia Commons
Your guide to driving in Bloomington
Driving from Bloomington to Indianapolis Airport
The Indianapolis Airport is 45 miles from Bloomington, so you should allow roughly 75 to 90 minutes to make this drive. Head out of the city driving north to join Route 37, then veer left to join Route 39 to continue towards Indianapolis. At the next major junction, stay right to join Route 67, then finally turn left onto the Ameriplex Parkway and follow the signs into the terminal.
Tips for driving in Bloomington and Indiana
Get ready to pick up your Bloomington car rental with a few handy tips on driving in the city and the US:
● You will drive on the right-hand side of the road in the US.
● Slow down and be observant near 'deer crossing' signs, as wildlife are often seen crossing busy roads. This is particularly true at dusk and dawn.
● Read our winter driving tips if you are unfamiliar with icy conditions.
● Do not pass a school bus if its lights are blinking red.
● You are permitted to turn right at a red light if the road is clear.
Parking in Bloomington
There are eight garages and surface parking lots in Bloomington, some of which are free for the first three hours at certain times of the day. There are also numerous on-street stalls, which cost USD$0.25 per 15 minutes during the hours of 9 am to 9 pm from Monday through Saturday. On-street parking is free on Sundays and public holidays.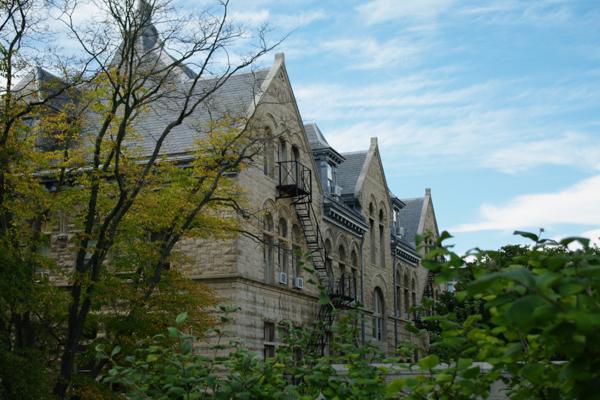 Image: StevenW. (Own work), CC-BY-SA-2.0, via Flickr