Famous for its 'black gold', Bakersfield lays claim to one of the most prolific oil-fields in California. This Kern County city does however, have a lot more going for it than old oil rigs. Wander through museums, take a hike in the nearby parks, enjoy Basque restaurants and diners; this historical city will take you by surprise. What better way to see it all than by hiring a cheap car rental in Bakersfield?
Book your rental car in Bakersfield with Airport Rentals
Hiring a cheap rental car in Bakersfield has never been easier when you let Airport Rentals do the hard work for you. We draw a wide selection of vehicles across multiple suppliers so that you can compare all the best deals in one spot.
It's easy to book: simply pop in your travel dates, and select 'search'. You will be presented with a collection of vehicles suitable to your holiday dates, which you can then refine further by car type, transmission type, group size and more. Once you've found the perfect car, it only takes a few moments to book securely online. You won't pay any booking fees and if you have any questions throughout the process, we have 24/7 customer service ready to assist.
A quick guide to Meadows Field Airport
Meadows Field Airport is small compared to California counterparts, San Francisco and Los Angeles, but a bustling transport hub nonetheless. Providing daily flights between Denver, Houston, and other major United States airports, the recently refurbished William M. Thomas Terminal provides a welcoming atmosphere to incoming travellers. Enjoy breakfast, lunch or dinner at Blimpie, pick up a gift or two at Omni Goods, and make use of the free WiFi. Collect your rental car keys from the kiosks opposite the baggage claim on your way out.
Driving your car hire in Bakersfield
Bakersfield offers public transportation, but most people choose to get around by car. The roads are wide and easy to navigate, just be aware of heavy traffic around peak times.
How to get to the city from the airport
The Meadows Field Airport is located 7 miles north of Bakersfield, a quick 15-minute drive to or from the city. From the airport, follow Merle Haggard Dr out onto the CA-99. Take exit 25 onto California Ave and follow the signs to the CBD.
If you plan to pick up your hired car from the city, A One Taxi and Blue Star Taxi both service the airport.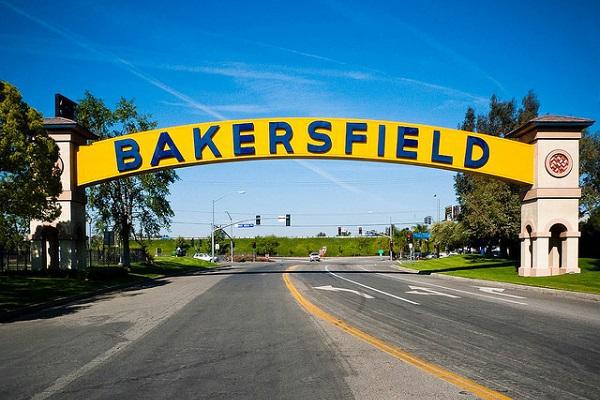 Image: Montana Montana
Tips for driving your rental car in Bakersfield
New to the USA? Take note of these handy driving tips before getting behind the wheel of your rental car, and be sure to check out the USA driving guide for more information.
● Bakersfield's urban road speed limits can get as high as 55mph. Out on the interstate, the limit is 70pmh. Be aware of these changes.
● Allow plenty of space between you and the car in front.
● It's important to adjust your mirrors and familiarise yourself with the settings of your rental car before heading off.
Thinking about taking a road trip? Visit our guide to USA driving distances to help plan your route.
Where can I park?
Meadows Field Airport has several car parking options available. Long-term parking is $10 per day, and short-term a maximum of $13 a day. Both of the carparks are just a short walk from the main entrance of the terminal.
In Bakersfield, park your hired car in the central 18th and Eye Parking Garage for easy access to downtown. Your first 2 hours are free, with a charge of $1 per additional hour. Throughout the city there is on-street parking available for free, however these spots do have monitored time restrictions.