Smack dab in the middle of the Lone Star State is the city of Arlington, home of the University of Texas at Arlington, the Dallas Cowboys football team and one of the best amusement parks in the country. Pre-book your Arlington TX car rental to make the most out of your Texan experience.
Arlington sits between two of the state's biggest cities, Fort Worth and Dallas. Known as the entertainment capital of Texas, it draws in thousands of fans for the local sports teams and satisfies adrenaline junkies at the expansive Six Flags theme park. The city also offers a vibrant cultural art scene with a mix of galleries, museums, music halls and theatres. Locals and visitors enjoy an eclectic selection of dining options including local breweries, arcade bars and classic Tex-Mex cuisine.
Take your Texas adventure further by touring more of the state in your car rental to popular cities such as Austin, San Antonio, and Houston.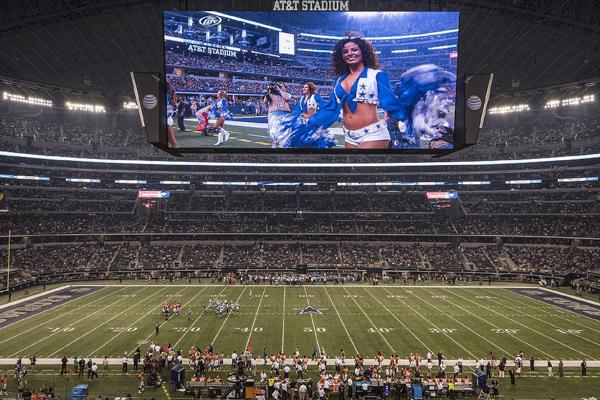 Hiring a rental car in Arlington
Pre-book your Arlington TX rental car with Airport Rentals to find the perfect holiday car for your upcoming trip. With a few simple inputs, our optimal search engine gathers the best car rental deals in the industry and organises them on one user-friendly page. Scroll through numerous car types such as economy and luxury vehicles or tick your favourite preference filters to narrow your options. Choose a deal from highly-rated rental companies like Avis and Budget and find exclusive benefits with every car hire.
With Airport Rentals, there are no hidden fees, and we offer customer support, 24 hours a day, 7 days a week. So what are you waiting for? Lock in your Arlington car hire today!
City guide to Arlington
The city of Arlington was founded in 1876 with a population of less than 3,000. It was a cotton-farming town until the Industrial Revolution, which put this city on the map. Today its population is nearly 400,000.
If you're visiting during summer, be prepared for sweltering high temperatures that can sometimes reach over 40 degrees Celsius. Winters are mild with cooler temperatures hitting a low of 35 degrees Celsius.
There are two airports only a short drive from Arlington. The nearest major commercial facility, Dallas Fort Worth Airport, is a 20-minute drive, while the smaller Dallas Love Field Airport is approximately 30 minutes away. Both airports provide rental car pick up and drop off options.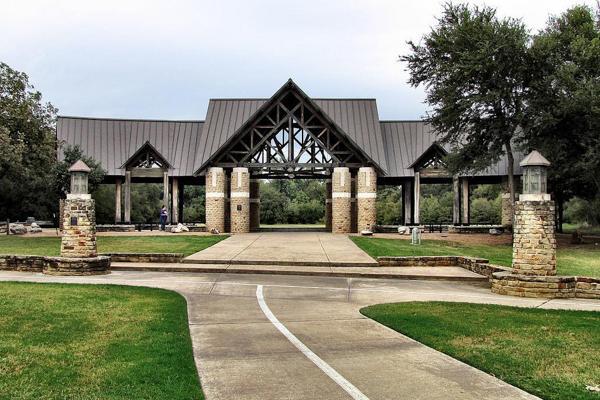 Image: QuesterMark (Own work), CC-BY-SA-2.0, via Flickr
Driving guide for a rental car in Arlington
Driving from Arlington to Dallas Fort Worth Airport (20 minutes)
● From Arlington, drive east Division Street/180 and follow signs to merge onto TX-360 North. Continue on this highway until taking TX-97 Spur towards the DFW Airport to arrive at the terminal.
Driving from Arlington to Dallas Love Field Airport (30 minutes)
● From the city, head north to merge onto I-30 E and follow the highway west until exit 42 for Hampton Road. Stay on this as it turns into Inwood Road, then make a left on Forest Park Road, right on W Mockingbird Lane, left onto Herb Kelleher Way and finally, turn left onto Cedar Springs Road to arrive at the airport.
Driving tips for Arlington
Arlington is situated in between two major cities connected by multiple highways that are often confusing for an out-of-towner. Use a smartphone app or hire a GPS to ease your driving experience.
Texas road rules
● Right turns at red lights are permitted, unless stated otherwise. Treat it as a stop sign.
● Speed limits can reach up to 85 miles per hour on major highways. Drive cautiously and stay in the right lanes if you are uncomfortable at this speed.
● Buckle up or expect a USD$200 ticket for not wearing your seatbelt.
● For more tips, read our USA driving guide.
Parking your car hire in downtown Arlington
On-street and garage parking are available throughout the city. Download a local parking app to find parking discounts in the area. Park & Ride facilities are also provided at no parking cost for those wanting to take public transportation into the city. For free parking in the city after 5 pm, park at the City Hall lot. Be wary of parking around the university as many restrictions apply.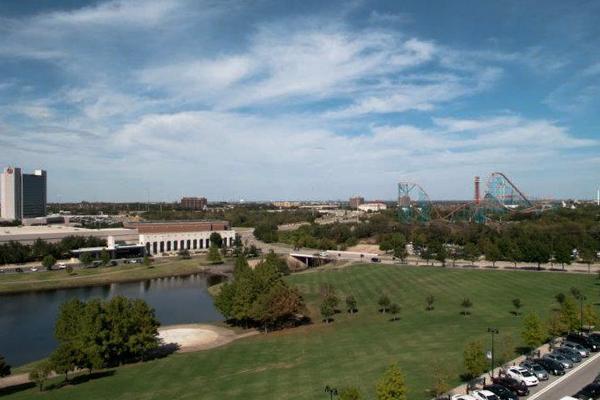 Image: Veronidae (Modified), CC-BY-SA-3.0, via Wikimedia Commons