For the ultimate road trip down Route 66, head to Amarillo for a true Texan experience. Rent a car from Airport Rentals to start your holiday.
Situated in the Texas Panhandle, Amarillo is a small town of 200,000 residents known for its rodeos, unique architecture and the famous US Route 66. Stroll along Sixth Street Historic District for antique shopping and the best dining options in the city. Don't miss Cadillac Ranch, an art installation of graffiti-decorated cars standing upwards in the middle of nowhere. Check out one of the many museums in town and spend the day at Wonderland Park, an amusement park with roller coasters, carousels, arcades and more. Next, hop in your car hire to explore Palo Duro Canyon for breathtaking views of multicoloured rock layers and formations comparable to the Grand Canyon.
Looking for a Spring Break trip? Cruise south to South Padre Island for a bit of sun and relaxation. For a shorter road trip, drive to Dallas or head west to Albuquerque.
If you'd like some help planning your route, use our USA driving distance guide.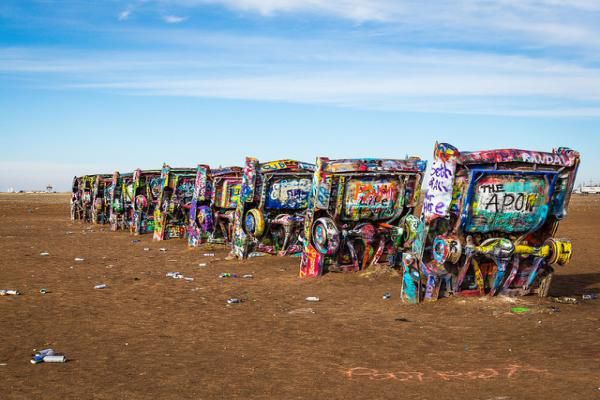 Image: Mobilus In Mobili
Hiring a cheap rental car in Amarillo
Skip the hassle of taxis and public transportation on your holiday and pre-book a cheap rental car in Amarillo with Airport Rentals. Enter your travel dates into our optimal search engine and find the best car rental rates in seconds. Compare three car hire companies located at Amarillo Airport and select preference filters to narrow your search. Soak up the sun with a convertible, go off-road with a 4WD or save on fuel with an economy vehicle.
Ready to book? Enjoy secure online confirmation, pay no additional fees and call us with any questions - any time, day or night.
Rick Husband Amarillo International Airport (AMA)
Touch down at the Amarillo Airport, a small facility offering a restaurant, two bars, a burger joint and a gift shop. Access free WiFi throughout the terminal and when you are ready to pick up your rental car, head to the arrivals hall near baggage claim to locate your designated rental counter. If you are heading straight to town, hop in a taxi. There is no shuttle service or public transport available.
If you're flying into Amarillo Tradewind Airport (privately-owned), there are rental options here, too.
Driving your rental car in Amarillo
Getting from the airport to downtown Amarillo
The drive from Rick Husband Amarillo International Airport to the city takes around 20 minutes. Exit the airport, turn right onto E 3rd Ave ramp, then turn left onto 3rd Ave towards the city. Turn right onto Amarillo Boulevard/Rte 66 to arrive in downtown Amarillo.
Driving tips for Amarillo car hire
Cruising the famous Route 66 is exciting in a rental car. Expect many extra large trucks and vehicles while driving in Texas and follow these tips to arrive safe:
● New to the USA? Read our USA driving guide.
● Passengers in the front seats and children under 15 are required to wear a seatbelt, but it's best for all riders to buckle up.
● Children 7 and under must be secured in a child passenger safety seat.
● The speed limit is up to 70 mph on the highways and 30 mph in urban areas.
● Although Texas law doesn't prohibit the use of mobile phones, it's best to stick to hands-free devices.
● Right turns on red lights are allowed unless stated otherwise.
Parking at Rick Husband Amarillo International Airport and around town
Need to park at Amarillo Airport? Your options are as follows:
● The Preferred Parking Lot offers a 30 minutes grace period then charges USD$2 for each additional 30 minutes thereafter, or you can pay USD$8 for the day.
● Pay USD$2 per hour or USD$7 for the day in the outdoor lot.
● Pay USD$2 per 30 minutes or USD$10 a day in the garage lot.
● A cell phone lot is available for picking up or dropping off passengers.
In the city of Amarillo, you can choose from either on-street parking or one of the many parking lots around the Civic Center. Make sure to abide by posted parking rules to avoid fines.